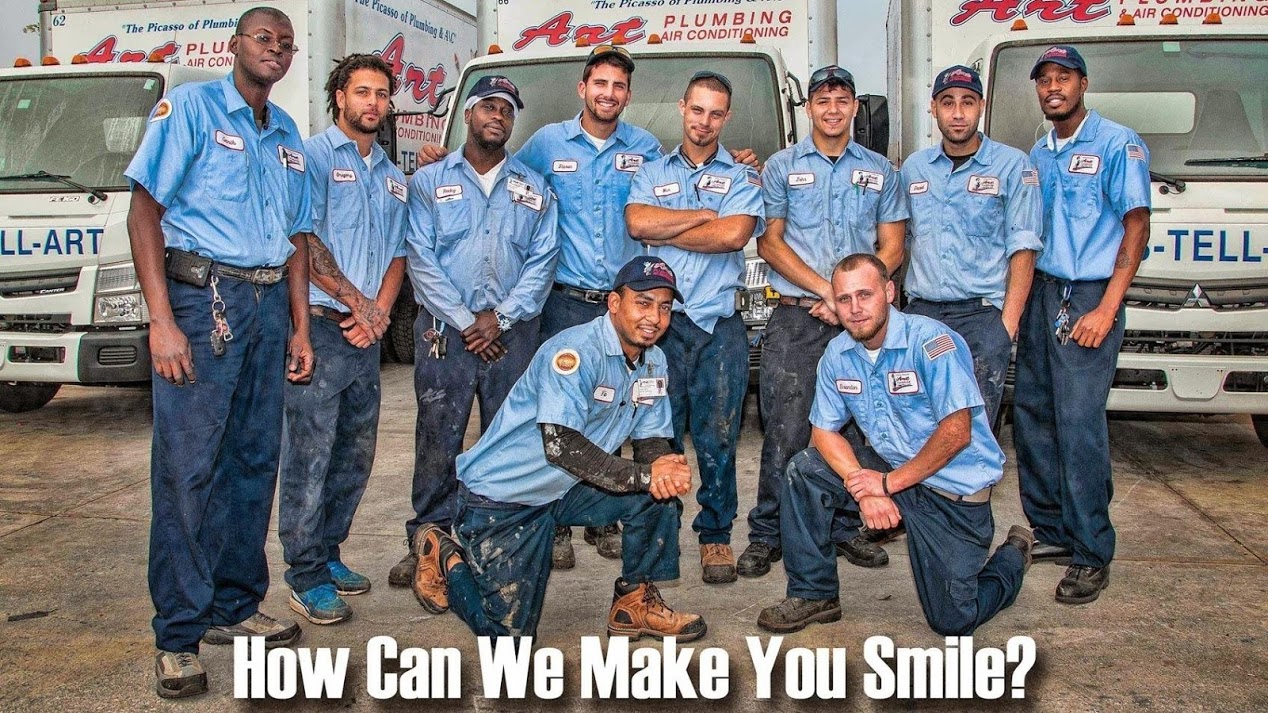 Reading Time:
3
minutes
Art Plumbing, AC & Electric, South Florida's premier HVAC and plumbing service provider, today announced that it has launched a new service division within the company – Art Electrical Services.
Coral Springs, FL, June 1, 2016 (Newswire.com) – South Floridians looking for an "electrician near me" are now being looked after by a name they have come to trust.  This new division will feature 24-7 on call professionals and specialists in residential and commercial electrical services.
"As part of our promise to deliver quality and excellence, we have expanded our company to include a comprehensive electrical services department. This new division provides superior electrical services to both residential homes and commercial businesses in South Florida," stated Gregg D'Attile, President and Chief Operating Officer of Art Plumbing, AC & Electric. "Having an electrical problem is not something that should be taken lightly or ignored – it is essential that any issues get attended to quickly and by a highly skilled technician in order to avoid further problems or even dangerous situations. With the experienced and reliable electrical technicians at Art Plumbing, AC & Electric, you can be assured that all your electrical needs will be attended to promptly and professionally," Mr. D'Attile concluded.
If you are a member of Art Plumbing, AC & Electric's Whole Home Service Partner Plan (SPP), you can avoid the hassle and expense of unnecessary electrical repairs. This plan will ensure the very best in preventative maintenance and service for your home's plumbing, air conditioning, electrical, and sprinkler systems. The following services and benefits are included in any membership package or the Electrical System Service Partner Plan: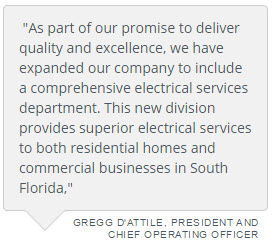 No service call or dispatch fee – EVER! Even after hours and for emergencies
Priority service – jump the queue and get extended appointment times to fit your schedule
1 Maintenance visit per year (includes high performance check-ups and safety inspections of all electrical systems and utilities)
A 10% discount on any electrical repair
100% satisfaction guarantee and peace of mind
Convenience – we will call you to schedule your annual maintenance at a time and date suitable to you
"Art Plumbing, AC & Electric offers electric solutions for everyone – from both residential and commercial electrical services, we have you covered," said Arthur D'Attile, Art Plumbing, AC & Electric's Director of Corporate Operations. "Whether you are looking to remodel your home and need lighting solutions, rewiring, and outlet installations, or your business is looking for energy management systems and emergency backup generators installed – you will find the highest quality service with our new electrical division."
The comprehensive commercial and residential electrical services provided by the experts at Art Plumbing, AC & Electric include:
Service Upgrades and Electrical Panels
Circuit Breaker Replacement and Dedicated Circuit Installations
Whole House Surge Protection
Residential and Commercial Lighting Services (including emergency lighting and exterior lighting & signs)
Electrical Set-Up and Rewiring For Homes
Electrical Outlet Installation & Repair
Ceiling, Attic, and Exhaust Fan Installation & Replacement
Smoke Detectors and Carbon Monoxide Detectors
Aluminum Wiring Repair/Replacement
Thermal Electrical Inspections and Imaging
Pool & Hot Tub Wiring
Vehicle Charging Stations
Emergency & Backup Generator Installation
Electrical Safety Inspections
Equipment Connections
Electrical Demolition
Panel Replacement and Sub-Panels
Energy Management Systems
Circuit Installation and Upgrades
HVAC Wiring and Controls
Code Updates & Corrections
Power Conditioning
For more information about the professional electrical services that Art Plumbing, AC & Electric's new division has to offer please visit  www.artplumbingandac.com.
 ABOUT ART PLUMBING, AC AND ELECTRIC
Established in 1983, Art Plumbing, AC & Electric is South Florida's premier residential, commercial and industrial air conditioning, heating, indoor air quality, plumbing, irrigation, and electrical service provider. The company sells, services, repairs and installs plumbing, heating and air conditioning systems as well as provides top quality residential and commercial electrical services throughout Broward, Palm Beach and Miami-Dade Counties. From routine repairs and maintenance, to emergency services, to expert equipment installation and replacement, the company's services are backed by a 100% satisfaction guarantee, and an award winning team of licensed plumbing, HVAC and electrical professionals.