Electrical Inspections & Code Compliance
Play it safe with electrical inspections, code compliance, and safety standards with Art Plumbing, Air Conditioning & Electric. Our electricians take pride in making sure our client's homes or buildings are as safe as possible and are compliant with all local and national codes dictated by the NEC (National Electrical Code). We have many decades of experience with electrical inspections and take an approach that leaves no stone unturned.
Being compliant with the right electrical codes not only means that your home or space is safe to live in, but it also adds to the value and protects your investment. Our electricians can provide an inspection to evaluate how compliant your home or commercial space is and provide guidance and assistance where needed. You can rest easy with Art Plumbing, Air Conditioning & Electric taking care of your electrical inspection as we'll make sure you're able to sell your home without getting into trouble for non-compliance with the NEC.
Electrical inspections are an important step in your home maintenance plan, and it's recommended to have one every few years to ensure that your home keeps up with any changing compliance codes. Our team is well-equipped, and very experienced to carry out a thorough electrical inspection that fits in with your busy schedule and doesn't take too much time out of your day.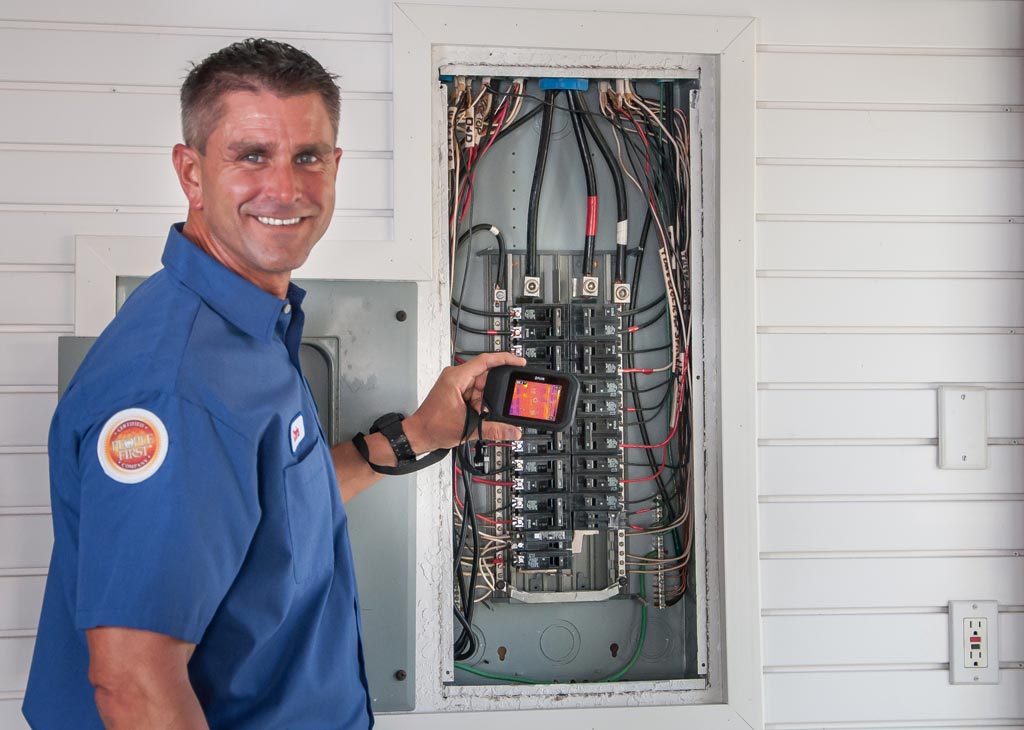 Electrical Safety Inspections
Electrical safety inspections are a crucial step in making sure a home or building is safe. The inspection involves evaluating the electrical system to ensure that all plugs, wiring, and components meet the required safety standards. If you're looking at buying, selling, or remodeling a home or commercial space, it's important to schedule an electrical safety inspection to make sure you know what you're getting into.
At Art Plumbing, Air Conditioning & Electric, we can complete a thorough safety inspection that looks out for aging electrical components, neglected systems or outdated designs that can be dangerous and detrimental if left unattended. Whether your home is old or new, an electrical safety inspection is always a good idea to ensure the safety and security of your family and belongings.
What Are The Benefits Of Electrical Safety Inspections?
Here are some benefits of an electrical safety inspection by Art Plumbing, Air Conditioning & Electric:
Helps identify any electrical errors or faults in your home or commercial electrical system.
Looks out for any outdated or neglected electrical components.
Facilitates the correct use or placement of any fire or safety hazards throughout your space which can later save you time, money, or from a disaster.
Ensures that your home or space is compliant with all safety standards and electrical code compliance.
Guarantee and peace of mind that the electrical system throughout your space is safe and legally compliant.
What Does An Electrical Safety Inspection With Art Plumbing, Air Conditioning & Electric Include?
Here's what you can expect from an electrical safety inspection with our Electric team:
Verify the correct light bulb wattage.
Testing and evaluation of light switches and wall outlets.
Identification of potential shock or electrical fire hazards.
A thorough sweep of all safety and security lighting.
Evaluation of grounding systems.
Verification of surge protection and efficacy.
Ensuring all smoke detectors are correctly installed and operational.
Thorough inspection of the electrical panel for correct labeling and functionality.
Examination of any outdoor electrical system.
Provision of an electric system report, detailing all areas of concern or improvement to your home or commercial space's electrical system.
Electrical Inspections & Code Compliance With Art Plumbing, Air Conditioning & Electric
Our team at Art Plumbing, Air Conditioning & Electric are professional technicians that are able to offer their expertise to help keep your space and family safe. You can trust us to provide you with specialist advice, support and skills to meet your electrical safety needs. Check out our services page for more information or call us today at 1-800-475-1504!