Ride & Decide!
If you're a plumber, electrician, or an HVAC technician with a minimum of 3 years' experience, give us a call to do a "RIDE and DECIDE" with our company for up to 5 paid days. Just show us your current pay stub and we'll pay you at least that for you to ride with us, while you decide to become a member of our team! For more info, call Dawn at 954-684-8000.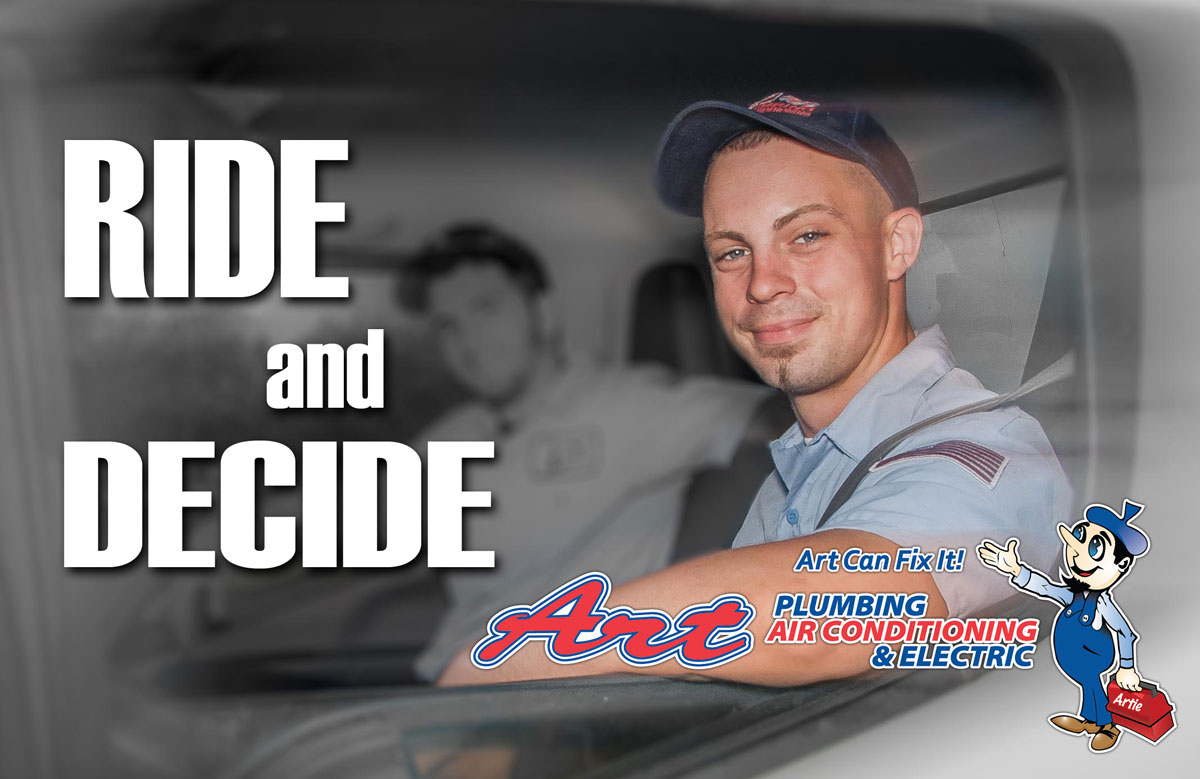 How the Skilled Trades Workforce Shortage is Creating Jobs for Grads
Owning a home can come with its challenges and having skilled trades personnel to remedy home repairs can help alleviate a homeowner's frustration. Art Plumbing, Air Conditioning & Electric President & CEO Gregg D'Attile, Director of Sewer & Drain, Matthew D'Attile, and HVAC Service Manager, Chris D'Attile, joined Inside South Florida to share how the lack of skilled trades laborers has created career opportunities within the industry.
$10,000 in Scholarships Available for High School Seniors Planning to Attend Plumbing, HVAC, or Electrical Technical School Upon Graduation!
NO ON-CALL SHIFTS, EVER!
NO SUNDAY SHIFTS, EVER!
NO HOLIDAY SHIFTS, EVER!
JOIN OUR TEAM!

Only The Best Can Compete In The Plumbing, HVAC and Electrical Trades And Our Technicians Are Simply The Best!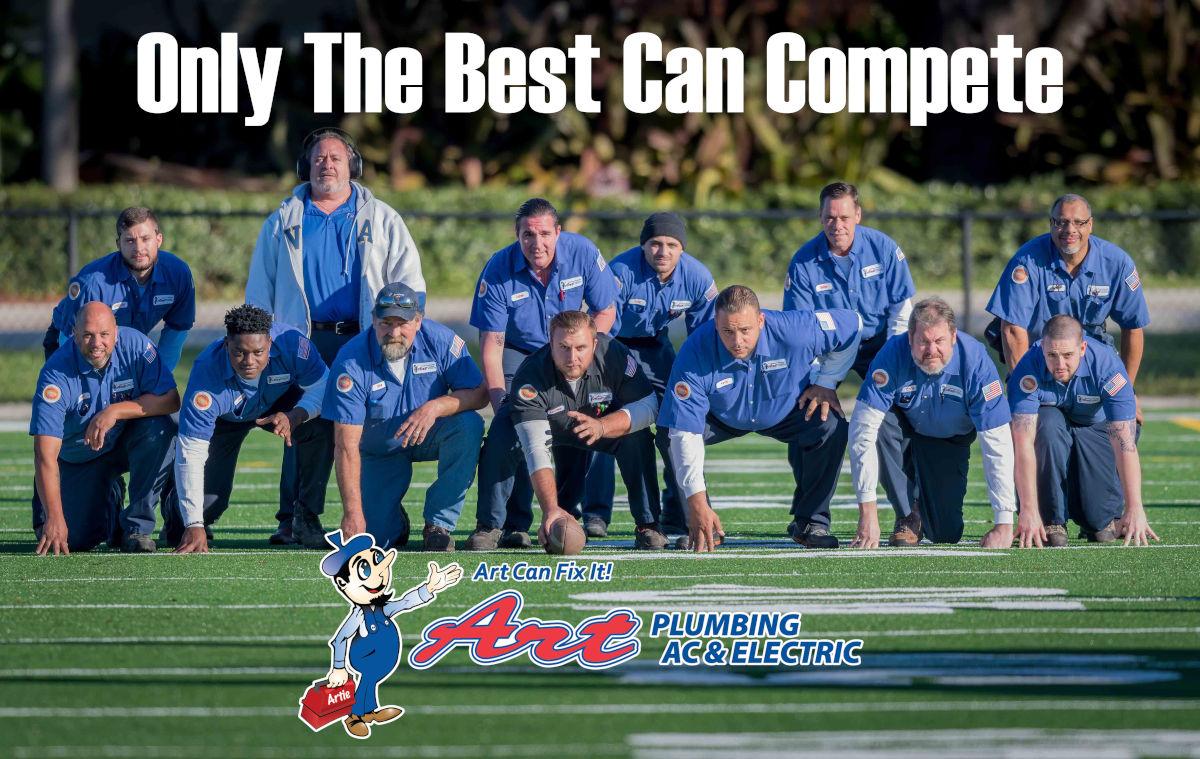 GET IN THE GAME!
Right now, if you want to get in the game we have plumbing, electrical and HVAC technician positions as well as plumbing and HVAC installer positions ready to fill in Broward and Palm Beach counties! Art Plumbing, Air Conditioning & Electric is consistently ranked in the top 3% of service companies in nationwide employee satisfaction surveys and there's good reason for that.
OUR TEAM IS READY TO PLAY!
All of our awesome plumbers, installers, electricians, and technicians receive constant on-going technical training to deliver high quality customer service standards at what we call Art University, right here in our corporate headquarters.
READY FOR THE GAME!
If you're looking for a company that wants you to learn, grow, and succeed, then let's talk! We are one of the largest and most-respected plumbing, air conditioning, and electrical companies in Florida where satisfaction is our number one priority.
PUT ME IN COACH, I'M READY TO WIN!
Enjoy the benefits, rewards and stability that a successful company can offer – Apply today!
Advance & Enhance Your Career With Our Plumbing, HVAC Technician & Electrician Jobs
Life as an Art Plumbing, Air Conditioning & Electric tradesman is unlike any other. This isn't just your regular 9-5 job. Not only are you able to help people who really need it, you're also able to help make an environmental difference and contribute towards changing your clients lives for the better. We are aware of the negative impact that the ever-rising cost of living has on families in the areas we work in. As a family focused company, we are driven to make an impactful difference on the lives of the people we interact with. This is the core of our recruitment strategy and we know to achieve this takes an incredible workforce of talented people. That is why we are as committed to the people who make up our team, as they are to the clients we serve. Applying for a plumbing, HVAC technician or electrician job with us will boost your career to new heights.
What Makes Art Plumbing, Air Conditioning & Electric Different From The Rest?
At Art Plumbing, Air Conditioning & Electric we will help you change your life. With a unique employee-centric company culture, working with us will change your life for the better. We have worked in the trades industry as a family business since 1983. We understand exactly how important a work/life balance is in order to have happy and productive tradesmen working with us.
We will always put our employees first, before all other goals and decisions. If it's not good for the team, the people who make us who we are, then it's not good for the company. Our employees are a valuable asset and we are committed to their success. We know that the success of the business is dependent on the success of our people. When our people do great, our company does too.

Plumbing, HVAC Technician & Electrician Jobs Available at Art Plumbing, Air Conditioning & Electric
The beauty of working with us is that we cater to three different trade areas – plumbing, HVAC and electric. We are looking for tradesmen from all three trades, new and experienced.
Plumbing Jobs
Plumbers working with us will not only receive a variety of benefits, but they'll also be able to continue learning the best practices for their trade. At Art Plumbing, Air Conditioning & Electric we value our plumbing tradesmen and only want the best for them. You can expect to work with water filtration systems, plumbing replacements and repairs as well as a variety of other plumbing related tasks. Apply now for one of our incredible plumbing positions!


Apply Now
HVAC Technician Jobs
No-one in Florida would be able to survive the summer heat without our HVAC Technicians. We take great pride in being able to offer the services of our technicians to residents in Florida. Our AC tradesmen will learn a variety of tips and best practices while they are a part of our family. For HVAC techs you'll find yourselves dealing with a few tasks such as AC maintenance and repairs, duct and attic maintenance as well as new AC installation. Don't lose out on a prime HVAC technician job, apply today!
Apply Now
Electrician Jobs
With our team of expert electrical tradesmen, we've got the power. By becoming a part of the Art Plumbing, Air Conditioning & Electric family you'll have the brightest future possible. Our employee benefits are more than generous and we genuinely care about your future. Our electricians will work with in every facet of the electrical world – residential to commercial, electrical repairs, wiring, safety systems and the like. Brighten your career by applying for one of our electrician jobs now!
Apply Now
Above all – we value all of our tradesman
Regardless of which discipline they specialize in. At Art Plumbing, Air Conditioning & Electric, we strive to ensure that our employees are comfortable in their work environment. We provide our employees with a variety of substantial benefits which include:
75% Company Paid Health Insurance
Dental, Hospital, Cancer and Accident Plans
A 401k Retirement Plan
Vehicle Access
Family Benefits
Vacations and Paid Holidays
A Mobile Phone
A Tablet
Educational Opportunities
Bonuses
Uniforms
An added benefit is that as a tradesman for Art Plumbing, Air Conditioning & Electric you would have a minimal on-call schedule and time off when needed. We understand the importance and need for time with your family, and by joining us you'll become a part of our family as well.
Entry-Level Trade Careers
For beginners in the trade industry there are a variety of opportunities available with us. You'll spend time in a virtual online classroom to obtain the trade qualifications you need to succeed, and you'll be in the field getting practical hands on experience. The best part is that you'll be able to learn and earn at the same time.
So many students aren't able to earn a wage while studying or struggle to balance both work and school life. An extra bonus to think about is that unlike students who are being buried beneath mountains of student debt for multiple years, you'll be given opportunities to advance and earn within the company. This means you'd be starting your career free of student debt and with some money already coming into the bank.
Nothing beats practical hands on experience when learning and that's exactly what you'll get. You'll have seasoned professionals to guide you and show you how to apply everything you've learned online in the real world. New tradesmen will also be able to undergo mentorships with tenured technicians to share the best practices for working in the field.
Intermediate & Professional Tradesmen
If you think Art Plumbing, Air Conditioning & Electric only has opportunities for new and inexperienced tradesmen, you'd better think again. Aside from all of the benefits mentioned above, there are a few added advantages to working with us as an experienced tradesman.
For our intermediate tradesmen we will partner you with a seasoned experienced professional, whose goal it will be to ensure that you live up to your potential as an expert tradesman. Working alongside a seasoned professional also ensures that you learn the best practices for your trade to ultimately make you the best in the industry.
For experienced tradesmen, aside from working within your minimal call schedule, you could opt in for mentor positions. This allows you to expand your trade and customer relation skills and earn as you learn to become the best of the best. You'll also be given opportunities to mentor in other trades in order to expand your knowledge, boost your capabilities, and grow and succeed in the trade industry. There are also numerous opportunities to advance within the company itself.
Becoming a top earner in the trade industry can be difficult without continued education. At Art Plumbing, Air Conditioning & Electric you'll continue to growth both personally as well as professionally. We are here to guide you on the road to success as part of our family.
Remember, our core belief is that the more you grow as a tradesman, the more we grow. We want you to be the very best you can be. You'll be able to build on skills learned in the Nexstar NexTech Academy. You'll be able to take that knowledge and apply it directly and specifically to the trade.
Family Over Everything
One of the biggest incentives that Art Plumbing, Air Conditioning & Electric can offer you is our outstanding company culture. You are not just an employee to us but family. We understand the need for family time and our most important goal is to prioritize your future and your success. We also understand that life can sometimes knock you down, but we will do our best to ensure that you have the helping hand you need to get back on your feet. When you work with us, you're not just another employee – you're an integral part of the family. We pride ourselves on honoring our employees with a variety of events and functions to recognize and thank you for your hard work.
A few of the events and functions we hold in honor of our employees include:
Holiday Events
Birthday Celebrations
Employee Appreciation Days
Employee Milestone Celebrations & Incentives
Barbeques
Team Lunches
Team Building and Training
Who could say no to working in a fun, family-orientated work environment that recognizes and appreciates the hard work you do. Remember, we have been in the trade industry since 1983. Our reputation for service, quality and reliability cannot be matched by any other home services company in Florida. There is a reason we have that reputation, we care about the people who work with us. We not only care about them, but we care about their families too.
Make The Right Choice For You
We are loyal to the people that work with us. We not only acknowledge and appreciate their work, but we celebrate important milestones with them as well. Becoming a part of the Art Plumbing, Air Conditioning & Electric family is one of the greatest things you could do for your future and family. Make the choice that puts you first. Choose Art Plumbing, Air Conditioning & Electric!
Click a link below to apply online.