Electrical Services
From circuit installations and light fixtures, to panel upgrades and fault repairs, electrical work can be a complex project. As a homeowner, you want to be sure that the electrician you hire is someone you can trust. At Art Plumbing, Air Conditioning & Electric, our electricians boast excellent training, superb client service delivery, and in-depth knowledge of even the most complicated electrical problems and solutions. We provide a wide variety of residential and commercial electrical services, to meet your every possible electrical need. Call 1-800-475-1504 today to learn more.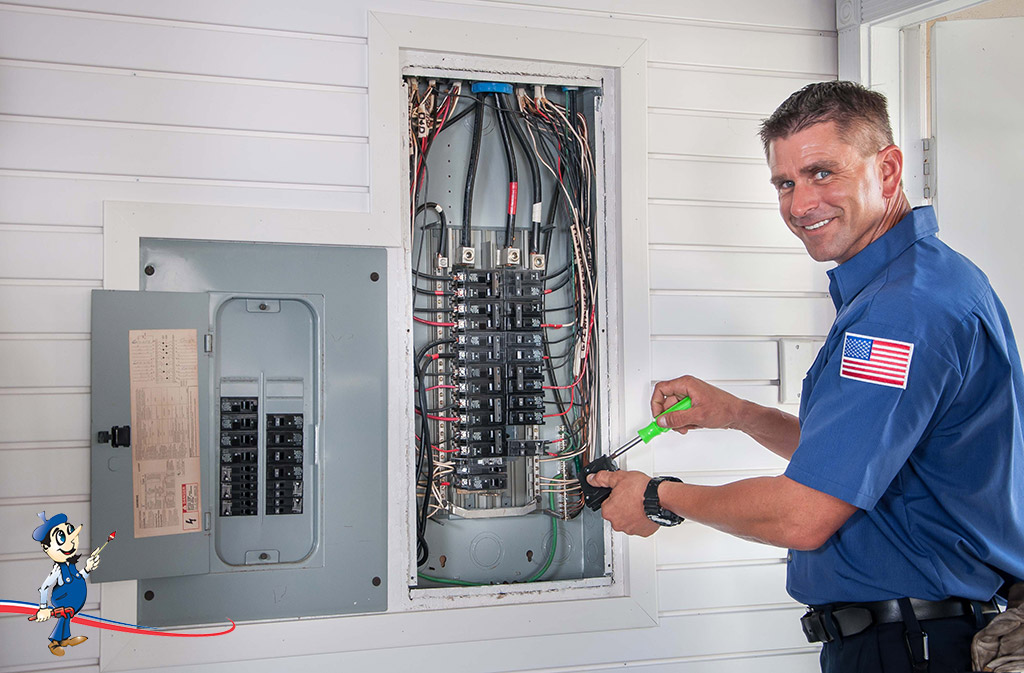 Residential Electrical Services
Vital to every home is a safe and well-functioning electrical system. This can be achieved by ensuring that you acquire professional assistance for all your electrical work to be done – and resisting the temptation to tackle any of it yourself, which could be highly dangerous and expensive if things go wrong. Art Plumbing, Air Conditioning & Electric's electricians will treat your home with the same care and respect that you do, provide friendly and professional service at all times, and ensure you receive top quality electrical assistance.
Electrical Repairs
Electrical Safety Systems
Electrical Wiring
Indoor/Outside Lighting
Commercial Electrical Services
In addition to our residential electrical services, Art Plumbing, Air Conditioning & Electric provides quality electrical services to commercial enterprises. We have excellent experience in meeting the particular electrical services needs of apartment and condominium complexes, office, warehouse, work-shop and store environments. Make your business our business, and allow all of your commercial electrical needs to be taken care of.
Maintenance, inspections, upgrades and installations
Electrical systems are the lifeblood of any functioning business – without them, no operations can take place. If you don't want to face the consequences of poor quality electrical services down the line, trust only the best with your maintenance and installation work. Art Plumbing, Air Conditioning & Electric's ongoing predictive maintenance techniques, specialized upgrade and installation services, and efficiency-enhancing solutions, will save your business time and money later on. We offer:
Thermal electrical inspections and imaging for early detection of faults
Equipment connections and installations
Safe electrical demolition and circuit removal
Panel and sub-panel replacement
Energy management systems for long term efficiency
Circuit installation and upgrades
HVAC wiring and controls for optimum performance
Code updates and corrections
Electrical service upgrades
Emergency and Backup Generator installations
Power conditioning
A safe and stable power supply is vital to the consistent running of a variety business operations. It is equally true that without specialized equipment and electronic devices, most businesses would be unable to operate. That is why making use of power conditioning technology is so important. Power conditioning involves regulating the quality of the power reaching equipment and individual components, to ensure that they perform at the optimum level, and are not exposed to any electrical damage. Often this involves voltage regulation, surge protection and power factor correction. The power conditioning services we offer include:
Power distribution units installation and maintenance
Dedicated circuit installation for major equipment
Isolated ground circuit installation
Special transformers and grounding systems
Transient voltage surge suppressor installation
Developing energy management systems, and
Adapting systems for uninterruptible power supply.
Our lighting specialists will tailor a power conditioning system to suit your business's specifications – book a consultation to find out more.
Whether you're trying to create an ideal working environment, an inviting ambience for customers, or an interior design which exudes success; we have the lighting solution for you. We offer LED lighting installation, indoor lighting installation, specialty lighting, emergency lighting, lighting retrofit, exterior lighting, and general lighting maintenance. Trust Art Plumbing, Air Conditioning & Electric, to provide you with specialist lighting advice and installation to meet your particular lighting needs.