Indoor & Outdoor Lighting
Lighting fixtures serve a practical use and help set the specific mood and tone of any space. Crucial to any design, you must consider what lighting you need for your indoor and outdoor spaces. Here the expert technicians at Art Plumbing, Air Conditioning & Electric discuss indoor and outdoor lighting options.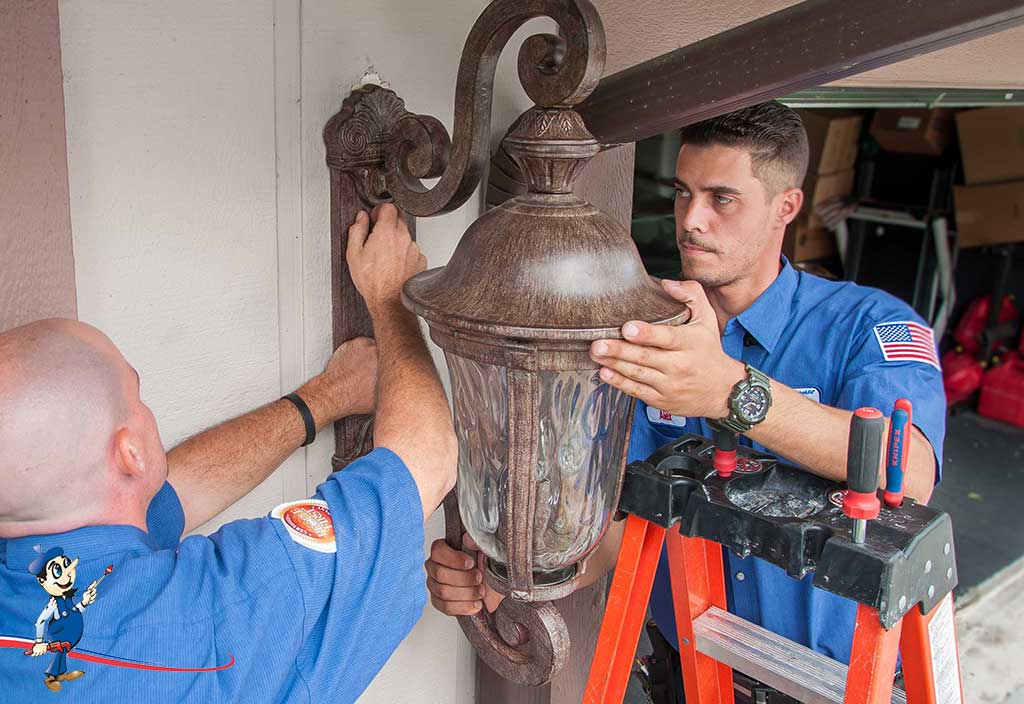 Ballast & Bulb Replacement
As lighting accounts for a sizable percentage of your commercial electric bill, incorporating the right solutions can help you save money and energy. Commercial fluorescent lighting uses a ballast to prevent unexpected burnouts or overheating. Considering the ballast must specifically match the type of light bulb, it's crucial to hire a professional to replace your ballasts and bulbs.
Bathroom & Kitchen Lighting
Proper lighting is key in both the kitchen and bathroom. For bathroom lights, it's critical to find fixtures that can withstand wet or damp conditions. In the kitchen, it's crucial to find fixtures that serve as both ambient and task lighting. Hiring a professional makes finding the right fixtures easy.
Commercial Specialty Lighting
Some of the specialty lighting commercial spaces may need include parking lot and security lights. As commercial bulbs run hotter, it's essential for business owners to find options that are high quality and energy efficient. Art Plumbing, Air Conditioning & Electric looks at your current set up to find specialty lighting that lowers your energy bill.
Landscape Lighting
We love spending time outdoors, and landscape lighting can transform your space into an all-day hangout! Others may find landscape fixtures a terrific way to provide extra safety along pathways or light dark areas with spot and floodlights. Our experts enhance your outdoor space with landscape lighting safely and up to your standards.
LED Upgrades & Retrofit Lighting
As we look to reduce our energy bills and carbon footprint, it's common to upgrade or retrofit fixtures with LED lighting. With its long-lasting ability and brighter display, LED technology is suitable in most commercial and residential instances. Upgrading and retrofitting are both easily done by the experts at Art Plumbing, Air Conditioning & Electric.
Lighting Controls
We deserve to feel as comfortable as possible in our homes and offices. One fantastic way is to have lighting controls installed. Imagine waking up in the morning or enjoying a movie at night, and your lights automatically adjust to your preferences! Our technicians expertly install lighting controls and program to fit your needs.
Light Dimmers & Timers
Installing dimmers or timers is an uncomplicated way to achieve many of the same benefits of controls. Manually controlling the level of light in the room is convenient and provides mood lighting. Installing timers is a terrific way to automatically give your home an extra level of safety while you are away or turn on your porch light automatically. Art Plumbing, Air Conditioning & Electric safely install dimmers and timers.
Light Fixture & Chandelier Installation
One innovative way to combine functionality and style is by installing chandeliers in your home. Also called pendant lighting, chandeliers hang from the ceiling by a chain or rod and are commonly found in kitchens, dining rooms, or living rooms. Trusting the professionals at Art Plumbing, Air Conditioning & Electric guarantees safe and sturdy installation.
Lighting Repair
Sometimes the problems with fixtures go beyond just changing the light bulb. If you find yourself in need of a repair, it is vital to contact a professional. Some common issues include flickering lights, exposed wires, and warm receptacles. Professional lighting repairs are often completed in under an hour – saving you from costly repairs in the future.
Recessed Lighting
This lighting choice is popular as it provides high-quality light without sacrificing the clearance of your ceiling. Installing recessed lighting is great for any room in the house or business as they are easy to customize and never go out of style! Contacting a professional is a necessity as recessed lighting requires more ceiling wiring.
Track & Accent Lighting
Common in-home theaters and highlighting art, track and accent lighting are great for better setting the room's mood. Both work to enhance an area or piece without detracting from the movie or work of art. Track and accent lights provide a clean look that allows you to enjoy your home further.
Indoor & Outdoor Lighting Solutions At
Art Plumbing, Air Conditioning & Electric
​​​​​​Understanding your lighting options can be complicated, but it doesn't have to be with Art Plumbing, Air Conditioning & Electric! If you have any questions about our solutions, call us today at 1-800-475-1504 to learn more.