Generators
Art Plumbing, Air Conditioning & Electric can help you keep the lights on with our reliable generator supply and services. We are proud to be a Generac authorized dealer with SELECT DEALER status. We are fully licensed and equipped to sell, install, and service Generac generators. This includes standby and portable generators for home and commercial use. We are a proud leading electrical service in the South Florida area and our skilled team of technicians is ready to assist you with any generator needs.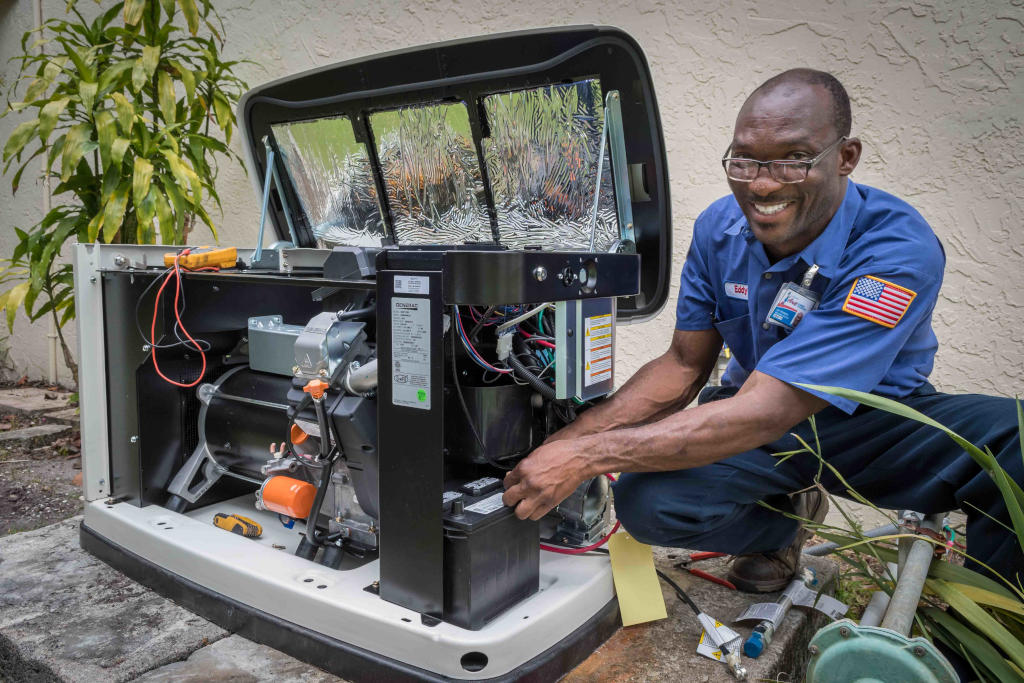 Whole-Home Standby Generators
Whole-home generators do exactly as their name says. They provide power to your whole home. Whole-home Generac generators are extremely capable and provide endless power to your home. They can survive for weeks if required to, which is handy in case a nasty hurricane hits your area. Not only will they protect you from any voltage issues or power surges, but they give you peace of mind during a potential disaster, knowing that your family will be looked after. Whole-home generators can keep your appliances going while also lighting up your home and keeping it cool. Our Generac range of whole-home generators come with intelligent features such as remote monitoring and intuitive operating.
Home Generator Installation & Maintenance
Art Plumbing, Air Conditioning & Electric provides professional generator installation and replacement services. Our team of electricians is more than qualified to help set up your new generator from start to finish. We'll start by inspecting your current electrical system to best understand how your electrical layout works. Once this is done, our team will get to work installing your new generator. From positioning and wiring to the testing and handover, you can trust our team to safely set your Generac generator up. We'll ensure that your generator isn't overloaded and that it completely prevents any chance of carbon monoxide poisoning.
We also offer a comprehensive maintenance and repair services. Our scheduled maintenance service will help you to prevent any breakdowns from occurring. We will conduct a full inspection including a cable and connection check, fluid level check, and control panel and transfer switch check. Our electricians are trained to diagnose and service your generator effectively. If your generator requires a replacement, you can leave that to us as well. You can contact us on our emergency hotline at 1-800-475-1504 if you need any assistance with your generator.
Generator Service Connections
South Florida is known to have seasonal hurricanes and storms which can cause unforeseen outages. Apart from just having a standby generator, you may also require a Generac transfer switchboard. In the event of a power blackout, the last thing you want to be doing is struggling to switch the power over to your generator. Generac transfer switches make it easy to transfer between utility and generator power. They reduce downtime by allowing for an immediate connection transfer in a power outage.
Transfer switches have the following benefits:
Provide a permanent connection point
No additional settings are required to connect
No need to modify the electrical structure of your home or business
No routing of cables is needed and eliminates safety hazards
Safe and reliable
Art Plumbing, Air Conditioning & Electric can supply and install home back-up, portable, and business standby transfer switches. Call us today at 1-800-475-1504 to invest in the convenience and safety of a transfer switch.
Commercial Generators
Is your business covered in the event of a power outage? Investing in a Commercial Generac Generator will ensure that your business remains productive when the power's out. A generator provides an independent backup supply of electricity if an outage hits. The generator uses heavy-duty rechargeable batteries to create and maintain energy. Fuel in the form of gas or diesel powers an engine and an alternator converts the mechanical power into electrical power. A Generac standby generator will ensure that you never have to experience any downtime as a seamless power supply will kick in.
Commercial Generators have the following benefits:
Ensure ongoing productivity in the event of a power outage
Ensure the safety and comfort of employees in the event of a hurricane or heatwave
Protect computer data and allow security systems to function.
Provide an uninterrupted supply of power and keep all devices running like normal
At Art Plumbing, Air Conditioning & Electric, our team of electrical experts will be able to advise you on the best generator for your business. This may include a portable generator for an adaptable manual power supply or a standby generator that starts up automatically preventing interruptions. We can match any capacity required.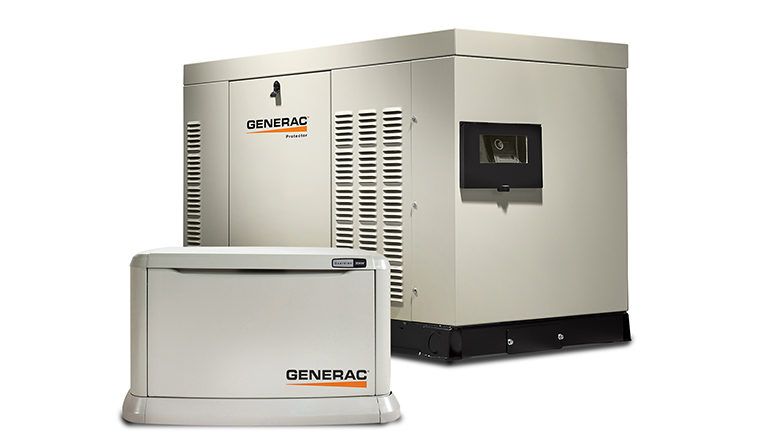 A Generac home backup generator that is permanently installed defends your home instinctively. It operates using natural gas, liquid propane, or diesel fuel and resides outside of your home like an AC unit. A Generac home backup generator provides electricity straight to your home, backing up your entire system or just the most vital household items.
The #1 Choice In Home Backup Generators
Generac is in a category all their own—they set the gold standard for standby home generators. Today, Generac generators are trusted and preferred by more homeowners than any other brand.
Mobile Link™ Remote Monitoring
Out of town? No problem. Mobile Link™ Wi-Fi enabled technology enables you to oversee the condition of your generator from anywhere on the globe simply using a smartphone, computer, or tablet. Easily obtain information and check for maintenance alerts. With Mobile Link™, everything is handled before disaster strikes.
Intuitive Operation
You never have to worry about being home to turn your Generac home backup generator on, it does that automatically.
No Necessary Refuels
Generac home backup generators operating using your existing natural gas, liquid propane, or diesel fuel supply. You no longer have to worry about keeping extra fuel around.
Straight-Forward Power & Capacity
No more extension cords! Your Generac home backup generator securely distributes power directly to your home's electrical system.
Generators At Art Plumbing, Air Conditioning & Electric
At Art Plumbing, Air Conditioning & Electric we have you covered for outages. You can trust us to advise you on the best back-up power solution for your home or office to keep you safe, functional, and self-reliant. We can recommend a high-quality generator that suits your needs, budget, and household or office size. Our ongoing maintenance service will keep the lights on for years to come. Give us a call at 1-800-475-1504 for all your generator needs.