Plumbing Fixture Installations
Plumbing fixtures play a huge role in your home, health, and your comfort. We install and repair faucets and sinks, toilets, bidets, and more. Plus, we carry a wide variety of brands and options to accommodate your budget, lifestyle, and tastes. When you're faced with the task of having to install or repair your plumbing fixtures, it is best to hire a professional, knowledgeable, and experienced plumber. Let the experts at Art Plumbing, Air Conditioning & Electric help.
Our team of licensed plumbers and talented technicians have years of experience and training under their belts, so you can be assured that any plumbing fixture, or part of your plumbing system that needs to be replaced, will be done so with the utmost care and expertise when you call Art Plumbing, Air Conditioning & Electric for service.
Bathrooms & Kitchen Sinks
Art Plumbing, Air Conditioning & Electric also provides South Florida homeowners with a great selection of bathroom sinks, bath-tubs, and other plumbing fixtures. If you are currently investing in a bathroom remodeling project, or you just want to make a few updates to your existing bathroom design, let our licensed plumbers help. Call us today to learn more about our bathroom plumbing installation services.
Looking for a new kitchen sink? Art Plumbing, Air Conditioning & Electric provides a beautiful selection of sinks perfect for any kitchen design. Our plumbers can properly install your new kitchen sink, too, ensuring it is properly fitted and ready to update your kitchen in the way you hoped it would. Call us today to learn more.
Dishwasher, Washer & Dryer Installations
We'll get your appliances hooked-up properly! It's important for your dishwasher hook-up and your washer/dryer hook ups to be installed correctly to avoid potentially devastating water damage or even fire.
Give Art Plumbing, Air Conditioning & Electric a call, or request an appointment online and we'll send a polite, courteous, and knowledgeable plumbing technician to get you hooked up, or inspect your hook ups for safety. It's recommended you have these hook ups inspected annually. Consider a Service Partner Plan for annual maintenance savings and security.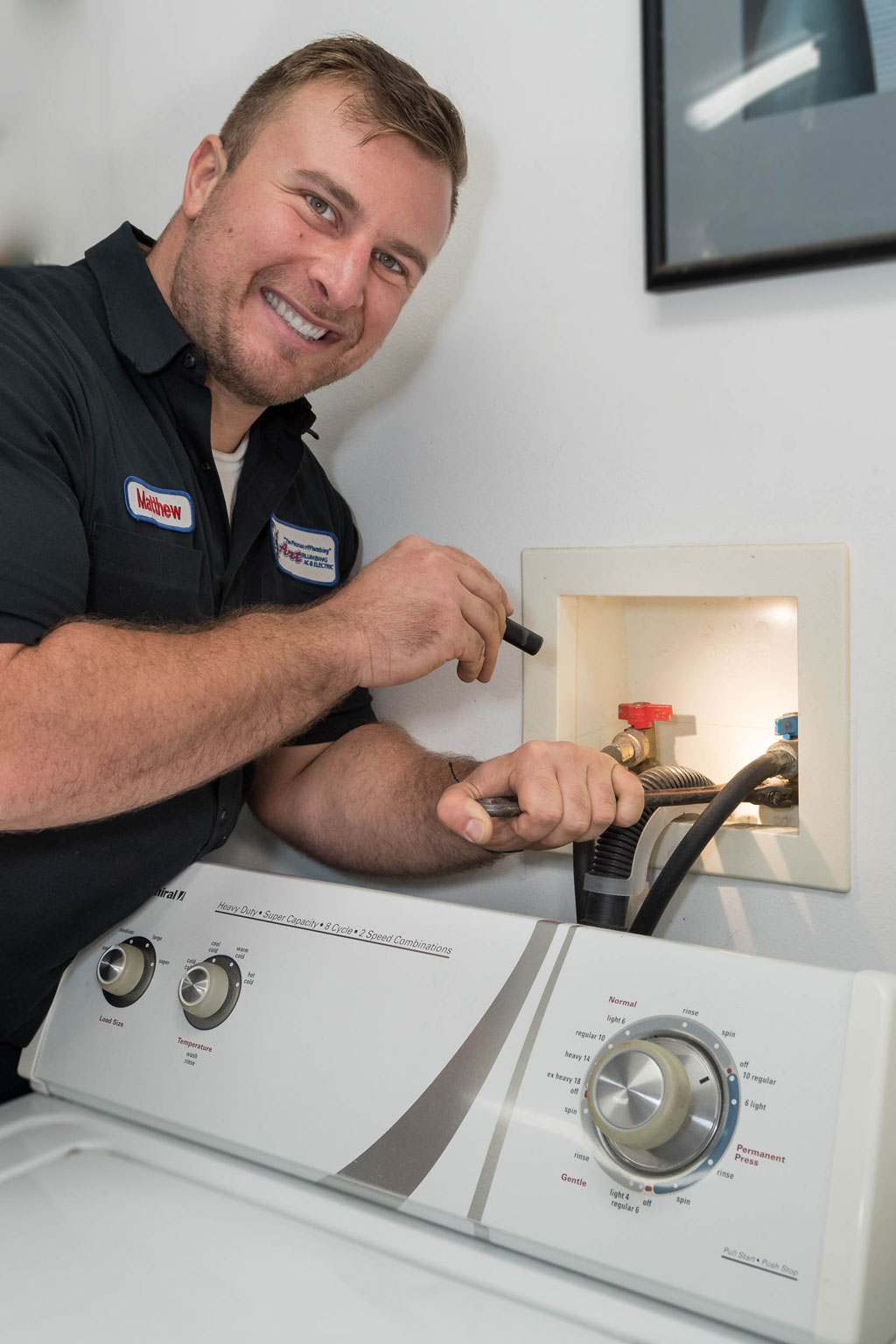 Garbage Disposals
Is your garbage disposal making strange noises? If so, it may be time to call the experts at Art Plumbing, Air Conditioning & Electric for a replacement. We can make simple repairs or install a new disposal for you today. A garbage disposal is only expected to last between 10 and 12 years, so replacing it will eventually be necessary.
So, what are some common garbage disposal issues and what are the professional solutions? If your disposal doesn't turn on we can determine why, reset the disposal and check the circuit breaker. If the motor no longer works, we can replace the disposal. Sometimes a disposal will become jammed with food or other items. We can clear those and advise as to what not to be putting down your disposal.
If you're hearing noises like clicking and whirring your motor may need to be replaced or we may need to tighten the bearings, lugs, or blades. If you're hearing a humming noise when you flip on the disposal, there may be a clog, which will need to be removed. If the disposal is leaking, it probably needs to be replaced.
We stock and install a complete line of disposal models, and we're also happy to install any other brand you may wish to purchase. We'll make sure it's properly installed, that it doesn't leak, and that it is centered and balanced correctly.
Showers & Bathtubs
We install and repair showers, bathtubs throughout the South Florida area. We have over three decades of experience replacing showers and old bathtubs. We can help install a new tub or shower into your home that will not only enhance your bathroom's appearance, but will also make taking a bath or shower a better experience.
You can rely on Art Plumbing, Air Conditioning & Electric for all your shower and bathtub repair or installation services. Our licensed plumbers and expert technicians have the necessary experience, tools and equipment to service you today with 100% satisfaction – guaranteed!
Toilets & Bidets
The toilet or bidet in your home is designed to give years of trouble-free service, but it will eventually require repair or replacement. If you need a new toilet, Art Plumbing, Air Conditioning & Electric has many low-flow and high-efficiency toilets available for our residential and commercial customers. Our work is fully guaranteed and performed by plumbers experienced in toilet installation and repair, who will evaluate your problem and provide you with the solutions needed to remedy the issue.
Whether you want low-flow toilets installed, need toilet repair, or just need us to replace specific toilet parts, you can count on our plumbers for expert repair and installation service. Art Plumbing, Air Conditioning & Electric can provide the professional service you need today quickly and effectively.