Need a New Air Conditioning System?
We'll Match ANY Competitor's Price!
Free Estimates! Same Day Appointments Available!
Free Second Opinions for Repair or Replacement Units!
We Sell & Service ALL Major Brands!
Convenient Financing Options Available!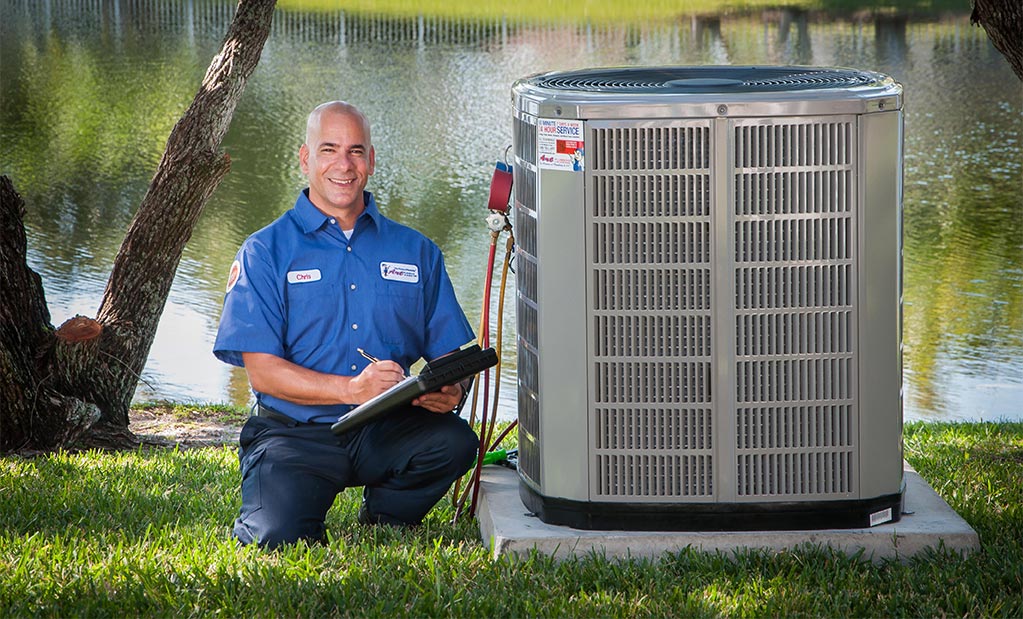 Air Conditioning Services
In the peak of Florida's searing hot and humid summers, you want to be sure that your air conditioning system is not only reliable, but is performing at the optimum level. Then, when the cooler days arrive, an effective heating system is just as important. At Art Plumbing, Air Conditioning & Electric, we've put together an all-inclusive range of top quality HVAC (Heating, Ventilation, Air Conditioning) services to cater to your every possible air conditioning and heating needs.
Our emergency air conditioning services will remove all of the inconvenience of an AC unit breakdown. We pride ourselves on our quick response time, skilled HVAC technicians, and expert knowledge of AC problems and solutions. In fact, we are so confident in our services that all our repairs are guaranteed in writing. Give our emergency hotline a call on 1-800-475-1504 – not only will we save you from sweating the small stuff; we'll save you from sweating at all!
Choosing the right air conditioning unit for your home can be a daunting task. But, it doesn't have to be. Our Home Comfort Specialists have a dedicated knowledge of the latest HVAC technology and products, and will empower you with the advice you need to choose the right AC system to meet your family's needs. We specialize in providing AC solutions which are energy-efficient, reliable and affordable, and which can be tailored to suit your particular budget and home specifications. Our certified installation technicians are fully licensed, and will install any available make and model of AC unit in South Florida. Plus, we offer a broad range of convenient financing solutions, with a range of options and terms so we can create the combination that's right for you.
Regular maintenance of your AC unit could extend its lifespan by a number of years, prevent potential breakdowns, and increase energy efficiency and overall performance, saving you time and money in the long term. Art Plumbing, Air Conditioning & Electric's comprehensive tune-up and maintenance services includes checking the coils, refrigerant levels, electric components, filtration, overall condition and more. Trust our technicians for a top-quality tune-up!
We offer heat pump installation and repairs for our environmentally conscious clients. Heat pumps, which reduce CO2 emissions, are an excellent alternative to conventional air conditioning units, and will efficiently heat and cool your home while having a minimal environmental impact.
Depending on sunlight exposure, room activity and structural factors, not every room in your home will need the same level of temperature control. Our programmable & smart thermostat products will enable you to set and schedule precise temperature controls so that you can achieve optimum comfort in every room at all times of the day, while lowering your energy consumption.
Most people spend up to 90% of their days indoors. So, when it comes to the quality of the air in your home or office, you don't want to compromise. Thankfully Art Plumbing, Air Conditioning & Electric's excellent indoor air quality services ensure that you won't just be breathing easy – you'll be breathing more healthily too. Contact one of our Home Comfort Specialists today so that we can help you select an indoor air quality system ideally suited to your family's needs. Our services include:
Testing and Correcting
Whole Home Air Infiltration Testing
Mold Remediation
Odor Locating and Smoke Testing
Indoor Air Purifiers & Air Cleaners
The quality of the air in your home is a major determinant of your family's health and comfort. Art Plumbing, Air Conditioning & Electric is here to ensure that you experience only the best in air quality and air conditioning services. Contact our Home Comfort Specialists today at 1-800-475-1504 to schedule a consultation.