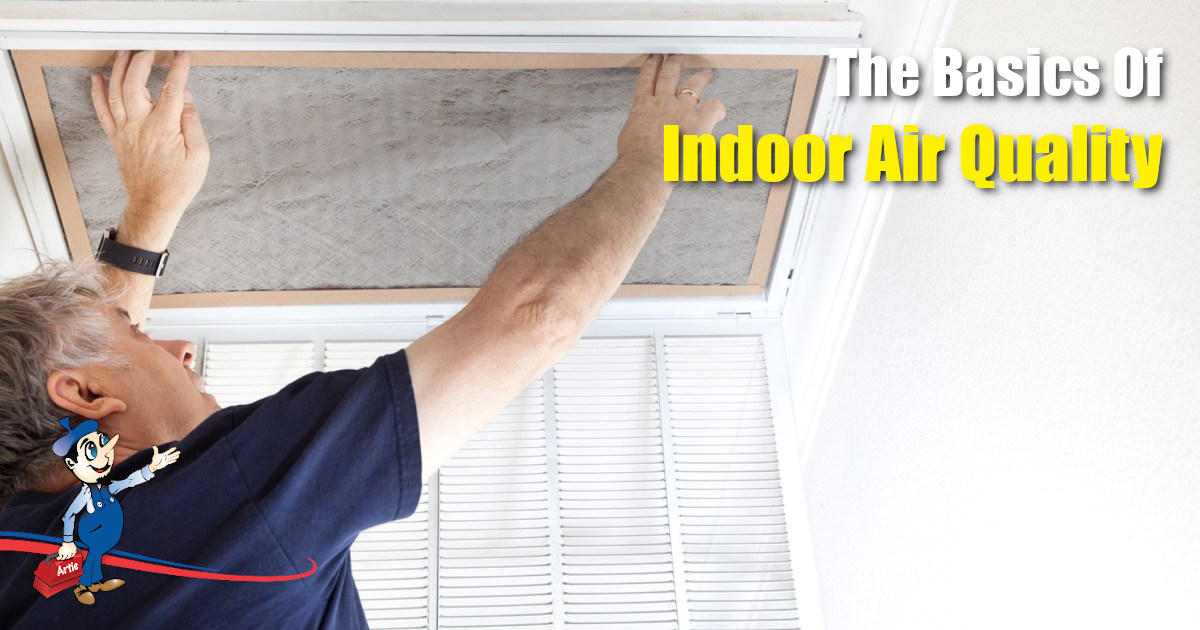 Imagine living in a world where the air we breathe – the thing that keeps us alive and fulfills our basic needs – is the one thing that is slowly making us sick? Well, this imaginary world isn't too far off from reality for some families who don't understand the basics of indoor air quality.
The Environmental Protection Agency (EPA) in the U.S. found that indoor air is 5 times more polluted than outdoor air. With us having to spend more of our time indoors due to COVID-19, the quality of the air we breathe inside our homes has never been more important.
At Art Plumbing, AC & Electric our HVAC experts break down the basics of indoor air quality, why it's important, and discuss some causes and consequences of poor air quality inside your home and how to best avoid this problem to keep the air you breathe clean.
Why is Indoor Air Quality So Important?
Indoor air quality is determined by the concentrations of pollutants and thermal conditions that affect a person's health and comfort levels. Poor air quality can have a severe impact on you and your family's health, so it is essential that we learn how to maintain good air quality throughout our home. If your air quality is not regularly monitored and maintained, it can lead to unwanted health problems and can be costly to repair.
What Are the Causes of Poor Air Quality?
A typical family can pick up and bring home a considerable amount of pollutants such as dust and pollen by going about their daily lives. These pollutants are brought back into the home and can be circulated and recycled by your HVAC system and impact the air you breathe.
Some of the main causes of poor indoor air quality are things such as humidity imbalances, germs, dust, airborne chemicals, and allergens. If managed correctly, there are small changes you can make to fix your home's indoor air quality. If not managed correctly, there are some serious health implications that can go along with it.
What Are the Consequences of Poor Air Quality?
Poor indoor air quality inside your home or office building may cause allergies to flare up, eye irritation, and fatigue, or headaches. Even more importantly, according to the EPA, long-term exposure to polluted indoor air can cause more severe health implications such as asthma.
Tips to Improve Your Home's Indoor Air Quality
The best strategies to improve your home's indoor air quality are to improve ventilation, improve indoor air filtration and purification, and manage humidity.
Improve Ventilation

If you're conducting any activities that involve harmful pollutants such as painting, you should improve the natural ventilation inside your home by opening a window or door. If worried about pests and insects getting inside, you can invest in a screen protector for your windows and doors to keep them out.

Improve Indoor Air Filtration

Invest in an air purifier that can remove and filter pollutants from your indoor air. Top-quality air filtration and purification systems are excellent at collecting pollutants from inside your home and filtering them out to keep the air you breathe clean.

Manage Humidity

Living in a humid climate such is South Florida can increase the amount of dampness and moisture in the home, which can lead to humidity imbalances that result in the growth of mold. Mold can have negative impacts on your family's health and so it's very important to manage your home's humidity and prevent the growth of mold from happening. One way to do this is to invest in a whole-home dehumidifier which can be linked to your HVAC system.
How Can Art Plumbing, AC & Electric Help You?
Art Plumbing, AC & Electric can help you with the best indoor air quality services and HVAC maintenance to make sure your family's health comes first. Our expert technicians can conduct a thorough inspection of your home's air quality and evaluate the next best steps for your home comfort needs.
Our goal is to provide great quality service and to always ensure you have everything you need to have clean indoor air and your family's health is never compromised.
To learn more about our services and product offerings, give us a call today at 1-800-475-1504.