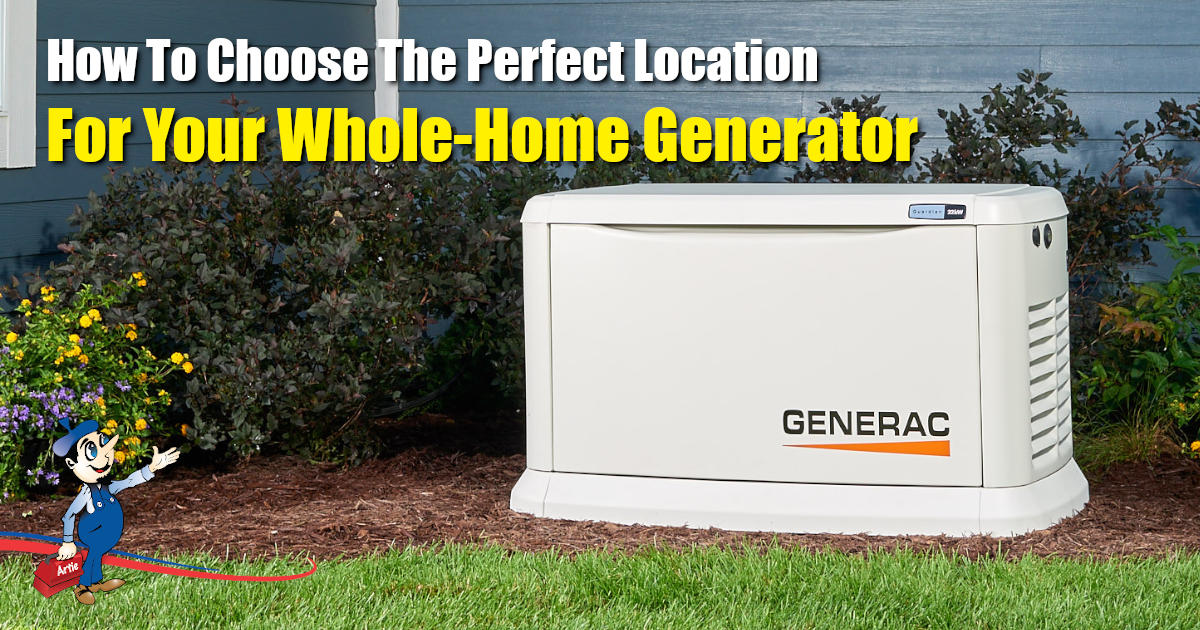 Choosing the perfect location for your whole-home generator is not as easy as dumping it in the most convenient spot. You'll need to consider factors such as a reachable power source, the weather in the area, and the safety for your family. Generators are a great investment for your home and so positioning it correctly saves you money and time in the long run.
Choosing The Right Generator For Your Home
If you're looking into purchasing and installing a whole-home generator in preparation for hurricane season, we're here to assist.
You'll want to invest in a generator that offers you the best value for your money, with the confidence that your home will be protected no matter what. Generac® whole-home backup generators can be permanently installed and will always be ready to protect your home. These generators conveniently run off of natural gases or existing liquid propane, making them easy to refuel. It operates outside of your home, ready to provide your home with direct power. Generac® has set the gold standard for standby whole-home generators and are preferred by many homeowners.
Local Code Authority
Local authorities have requirements for standby generators when it comes to the power supply.
The requirements apply to the supply company depending on whether gas or electricity is used. However, there are also stipulations such as clearance requirements that apply to the homeowner. Standard regulations include the distance of the location of your generator in relation to walls and home openings like doors and windows. There are also regulations regarding distance from flammable materials.
Some local authorities require your generator to be placed on concrete pads while others accept gravel bases. Is the ground level enough? Do you require a base to be built in order to meet local codes? The professionals at Art Plumbing, AC & Electric have years of experience in ensuring whole-home generators are installed in line within local code authority.
Weather Patterns
Weather conditions in South Florida must always be considered. Weather elements such as wind, especially during hurricane season, should not put your family at risk for exhaust fumes blowing towards your home or your neighbors' homes. Because of the wind element, placing the generator near overhanging trees, shrubs, or awnings has the potential to cause exhaust build-up. This is harmful to the inhabitants of your home and must be avoided.
Power Source
You'll have to put the generator as close to a power source as possible. This a job for the professional electrical experts as you may need to create an access point if one does not exist.
Safety
Safety for your children and your pets must be considered in order to prevent any serious accidents from taking place. You would either need to fence off an area or position it in an area where children and pets cannot access or will not go. The area that you choose should not cause any obstructions elsewhere on your property.
You'll also need to consider the volume of sound that the generator produces. Placing it too close to bedrooms and living rooms will be a nuisance. Placing it too close to your neighbors will also be a problem. Depending on the above-mentioned factors, we'll do our best to place it in such a way that doesn't affect the comfort of your family or your home.
Whole-Home Generator Installation In South Florida
Hurricane season is underway and you'll want to be prepared. If you haven't already installed a home standby generator to support your home during the bad weather seasons, give us a call. We'll advise you on the best generator to purchase and we'll carry out an assessment to ensure that it is installed in the safest and most practical spot for your home. Call us today at 1-800-475-1504.