Hydro Jetting
Do you have a stubborn clog in your drain that needs to be cleared? Are you experiencing foul odors coming from the kitchen or bathroom sink? Most drainage clogs are easy to fix, but sometimes the blockage is deeper in the line than you think, causing a lot of inconvenience and a host of issues within your pipes.
The experienced drain clearing professionals at Art Rooter, Sewer & Drain Cleaning use the latest hydro jetting equipment to assess and clear any drain that may be causing you plumbing problems.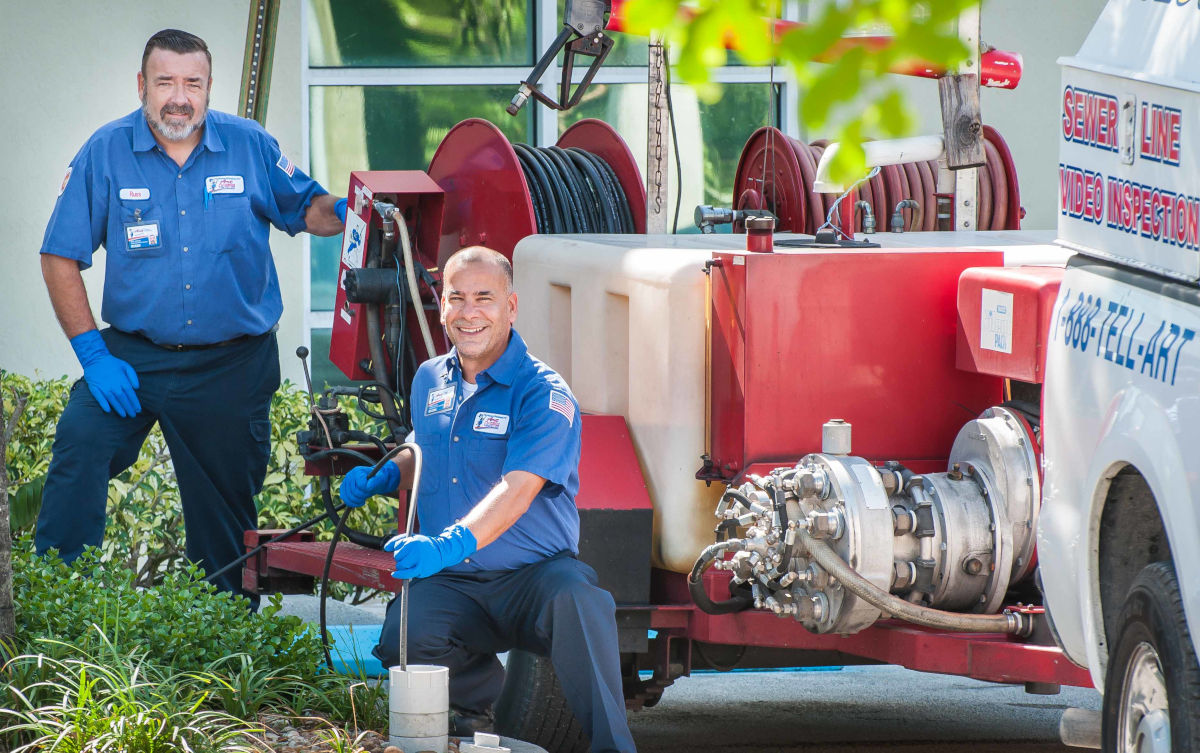 What Is Hydro Jetting?
When a drainage line is completely clogged, it prevents water and waste from exiting properly down the drain.
Depending on the severity of a blockage, the condition of the line, and the size of the pipe, hydro jetting or drain jetting, uses a high-pressure water hose between 1,500 PSI and 4,000 PSI to blast away any clogs and completely clean the interior of your pipes. It's a powerful tool that plumbers can use to more effectively remove waste and debris buildup that is often left behind by household drain cleaning products or plumbing snakes.
What Are The Benefits Of Hydro Jetting?
Drain snakes are a popular tool among plumbers when clearing a blockage from a drain line. However, if you're experiencing a tough or persistent clog, hydro jetting is the best method for removal, and it comes with many added benefits.
It's Fast
Because hydro jetting uses high-pressure water to remove waste and debris in pipes, it's an incredibly fast process and it guarantees relief from both major and minor clogs. Not only that, it effectively cleans your lines in the process.
It Improves Drainage
In South Florida, it's not uncommon to see grease, tree roots, debris, and mineral buildup inside your pipes. This buildup causes numerous issues and prevents your plumbing from draining properly. By using a hydro jet, plumbers are able to effectively remove the buildup, simultaneously improving your drainage system.
It's Versatile
Not all plumbing is created equal. Some lines are older, smaller, or made out of different material than others. Because hydro jetting uses only water to combat and remove clogs, it's typically a safe way to clear blockages from your pipes.
It Prolongs The Life Of Your Pipes
Debris and buildup can break or corrode your pipes. By having your drainage line professionally jetted, you can prevent this corrosion and extend the lifespan of your plumbing.
Getting The Job Done With Art Rooter, Sewer & Drain Cleaning
If your plumbing is experiencing frequent clogs or backups, or if you have putrid and unwelcoming odors coming from your kitchen or bathroom, it's time to call the professionals. One of our rooter experts will be able to assess the location, type, and severity of your blockage and quickly get your drains flowing again.
Since 1983, we've been faithfully taking care of South Florida's plumbing. For any residential or commercial rooter or plumbing service, contact Art today at 1-888-773-1524. Big or small, we unclog them all!