Drain & Sewer Clearing
Are your sinks backing up? Are tree roots taking over your pipes? Do your drains keep clogging? All of these are signs of a drain blockage and that it's time to call a drain clearing specialist.
At Art Rooter, Sewer & Drain Cleaning, our professionals offer an expansive list of drain and sewer clearing services including hydro-jetting and snaking to release the toughest clogs. Big or small, we fix them all!
$93 or It's Free!


Main Drain Clearing with a
93-Day Stay-Clear Guarantee!

Clogged Main Drain Line? Stopped-up Sewer Main? Call the drain clearing experts at Art Rooter, Sewer & Drain Cleaning!

Whether it's roots in the sewer line, flushed objects, or broken drain lines, we have an experienced technician ready to handle it for you. Not only will we clear the stoppage, we can prevent it from reoccurring. Plus, there's NEVER an extra charge on weekends during regular business hours!

*Limited time offer. Cannot be combined with other offers, discounts or coupons. Clearing only, cleaning additional. Sewer must have readily accessible ground floor clean-out. Up to 75 feet of cable for main drains; up to 25 feet of cable for smaller drains. NOT ALL DRAIN LINES CAN BE CLEARED – factors such as roots, broken pipes, shifted pipes and ultimately what materials are in the pipes affect attempted clearing results. We reserve the right to not service faulty drains or drains with reoccurring issues. Single family residence and residential customers only. Does not apply to rental/landlord-tenant property. Does not apply to commercial property or property managed commercial property. Valid only within our tri-county service area. After hours service charges apply. If required by technician, camera inspection is not optional and must be completed during regular business hours within 24-hours of clearing stoppage. Some additional restrictions and exclusions may apply, call for details.
Clean, courteous technicians

All the tools & training to get the job done right, the first time

Shoe covers and work mats to protect your home or workspace

Follow-up to ensure that you are 100% satisfied with the work conducted

Florida state licensed and insured

93-Day Stay-Clear Guarantee

Request Service
Art Plumbing, Air Conditioning & Electric is fully licensed and insured.
• Plumbing CFC037085 • Air Cond. CAC1818277 • General Cont. CGC045296 • Electrical Cont. EC13006731
When Do You Need Drain Clearing Services?
Clogged Sewer Drains: Your home or building's sewer drain moves the black water to the sewer. Some indications of a sewer drain blockage are your shower or tub fills up when you flush the toilet, when you run the washing machine it comes up into the kitchen sink or shower/tub, multiple plumbing fixtures are clogged, or your toilet gurgles and doesn't flush.
All of these can be a serious reason for concern and cause substantial problems. If these issues are not fixed properly and promptly, they can also pose significant health risks and permanent, costly damage to your home or business.
Clogged Kitchen Drains: When oils, fats, grease, soaps, and certain foods go down the drain, the plumbing can become clogged, creating a blockage. If you notice that your kitchen sink isn't draining properly after you've attempted to clear it, it's time to consider rooter service.
Clogged Bathroom Drains: Hair, toothpaste, toilet paper, feminine hygiene products, wipes, oils, makeup, soap, and grime can all cause significant buildup in your bathroom drains. If left unattended, you're looking at serious plumbing problems in the future.
Clogged Utility Drains: Are the drains in your utility room or garage backing up? Dirt, oils, debris, and numerous other substances can easily clog utility drains. If left unfixed, you will begin to experience poor drainage within your plumbing system and potentially flooding.
If you're experiencing any drain blockage issues with your drains or sewer system, give Art Rooter, Sewer & Drain Cleaning a call. Our team has the latest tools and technology to get the problem fixed, and everything flowing the way it should be.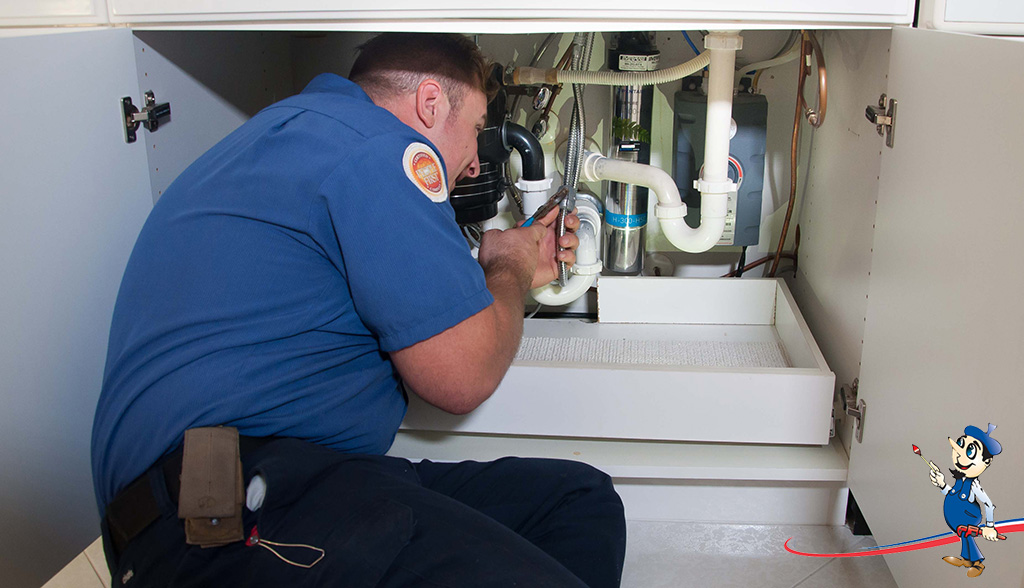 Drain Clearing
Your home's drains often go unnoticed until a problem arises. Plumbing problems can range from being bothersome to disastrous. Whether you're experiencing drain problems or you want to avoid problems in the future, consider professional drain clearing by Art Plumbing, Air Conditioning & Electric.
Our licensed plumbers have extensive training and experience in dealing with drainage issues of all types, so you can keep drainage issues, unnecessary expenses, and inconveniences at bay. Your 100% satisfaction is guaranteed!
What are the indicators that you may need drain clearing?
Slow drains. Experiencing slow drains are an indication of an impending clog, so don't wait until you are dealing with a full-fledged clog before calling in our professionals. If you notice your sink or tub draining slowly, or water building up in the shower, your drains need attention. Slow drains may also indicate improper grading of your drainage system.
Clogging. Recurring clogging, even after attempts to unclog, is a sign that the full clog is not being removed. Multiple clogged drains are indicative of a clog somewhere in the main drain system. A plunger cannot resolve this type of clog.
Foul Odor. Pipes with buildup or a clog often emit an odor. This odor may be caused by grease, food, or sewage trapped within the pipe. The smell of sewage may be indicative of a much larger issue such as a broken pipe.
Flooding. Experiencing flooding is a sign of a major clog in your drain. Backup from severely clogged drains could result in contaminated water in your home.
What are some of the benefits of regular drain clearing?
Prevents clogs and emergencies. Regular drain clearing keeps buildup from forming in your pipe, thereby reducing the risk of clogs, odors, leaks and flooding.
Monitors condition of pipes. Professional plumbers employ a variety of tools to inspect your drains while they clean them. These inspections can catch early signs of pipe degradation and other issues that may arise before they become financial burdens.
Prevents further damage. Chemical drain cleaners are hazardous to use and may cause damage to certain types of pipes. Leaving the drain clearing to the professionals keeps you and your pipes safe.
Improved drain life. Clogs can cause a buildup in pressure in your plumbing, resulting in cracked or burst pipes. Drain clearing greatly decreases the risk of clogs, thereby improving the life of your pipes.


How can you avoid clogs?
Use sink strainers and mesh covers. These prevent unwanted items and debris from running down the drain. Clean them often to ensure proper function.
Flush drains with hot water once a week. Hot water will help breakup any buildup from grease, food and soap that may be lining the walls of your pipes.
Do not put food scraps or pour grease or oil down the drain. Drains are not meant to sustain those types of substances, eventually creating clogs.
Do not flush heavy paper products. Excessive paper can clog toilets and the sewer system.