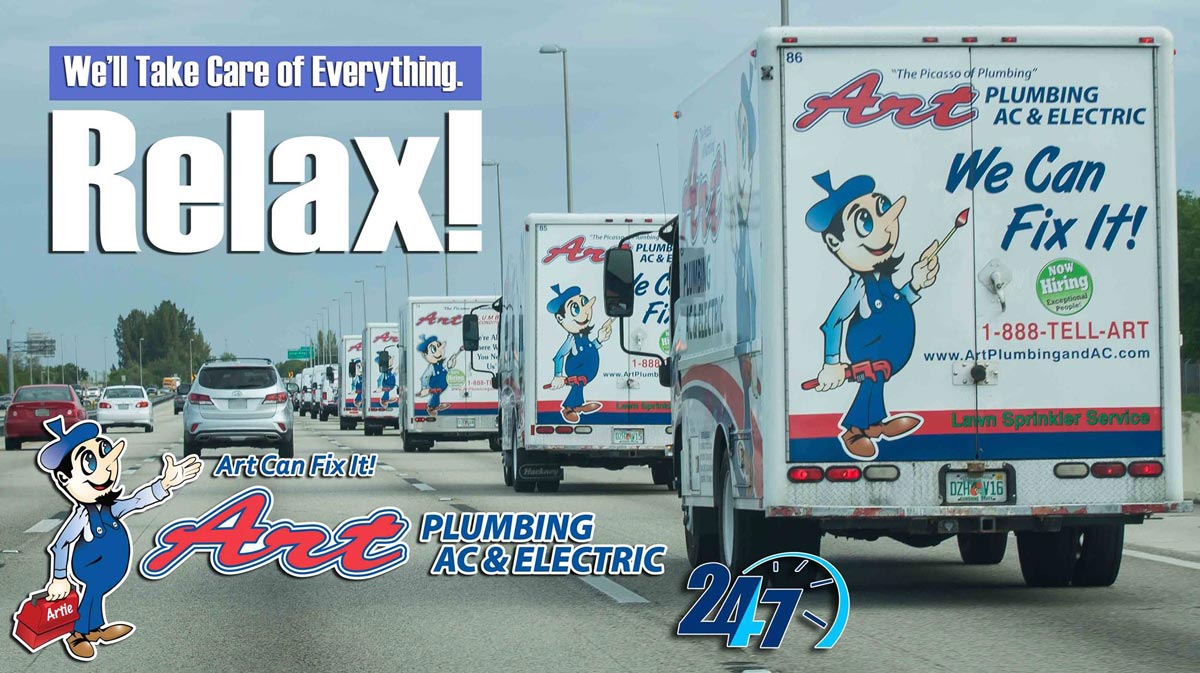 Reading Time:
2
minutes
The South Florida heat can be unbearable if you don't have a working AC unit. With the warmer weather well on its way, there's no time to waste waiting for AC supplies when repairing your system. Art Plumbing, AC & Electric boasts a fleet of well stocked trucks to assist you in your time of need. Here we discuss the benefits of our well-stocked trucks and some of the supplies we can bring to your doorstep to help fix and maintain your AC system.
Benefits of Using A Supply Truck?
The greatest benefit of hiring an AC repair company that uses well-stocked trucks is the assurance of efficiency. Making use of a well-stocked truck allows the technician to arrive at your home with the necessary tools to get the job done – ensuring that you don't have to waste time waiting for the parts to be ordered and shipped.
What's Inside an AC Supply Truck?
A well-stocked truck is equipped to deal with general AC repairs and maintenance. The technicians at Art Plumbing, AC & Electric are experienced to know what types of AC repairs occur most frequently and making sure the common parts needed for these repairs are on their trucks.
Emergency Repairs

When your AC system stops working, the best thing you can do is call Art Plumbing, AC & Electric. Our trucks are stocked with repair parts and toolboxes that allow our skilled technicians to solve your emergency repair sooner rather than later.

Tune-Ups and Maintenance

To maintain your AC, your technician will require parts such as replacement coils, cooling fluids and filtration system repair parts. Your AC gathers a lot of dust and dirt resulting in a less effective system and higher utility bills. Our well-stocked trucks allow for a technician to visit your home and complete a tune-up in no time.

Duct Servicing

Your AC ducts and the state they are in can have a big effect on the efficiency of your AC unit. Ducts collect a lot of dust resulting in low indoor air quality and an AC system that must work a lot harder. Bad air quality can have a negative effect on your family's health as you could be breathing in bacteria, dust and even mold. We can also provide you with our ArtieSeal Duct Sealing System that can fix leaks and improve the overall condition of your ducts.
At Art Plumbing, AC & Electric we pride ourselves in being South Florida's chosen AC supplier since 1983. Our trucks are warehouses on wheels! With them, we can assure our clients of quality service at a reasonable price. Contact Art Plumbing, AC & Electric today for all your AC needs.