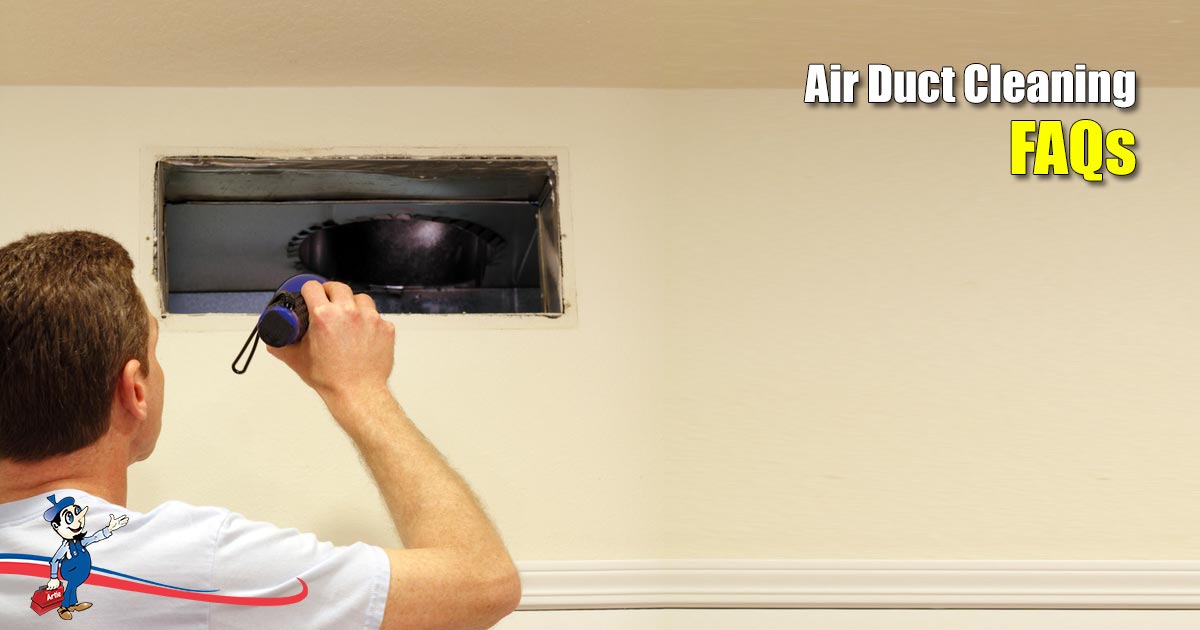 Too often we prioritize areas of our home that visibly need attention, leaving those unseen to go unnoticed. It may be safe to say that the maintenance of our air duct systems falls into this unnoticed category. The problem is that the maintenance of this category is often more important than the others. Maintaining and cleaning your air duct system allows you to breathe easier both physically, and financially.
While this article attempts to address the most common air duct cleaning FAQs, our Home Comfort Specialists at Art Plumbing, AC & Electric are able to provide any and all the information you may need.
Are There Any Health Benefits That Come From Cleaning My Air Ducts?
Yes, there are countless health benefits to having your air duct systems cleaned. Heating, ventilation, and air conditioning (HVAC) systems are the collectors of a variety of contaminants. Mold, fungi, bacteria, and dust particles that have settled in the air duct system may trigger allergies, asthma, and other health problems by contaminating the air that circulates through the room. The removal of these contaminants by a professional allows for the circulation of cleaner and healthier air.
How Often Should I Get My Air Ducts Cleaned?
The National Air Duct Cleaners Association (NADCA) recommends that air ducts be cleaned every three to five years. This being said, there are several factors that may cause a homeowner to consider more frequent cleaning of their ducts to be done:
Residents suffering from allergies or asthma – the severity of these symptoms may also affect the frequency of cleaning
Smokers in the household
Pets that shed high amounts of dander and hair
Water contamination, or damage, to the home or HVAC system
After the renovation, or remodeling, of a home
Prior to the occupancy of a new home
Is It Necessary To Hire A Professional To Clean My Air Ducts?
There are always benefits to hiring a professional to complete a job potentially affecting you and your family's health. Hiring a professional not only ensures the provision of clean and healthy air but the peace of mind that was done correctly. The NADCA states that the entire HVAC system is cleaned, which includes the following components:
Grills
Air ducts
Coils
Drain pan
Registers
Air plenum
Blower motor and assembly
Heat exchanger
Air filter
Air cleaner
If even one of these components is not cleaned, the whole system is at risk of recontamination, minimizing health benefits. The cleaning process is an extremely complicated one, which is where trained individuals can make your life easier!
How Long Does The Air Duct Cleaning Process Take?
An average-size home should take about three to five hours if there are two technicians working. There are, however, many factors that could affect the time it takes to clean an air duct system, such as:
Size of a home
Number of systems
Extent of contamination
Number of cleaners
If you are looking for a more accurate estimate, one can be provided following an inspection by one of our trusted technicians.
What Should I Look For When Hiring An Air Duct System Cleaner?
It's always a good idea to do a bit of research before hiring a company.
Ensure that the company you are interested in using is certified by NADCA and is insured
Confirm that the company rates fall within your budget
Don't be shy to take a look at their reviews
These are some, but most definitely not all, of the questions people have when it comes to the cleaning of your air ducts. Take a deep breath of fresh air and allow Art Plumbing, AC & Electric to inspect, or answer any further questions, regarding your HVAC system.