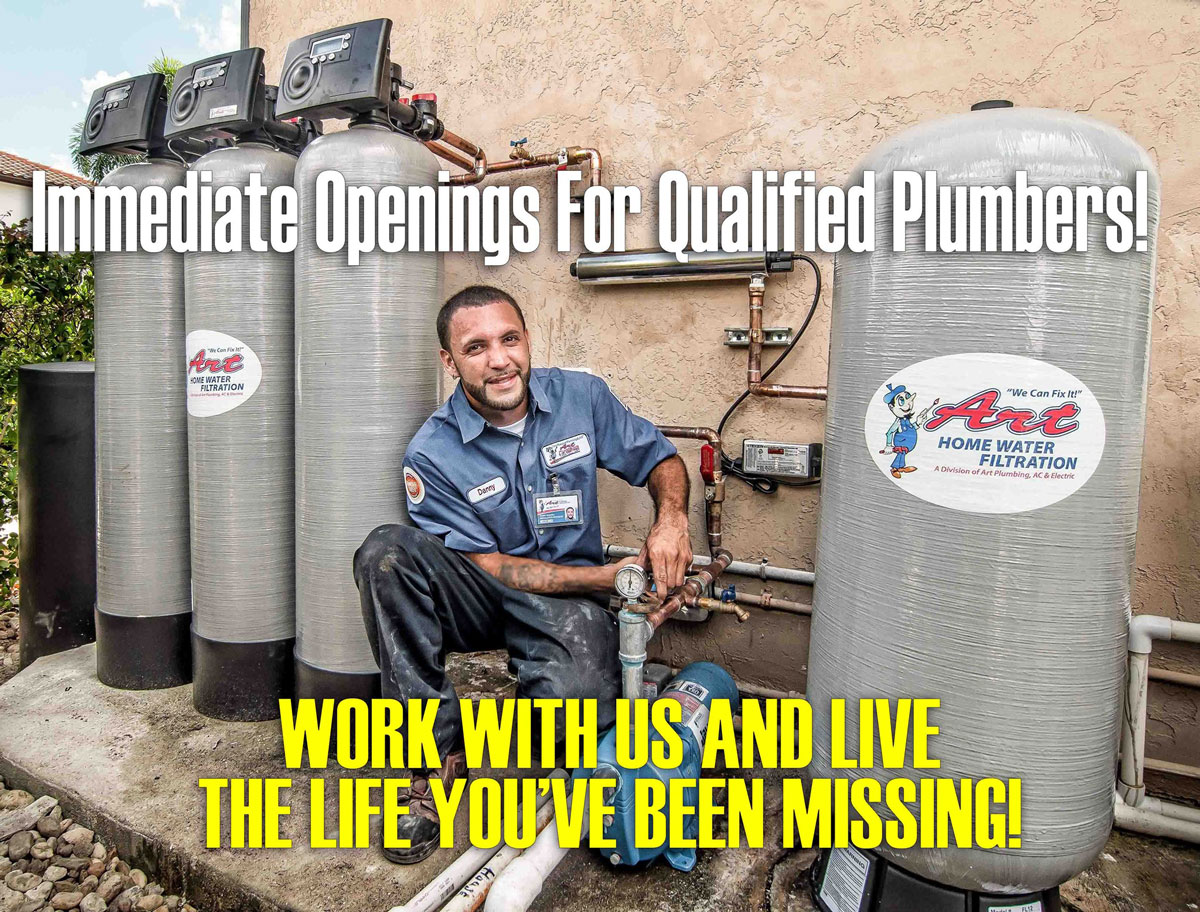 Are you tired of working for a place of business that puts themselves first? Do you love what you do but feel stuck? Do you dream of a better life for you and your family? Work with Art Plumbing, AC & Electric and live the life you have been missing! We are currently hiring passionate plumbing technicians with three to five years of experience to join our team! With over 35 years of experience, we are as dedicated to our employees as we are our customers. Below are just a few of the benefits of working at Art Plumbing, AC & Electric!
Great Pay
The average plumber in Florida makes $53,944 a year. With rising costs, Art Plumbing, AC & Electric understands that this is not a living salary. This is why our technicians earn between $73,000 to $101,000 per year! Plumbing is an industry plagued by overworked and underpaid people, so we dedicate ourselves to provide opportunities to allow our team to live as well as our customers! Working with us means you can own your own home, have time and money to take incredible vacations, save for your kids' college fund, and retire in comfort. Your success is our commitment.
Family First
Plumbing companies are not well-known for putting employees and their families first. As a family-owned and operated business, Art Plumbing, AC & Electric understands the importance of family. We offer employee-focused events such as holiday events, barbecues, appreciation days, team exercises, and more! A happy employee is also a healthy employee. Our flexible work-life balance reduces stress and related issues like high blood pressure and cholesterol. Our family work atmosphere has led to an excellent reputation with our customers, suppliers, code enforcement authorities, and, of course, our employees.
Unmatched Benefits
Without our employees, Art Plumbing, AC & Electric would be nothing. Our benefits package should reflect our appreciation, as well as our investment in your health and future. Competitive benefits improve employee morale and loyalty, which makes for a healthier team resulting in fewer sick days, and better job performance.
Here are the top benefits Art Plumbing, AC & Electric has to offer you:
No On-Call Schedule: We will never ask you to be on-call because we understand it is not fair for you to have to cancel plans or sit by the phone.


Great Insurance And Retirement: We offer 75%-paid health insurance for you and your family. Coverage also includes hospital, cancer, accident, and dental plans. We also provide life and disability insurance, along with a 401K retirement plan.


Tuition Reimbursement: Continuing your education is as important to us as it is to you. It allows you to learn new skills which make our team more capable.


Paid Holidays And Vacations: Paid vacations help to keep your health and well-being balanced and leads to a more productive employee.


Equipment: We offer our employees fully stocked take-home trucks to decrease wear on your vehicle. We also supply mobile phones and tablets.


Proud Uniforms: By providing our team with safe, recognizable uniforms, it saves you from spending money on work clothes and increases pride in your career.


On-Going Training: By offering continual on-the-job training, you can increase your knowledge and career opportunities to advance within our team.
Apply Now
Becoming part of the Art Plumbing, AC & Electric family is one of the best moves you can make for you and your family. Because we expect the best from our team, we need to provide the best, too.
Our core belief is that the more you grow as a person, the more we grow as a team. So, what are you waiting for? For an immediate response, call or text Chris directly at 954-531-3972. Click here to apply to our team online. If you would like to apply in person, come to our Hiring Open House at our corporate offices located at 4151 NW 124 Avenue Coral Springs, FL 33065 on Tuesday between 7:00 am and 9:00 am or on Friday between 11:00 am and 1:00 pm. Remember, the best time to find a GREAT job is when you have a good job.