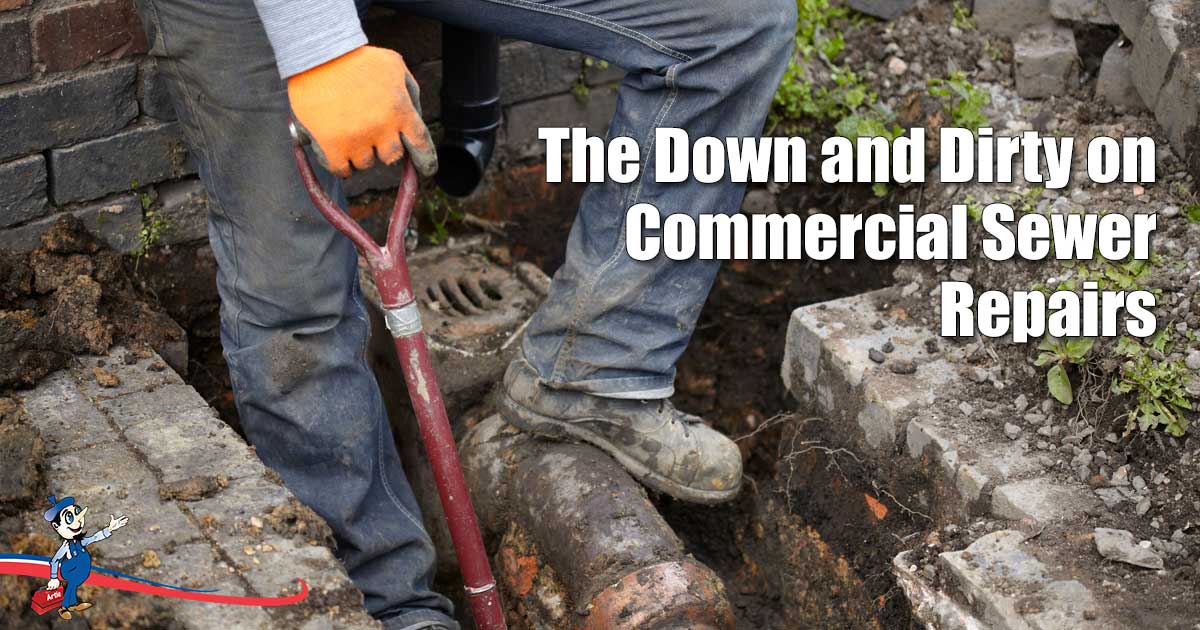 Reading Time:
3
minutes
In an ideal world, we would never have problems with sewer lines. Your business's water should make its way to a water treatment plant and that should be the last we have to think about it. However, nothing usually ever goes how we'd like it and that's why we offer commercial sewer repairs. Art Plumbing, AC & Electric is proud to offer South Florida businesses a fast and affordable solution with flat rate pricing in an emergency situation.
How do I Know if I Have a Problem with My Sewer Line?
There are various signs to look out for when you sense you have a problem in your sewer line. The most common, however, is water backing up through drains and toilets, followed by foul smelling odors. So be sure to check for any water backing up through your business's bathrooms and sinks.
Generally, commercial properties are more likely to have sewer problems than residential homes due to more individuals using sinks and toilets. Often employees or customers don't use your facilities correctly (putting unwanted objects down the toilet and sink) – this leads to blockages in your sewer system which would require you call out a plumbing expert to hand the sewer repairs.
Leading Causes for Problems with Sewer Lines
Often the leading cause of problems with residential drains is due to washing grease, oil and food down your drain, this generally does not apply to most businesses. The leading cause of commercial sewer repairs being is blockages from foreign materials. Here we have a few other external reasons which may cause a blockage.
Trees: Tree roots are the second leading cause for disruptions in commercial sewers. A tree's roots are strong enough to displace pipes and cause blockages.
Heavy Rainfall: Heavy rainfall can sometimes overwhelm your sewer system and cause pipes to burst.
Old Pipes: Older buildings have pipes made from clay, over time this clay can become brittle and destroyed by tree roots.
Foreign Objects: Allowing foreign objects such as, feminine hygiene products and trash into your sewer system can create blockages.
What Happens When My Sewer Line Gets Blocked?
When your sewer line gets blocked or flooded it's usually just a nuisance to deal with. However, people don't realize the dangers which arise when a sewer line is blocked or broken. Normally this would just cause flooding, however, this can lead to an environmental hazard – mainly due to water contamination. Water contamination is when raw sewer water makes its way into the treated water. This can present multiple health hazards as sewer water usually contains germs, viruses and bacteria which can be harmful to your health and the health of your employees.
How to Spot Water Contamination if There are No Blockages
Sometimes it's not obvious that there are sewer blockages or leakages. The main way to tell, would be due to flooding or a foul smell in the air near water drains. However, there are some other indicators which could reveal the requirement of commercial sewer repairs.
The best way to spot a sewer leakage which is not visible is not with your eyes, but with your nose and mouth. Attempt to keep track of how your business's everyday drinking water tastes and smells. Should you taste traces of chlorides and metals in your water which were not previously there or should your treated drinking water have a foul odor to it then you need to contact a commercial plumbing company immediately.
As you should know, prevention is the best fix in most scenarios and it's no different when it comes to sewer repairs. At Art Plumbing, AC & Electric we also offer commercial plumbing system inspections. These inspections involve sending a fiber optic camera through your sewer system to insure there are no blockages or problems forming.
So how do you go about fixing a commercial sewer line problem? The answer is simple, contact Art Plumbing, AC & Electric. We understand the inconvenience of sewer line problems and as such operate on Saturdays and Sundays as well at no extra charge during regular business hours. With our glowing reputation Art Plumbing, AC & Electric endeavor to provide you with a satisfaction guarantee, excellent customer service and our up-front flat rate pricing.