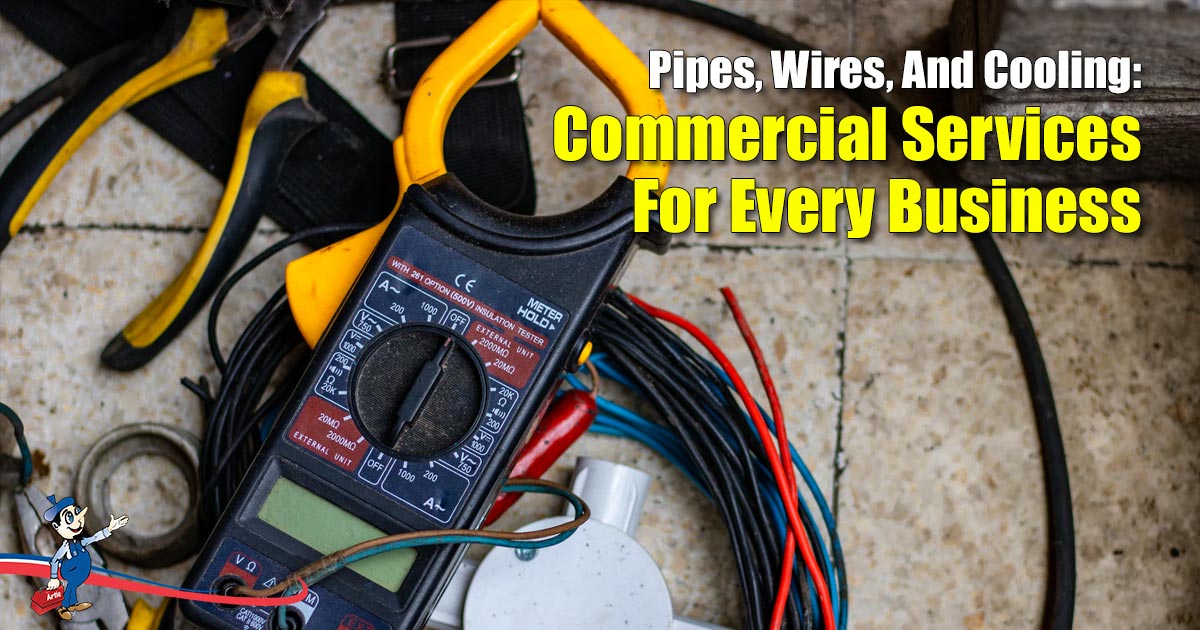 When it comes to running a business, any downtime can be costly in terms of productivity and customer service. When an emergency hits, it's good to have a number to call that gives you access to a range of services that will meet all your commercial plumbing, electrical and air conditioning needs.
At Art Plumbing, AC & Electric our trucks are ready to roll; mobile warehouses that are fully equipped with diagnostic equipment, supplies, and highly trained technicians – everything needed to get your business up and running again. Our teams are available for emergencies over weekends too. Our technicians work efficiently and accurately to save you time and money.
High-Rise Buildings
The plumbing and electrical systems for high-rise buildings are complex in design to function within the environment created by the building structure. Plumbing systems must take into account the elevated pressure needed for water supply and distribution as the height of the building affects the forces at work in the plumbing systems. Providing and maintaining the electrical requirements of a high-rise building are also far more complex than in a single home. Our electricians and plumbers understand these complexities.
Multi-Family Properties
25% of Americans live in multi-unit homes. Heating and cooling these buildings use about 43% of all the energy used in the states. While sealing these buildings effectively and applying weatherization techniques reduces energy consumption, it also raises the possibility of poor indoor air quality that can affect the health of the inhabitants. Art Plumbing, AC & Electric can help with the insulation, weatherization and the correct ventilation systems to maintain healthy air and correct moisture levels inside.
HOA's & Clubhouses
Organizations such as Home Owners Associations (HOA's) and Clubhouses are usually run by a Board and all decisions taken have to be agreed on by a significant majority. The same applies when it comes to hiring someone to do repairs to the property. Art Plumbing, AC & Electric are in a unique position to offer assistance for any repair needed. We've been in the business for over 35 years and our reputation of being trustworthy, reliable and efficient will simplify the selection process. We also perform due diligence inspections for community purchases.
Property Management
Maintaining multiple properties is an ongoing, demanding task. Commercial plumbing issues, electrical faults, and AC problems never happen on a manageable schedule. The good news is that we have a large team of trained technicians that will ensure your clients don't have to wait long for their problems to be seen to. We offer service contracts that will take the stress of repairs and maintenance off your hands.
Commercial Properties
We have a solution for whatever unique needs you may have for your commercial property. Need to get your commercial electrical system up to code? We can help. We also offer slab leak repairs.
Industrial Properties
The electrical and plumbing needs of Industrial properties will be affected by increased usage and demand, the complexity of the architecture, and the potential for damage if things go wrong. With these in mind, the grade of pipes, fixtures, and wiring will be different from those used in a domestic situation. Everything about industrial plumbing and electrical systems will need to be a higher grade and more durable.
Our technicians are trained to work in an industrial environment and can meet all your needs, whether you are starting from scratch, expanding or needed repairs done.
Hospitals & Medical Facilities
Hospitals and medical facilities depend on electrical equipment for preserving life. Because of this, their electrical systems need to be carefully designed with a backup power source that is sufficient for critical functions that patients need.
The electrical set-up at hospitals and medical facilities are on two separate circuits to ensure that certain functions can go on unhindered even if the power fails; non-essential and essential electrical systems all related to the impact on patient care.
The plumbing systems in medical facilities are also highly specialized, requiring the provision of different types of water to different sites, as well as specialized disposal of liquids that leave the lab to avoid the spread of disease or chemicals.
Art Can Help!
It doesn't matter what line of business you're in, or how big or small your business is … It doesn't matter if you're starting the design process, expanding, renovating or need emergency repairs for your established business – call our commercial services team today at 954-752-1282. Our technicians are trained, equipped and ready to be at your service.