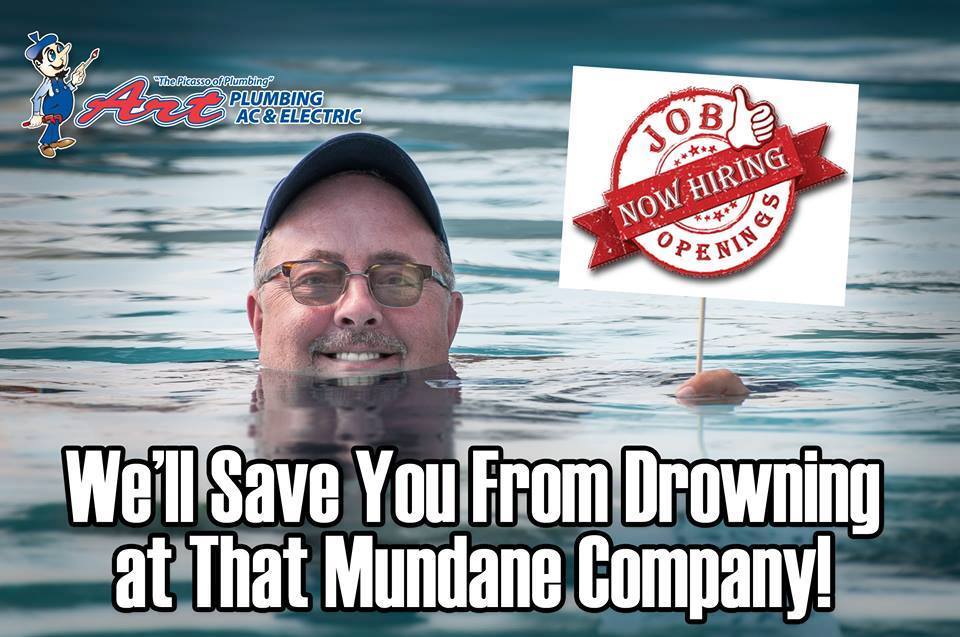 Due to the pandemic, many people in South Florida have found themselves unemployed. One industry that saw the least impact and continues to grow rapidly is the trade industry – especially plumbing. If you lost your job due to Covid-19 or are just looking for a change of pace, consider joining the Art Plumbing, AC & Electric team as a plumber!
Making A Career In Plumbing
We often hear of kids wanting to grow up to be astronauts or rock stars, but they don't realize that people working in the trade industry are very much superheroes in their own right. As the need for plumbers continues to grow due to a shortage of interest and aging tradespeople retiring, it is now more crucial than ever to consider plumbing as a promising and lifelong career choice.
Some of the many benefits of becoming a plumber in south Florida has to offer include:
Stability
We now live in a time where it is easy to question the stability of many things, especially employment that will support our families. Plumbing is one of the most stable jobs as there will always be a need for plumbers.
From pipe leaks to clogged drains, at some point, everyone is going to have to call a plumber, and that plumber should be you!
Lifelong Skills
As a plumber, you will be taught valuable skills from professionals who have become some of the best in the business. Not only will you learn how to fix plumbing issues for other people, but you can also now use those skills for your own home-needs. Plumbers learn how to use ultramodern technology and equipment, a unique and indispensable gift to have!
Variety
No matter the number of under the sink leaks or busted pipes, no two days as a plumber will ever be the same. From house calls to commercial calls, the plumbers at Art Plumbing, AC & Electric are continually meeting new people without being stuck behind a desk. The respect you receive after saving the day from a plumbing disaster is the ultimate boost of self-confidence.
Working With Art Plumbing, AC & Electric
Becoming a plumber will be one of the best decisions you have ever made, but becoming a plumber with the Art Plumbing, AC & Electric family offers even more specific benefits to the company.
Employee-Centric Environment
We understand that putting our employees first is the best way to build loyal relationships with our clients. Art Plumbing, AC & Electric prides itself on making the working environment feel like a second family. That is why we offer benefits you won't find anywhere else, including:
401k Retirement Plan
75% Company Paid Health Insurance

Accident, cancer, dental, and hospital plans also available

Bonuses
Company cell phone and tablet
Company vehicle access
Educational opportunities
Family benefits
Paid vacations and holidays
Firsthand Training
Our company is only as strong as the weakest member, so we understand it's crucial to provide our plumbers with continual education and training. It does not matter if you are starting your trade career or are a seasoned veteran, Art Plumbing, AC & Electric has a place for you. We offer virtual classroom training for beginners alongside field training with our professionals to practice what you learn in real-time while earning a living.
For those who are already in the plumbing industry, we partner you with tradespeople to test out your skills while learning our specific practices.
Family-First Approach
Your entire life should never be consumed by your career, which is why we believe it is vital to provide a family-first approach to the company. We promise to keep your on-call schedule to a minimum so you can enjoy time doing what you love.
Art Plumbing, AC & Electric may have begun over 35 years ago, but we still hold true to our mantra, "ARTIE," meaning Accountability, Respect, Trust, Integrity, Excellence. Considering a plumbing career with us means a brighter future. Check out our current plumbing opportunities, and apply with the click of a button, today!