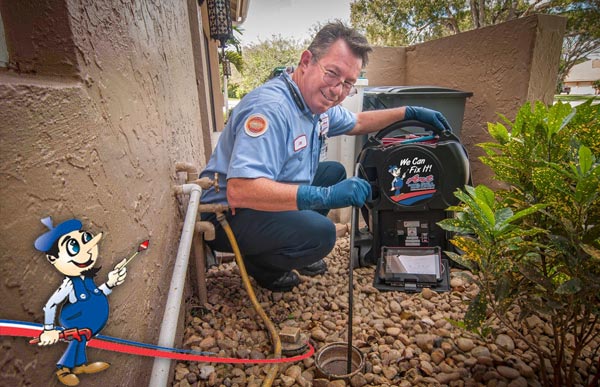 Tree roots, corrosion, and debris can build up and threaten the healthy functioning of your home's drains and sewer lines. When this happens, you need a professional rooter service to solve the problem and address your home's plumbing needs. A rooter is a drain cleaning machine that was invented to unblock drains that have been clogged from tree roots and other hard to reach debris.
What is a Rooter Service?
A rooter service is a type of plumbing repair – it is any method of drain cleaning or pipe repair. Typically, it is when a plumbing service company uses a range of different tools to perform water pipe repair. It involves running water through your drains, using tools that they snake through your drains to unclog them and sometimes taking parts of the water pipe system apart so that they can take out some of the clogs manually. The original culprit of clogged drains was tree roots – hence the name ROOTer service, but now it is used to address all kinds of stubborn sewer line and drainpipe clogs that affect the function of your plumbing.
Why Do I Need a Rooter Service?
A Rooter service is a very important repair job to your plumbing system. Rooter service is designed to solve the common problems of slow and clogged drains. Clogs and blockages can affect your plumbing in many ways, depending on the type of clog and where it is located:
A clog inside one of your home's drains will only affect the appliance or fixture nearest its location. These clogs are generally made up of debris such as food scraps, hair, and soap scum.
A larger clog blocking your home's sewer line may show different symptoms e.g. widespread drainage issues in several areas of your home or minor backups in tubs and showers when a toilet is flushed or your washing machine runs.
Sewer clogs can also be due to debris build up, non-flushable items in the pipes, or they may be caused by tree roots growing into your sewer line that cannot be removed without the help of your professional rooter service.
A rooter service is the best way to combat the multiple commonplace problems of slow and clogged drains that you may experience in your home. A plumber should be contacted when you need this service as the use of a rooter machine is needed to break up the roots in your plumbing and flush them out. It is important that an experienced professional is in control of this machine because it is easy to damage your pipes if it is not used correctly. Rooter service is an important part of plumbing maintenance and you will need to use this service when you have a mysterious clog, a wastewater backup or any other drainage issue.