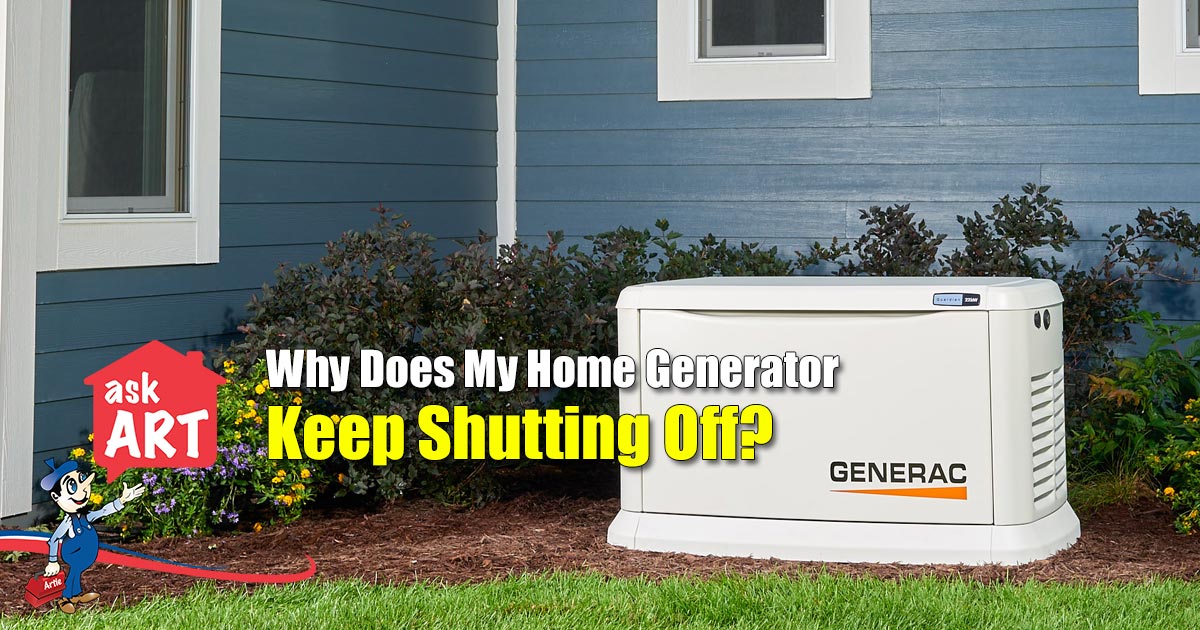 During power outages, life at home can continue somewhat uninterrupted with the help of a home generator. What happens when your backup plan fails, and your generator keeps shutting off?
Mentioned are a few, but definitely not all, causes and solutions to problems you may be experiencing with your portable home generator. While these solutions may seem simple, it is always a good idea to contact a professional when faced with these situations.
Spark Plugs
Spark plugs play an essential role in the start-up of generators. If your spark plugs are faulty, your generator will make a crackling sound after and shut down after a few seconds. Sometimes spark plugs just need a good clean, while other times they need to be replaced, advice that can be provided by our team at Art, Plumbing AC & Electric.
Overloading
In the case of overloading, most generators are programmed to shut down. This feature, home to newer models, saves your appliances from getting stressed when the system is being overloaded.
A simple solution to this would be to reduce the load of the generator and to restart it. Familiarizing yourself with the size and capacity of your generator can help prevent the overloading of your system.
Fuel Shutoff Value
A fuel shutoff valve allows you to control the flow of fuel to the engine of your generator. A problem many people face is forgetting that they have closed this valve when placing their generator in storage.
Without opening the fuel shutoff valve, the generator will turn on for a few minutes and then switch off. Simply open the shutoff valve before starting your generator to prevent this from happening.
Fuel Level
However, ensuring the shutoff valve is open will render your efforts useless if the fuel levels are low. Checking the fuel levels before starting up your generator can help to avoid this inconvenience.
If your generator has been in storage and it won't start, it may be that the fuel has gone stale. A solution would be to drain the tank and carburetor float bowl of any stale fuel, replacing it with a fresh supply.
Choke Position
The purpose of a choke is to restrict the amount of oxygen passing through the carburetor, while simultaneously increasing the flow of fuel. This is necessary when starting a generator, as the level of fuel in the carburetor is usually lower.
For the successful startup of your generator, the choke needs to be in full choke position. After a few minutes, it must be moved to half choke and then into run position. Not making these changes will result in an imbalance between air and fuel, causing the generator to shut down. If your generator will only run in full and half choke, the advice and help from a professional are required.
Oil Level
Oil levels that are too low may cause your generator to shut-off.
A common misconception is that your generator will not start if the oil level is too low. The truth is that your generator will start but may cause permanent damage to the engine. Newer generator models, such as Generac, have a "low oil shutoff sensor" automatically shutting off your generator when oil levels are running low.
Air Filter
An engine will automatically shut down if it is not receiving enough air from its surroundings. An air filter supplies the engine with air free of dirt and debris. However, a dirty air filter prevents the correct amount of air from passing through and entering the engine. Cleaning, or replacing, the air filter will fix this problem by restoring the flow of air.
Diagnosing what the cause is and how to fix it may be easier said than done. Luckily, our trusted team at Art Plumbing, AC & Electric would love to turn your backup plan into a fool-proof one! Please don't hesitate to contact us for more information or with further questions.