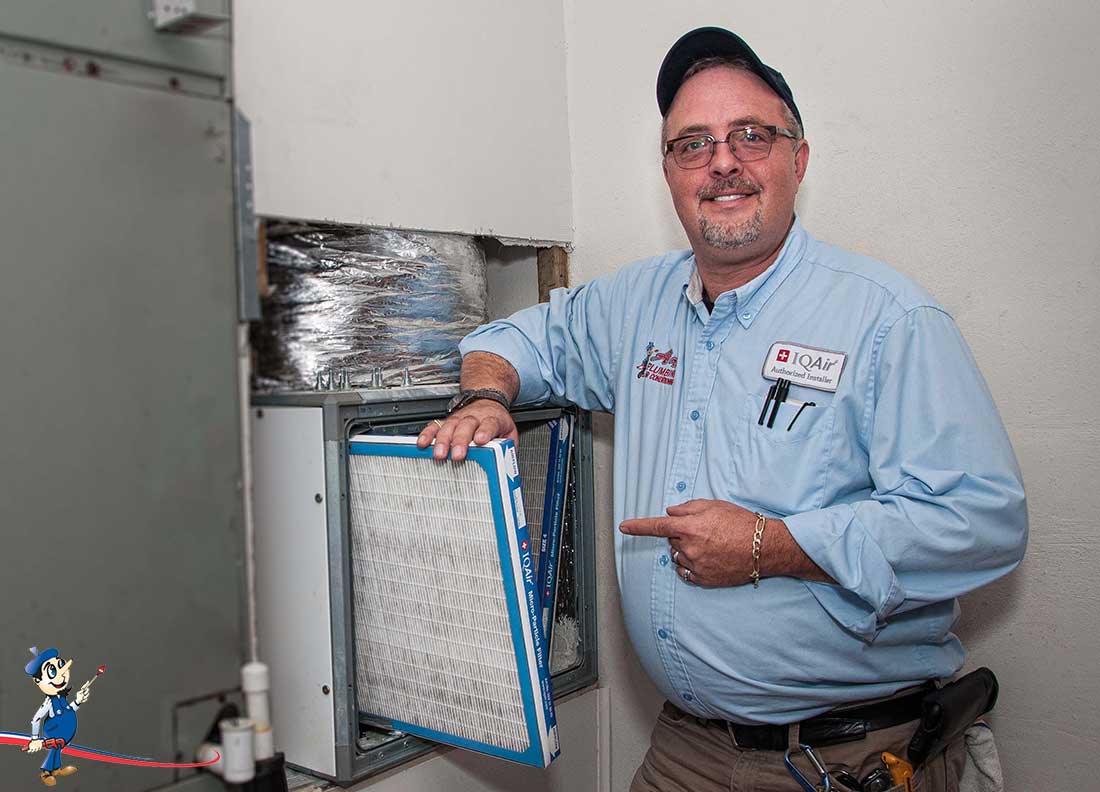 Reading Time:
2
minutes
Spring is fast approaching, and with it comes hiding inside air-conditioned buildings to keep your allergies at bay. Living and working without the proper air filtration systems installed could make you dread the next few months, so why not make sure you have the correct air purifying systems and filtration to keep the sniffling and eye watering to a minimum?
Use The Right Air Filtration System
Installing an air filtration in your house creates a closed system, recycling air and cleaning any new air that may be brought in through open doors and windows. Unfortunately, while keeping out pollutants and pollens that may aggravate your allergies, these systems also keep air particulates in. This means if you have a pet or mildew, the air system will circulate the particulates they give off and keep you sneezing and itchy.
A useful remedy for keeping the inside air clean is to use air purifiers and air cleaners. Art Plumbing, AC & Electric offer a range of air purification tests and products, which remove 99.97% of particles using HEPA filters to clean the air properly. Air purifiers are portable systems that can be plugged in to a nearby socket, removing smaller particulates and pet odors.
We also offer IQAir Whole Home air filtration systems which works along with your HVAC system to clean the air up to 125 times per day. This air filter works to remove bigger particulates and lasts much longer than a portable air purifier. Whole home air filtration dramatically reduces airborne contaminants in your home by trapping particles down to 0.003 microns in size.
Maintenance Is Key
Installing the correct air purification systems are a great step towards breathing easier, but maintenance of the filters is crucial for keeping your air clean. Filters need to be replaced regularly, about once per month, to maintain optimal air cleaning.
All filters for air filtration systems have a MERV rating which indicate how efficiently the air filters work. A MERV rating ranges from 1 through to 20, with the higher number indicating better performance. A rating of 8 or 9 indicates that the filters will keep the air relatively free of dirt particulates, while a rating of above 16 works to physically clean the air. But these filters do accumulate dirt and fill up, which can cause more issues rather than fixing them.
When filters become clogged they allow dust, pet dander, and humidity to build, creating a perfect environment for mold and mildew to grow. Prevent aggravating your allergies by having filters replaced regularly and call us for an inspection if you are worried that there is a build-up of mold or mildew in the HVAC ducts. Keep in mind that the HVAC system creates a closed environment, and having dirty filters spewing dust and damp air will only recycle those particulates through your home without being removed properly.
Get in touch with our skilled experts to chat about the right air filtration options for you and your allergies. Whether the system just needs a clean or you want to install a more thorough air cleaner, we will leave you breathing better.