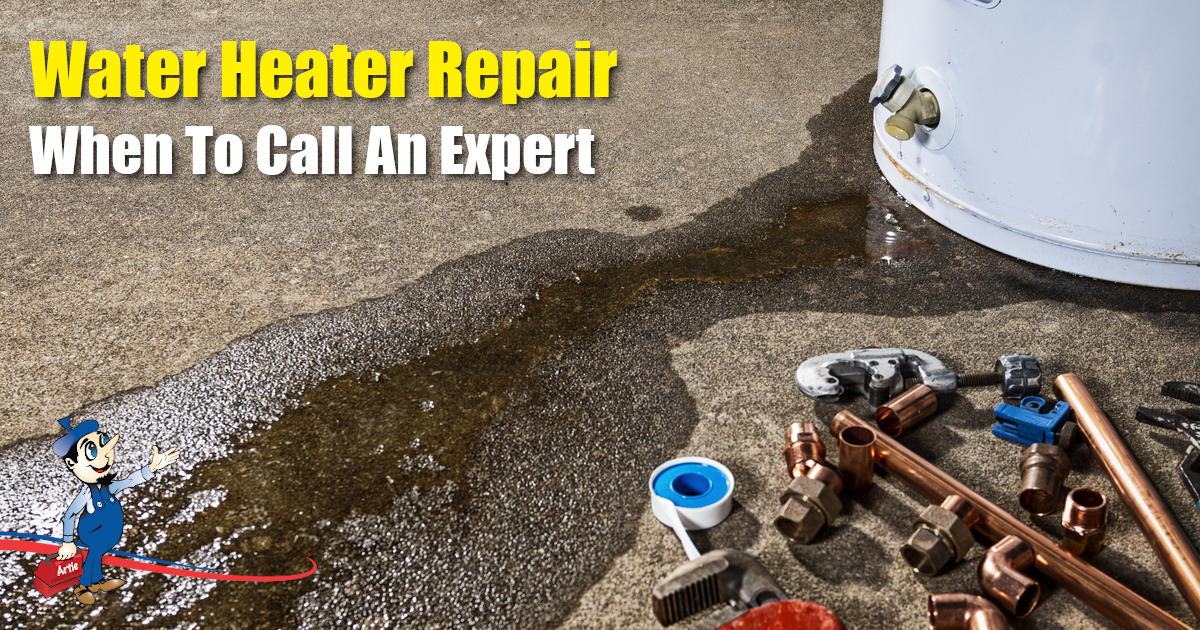 The thing about having a water heater in your home is that you often take it for granted. You know it's there and it's working, and you feel you don't need to care more than that. The problem is that like with most household appliances, eventually, you'll need to get water heater repairs done to ensure that your water heater still works.
Dealing with a faulty or failing unit can be troublesome – you don't want to take an unexpected cold shower as you're getting ready for the day. The great thing about water heaters is that there are generally signs you should keep an eye out for. These signs will let you know when to call an expert from Art Plumbing, AC & Electric for plumbing repair services that you can trust.
Water Pressure Issues
Nobody likes to feel pressured, but the one pressure you do need in life is decent water pressure.
If your water pressure is low, there's a good chance it's time for you to call in the experts. Mineral-rich water found in South Florida will cause a build-up of minerals and sediment within your plumbing pipes. This will contribute to a reduction in water pressure from your water heater and that means less hot water will come out of your household fixtures.
Depending on the age or style of your home, low water pressure could also be due to the inefficient design of the house or building and resulting in awkwardly placed plumbing pipes or faulty distribution lines.
Out Of The Ordinary Noises
It's perfectly ok for your water heater to make little bits of noise. It's not a small appliance and unlike the laundry machine, it's operating around the clock.
The thing is, your water heater will never make, nor should it ever make excessive amount of noise. You shouldn't hear clanking and banging or popping sounds. If this is the cases, call a professional plumber as soon as possible to take a look at your water heater. A build-up of minerals and sediment may be contributing to the noises and it will need to be removed from your heater. Keep in mind that the mineral build-up will cause your heater to overwork as it tries to keep the temperature of the water constant.
Proactively maintaining your water heater will extend the life of your unit as well as eliminate the need for untimely water heater repairs in the future.
Water Discoloration
We all know what clean water is supposed to look like, so if your water isn't clear, there's a good chance your water heater needs repairs.
If your water looks murky or discolored in any way or if it has an unusual smell, there's a good chance that you may have limescale build-up on your faucets and fixtures due to the mineral deposits that were trapped in the heater. The limescale build-up can end up damaging your household plumbing fixtures.
Keep in mind that if your water looks muddy or orange, you may be dealing with rust within your pipes or water heater and it's not safe to consume. Because of this, it's important that you call in a plumbing professional immediately.
Water Leaks
While DIY is never recommended nor is it a solution to water heater repairs and maintenance, there's nothing stopping you from taking a look at your water heater and assessing the outside of the unit.
If you notice that there is water pooling near the base of the heater, you definitely have a leak that will need to be repaired professionally. The leak also indicates that there could be one of two things that are wrong with the unit, the first is a faulty valve which a plumber should be able to replace. The second thing that could be causing the leak is rust, which is why the metal was worn away to a point where a leak occurred. If it is indeed rust, you may need to consider water heater replacement instead of repairs.
Water Heater Repair At Art Plumbing, AC & Electric
No matter what issue you're facing with your water heater, the friendly and reliable team at Art Plumbing, AC & Electric has you covered. Depending on whether your heater needs to be repaired or replaced, getting your unit checked out by one of our expert plumbers means you'll be equipped with the information needed to decide on the best possible course of action for you. If you have any questions related to your water heater call us today at 1-800-475-1504.
For more information like this, check out our Plumbing, AC & Electric Tips blog and follow us on Facebook!