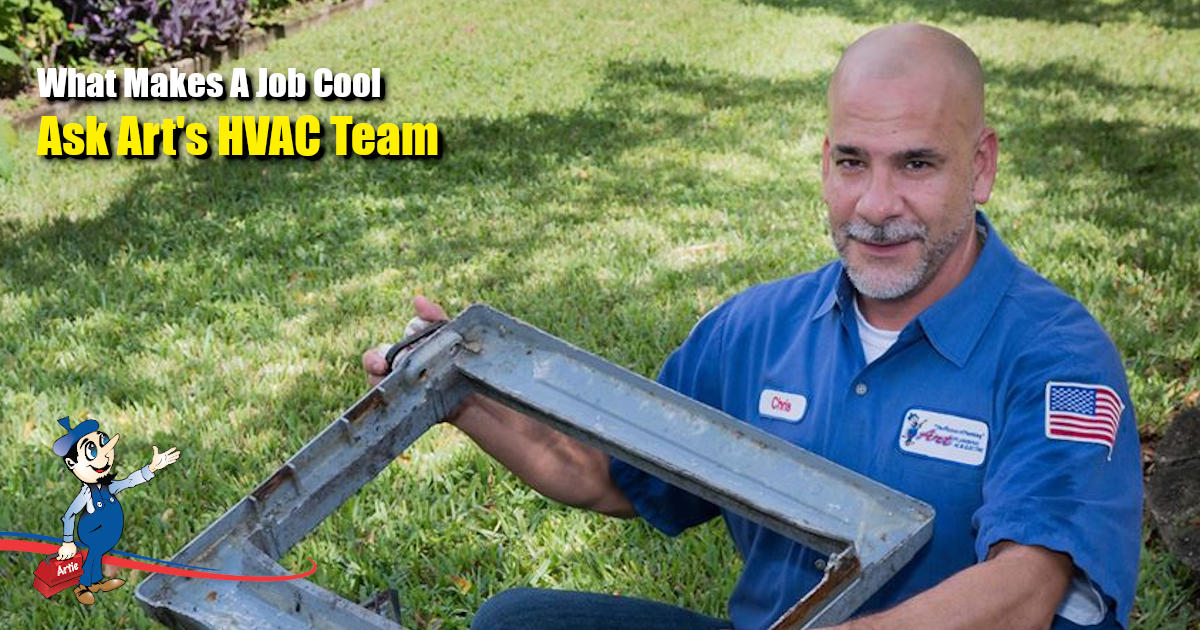 Are you a licensed HVAC technician who wants to work in the Broward, Palm Beach, or Miami-Dade County areas? Are you currently working as an HVAC technician or have you left the field for a sabbatical period? If you are looking for employment that offers a little more stimulation, a little more room for growth, and a little more balance—we may be the right fit for you.
If you are the kind of HVAC technician who would enjoy belonging to a team that you feel proud of then you may be a great fit for us.
Career Change?
If you aren't a licensed HVAC tech but think it would be a great change of pace and you've got what it takes to learn, why not give it a shot? Whatever the situation that brought you to our page, this happens to be a very cool job if you're interested…
Sometimes We Need To Be "Extra"
At Art Plumbing, AC & Electric, we pride ourselves on allowing people to express themselves in their roles. What makes us a great team is that there is always room for growth or movement.
We get that some people thrive on ongoing learning and extra stimulation. So, if you are an HVAC tech who eventually wants to learn and try another trade skill-set, would love the opportunity to coach another person or two in the field, or want to become a "go-to" specialist, we welcome you to join our team of home comfort specialists!
Additional Value Is Recognized
It is easy to feel like you are undervalued as a technician. Hands-on work can often be unseen and not fully appreciated. At Art Plumbing, AC & Electric, we make a special effort to recognize the value of each person contributing.
We want to know about your ideas, and we want to give you credit for things you are doing well. We also want to always ensure there is room for growth or self-fulfillment. With the opportunities outlined above and events frequently held to recognize the valuable contributions made by the staff, we promise that you will always feel like a valued member of our team.
Time To Fit Everything In
Because of our mentorship program and culture of knowledge-sharing, our expectations don't become a burden. This is a fine balance that not many companies feel obliged to get right – recognizing your go-to skills and personal added-value without burning out employees is how we stay great.
The Win-Win Balance
At the end of the day, we are looking to hire people who want to be a committed part of a reputable team. Our team members are Art's reputation. This is a founding principle. If you are driven to make a difference, then we're looking for you, and you're looking for us.
The Terms And Conditions Thing
You know, it seems to be the norm that work comes first and that family responsibilities are your choice and your responsibility – you should know how to fit them in around your nine to five clock-punch. Here, shifts work out better for everyone. You get to plan and shape your time on and off.
We Did Say Cool Job…
All this seriousness aside, we know what techies want – the coolest equipment and the best trucks. If you get excited about working with cool tools and equipment and being a part of a team, this may be the job for you.
Milestone Measures
Birthdays, employment milestones, and frequent team building events are celebrated as a family. We didn't need corporate studies to teach us that it is easier to feel motivated when employment milestones matter to those you work with.
Team lunches and barbecues are often on our calendar because spending time together creates common ground. We haven't even mentioned employee appreciation days and incentives to ensure a motivated, happy ethos yet…
The Biggest Motivator
If you want to enter the HVAC industry, we train candidates with promising profiles. And if you are only contemplating it as an option, consider that it is one of the most lucrative careers in a sometimes challenging economy.
HVAC is considered a requisite industry, especially in Florida. That means that what we are offering is a job that hones your skills, keeps you motivated and up-to-date, and gives you financial stability.
Your Next Move
At Art Plumbing, AC & Electric, we are aware that the work-space dynamic is changing. That people are looking for material benefits balanced out by other more intrinsic benefits. If you are an HVAC technician looking to hop on board with a well-respected company that offers a well-rounded opportunity, get in touch or visit our careers page.