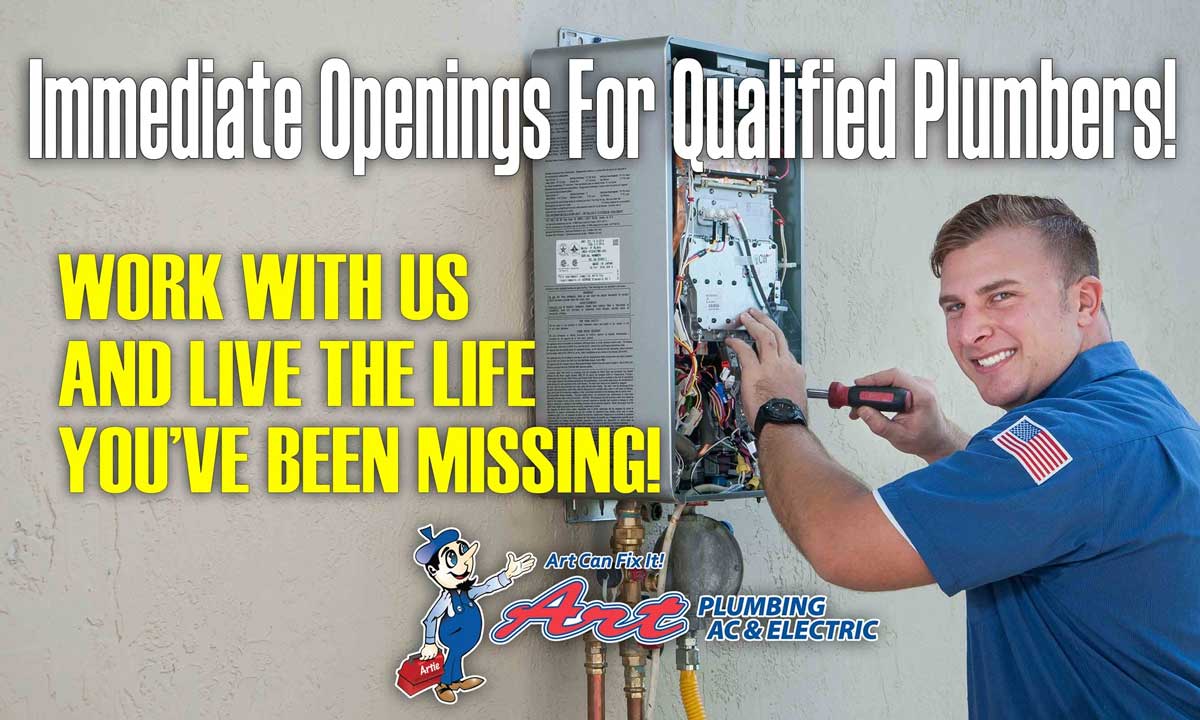 Choosing a career that gives you time to be with your family, while still providing sufficiently for them, can be a challenge. Finding a company that will make sure that you get the time and income you need, can be just as hard. If this is you as a tradesman, read on. Art Plumbing, AC & Electric is a family business that believes in investing in our staff and their families. We have a rich family culture that has grown with us since 1983.
Happy Staff = Happy Clients
This is a simple equation that we've lived by from Day one. We believe our greatest asset is our team of tradesmen. All our decisions are made by taking our staff members' needs into account, and we will always choose what is best for the team. A technician who is happy at home will bring that joy to work and carry that feeling to every client he deals with.
Environment For Thriving
Just as plants are affected by the soil they're planted in, we believe in creating a work environment that will bring out the best in our tradesmen. We do this by offering substantial benefits.
Family Benefits

75% company-paid health insurance as well as dental, hospital, cancer, and accident plans. There is also a 401k retirement plan in place for when your years of service are done. Our tradesmen enjoy vacations, paid holidays and other family benefits.

Work-Life

Everything you need to do your job efficiently is provided, including ongoing training opportunities, and mentoring for those new to the trade. You'll have access to a vehicle, a uniform to wear on the job as well as the technology you need in the form of a mobile phone and tablet.
On-Call? Not Often!
One of the most common downsides to being involved in the trade industry is the need to be on call for emergencies. Plumbing, electrical and AC issues are not something one can conveniently write in a diary and plan around. When disaster strikes for a client, a tradesman needs to be the knight in shining armor who responds quickly to save the day. With our careful scheduling, our tradesmen are able to have minimal on-call time, leaving them free to spend time with their families. Off-call time always outweighs on-call time!
Family First: Yours, Ours & Theirs
Art Plumbing, AC & Electric offers a unique employee-centric company culture. When you work for us, you don't simply become part of the team, but part of our family. We will do our best to look after you and your family so that you can help improve the lives of our clients and their families. It's a win-win situation for everybody.
We See You
To make sure our tradesmen know that we see and appreciate their hard work, we regularly hold a variety of events and functions. We celebrate birthdays, employee milestones and frequently do team building and training. Team lunches and barbecues are featured often on our calendar, as well as employee appreciation days and incentives. We believe in honoring the hard work and effort put in by our staff.
Looking Ahead: Your Future
Your successful future is our goal. When we take on a tradesman, we like to make it a working relationship that lasts many years. For this reason, it's important to get the work-life balance right to make it a sustainable career for you. We believe a healthy work-life balance is good for the physical health and mental well-being of our team. We will continue to do everything in our power to protect this balance and look after each and every staff member.
Joining the APACE team meanings becoming part of a trade industry team that understands the importance of putting family first. Visit our careers page today or come to our hiring open house held every Tuesday from 7:00 a.m. to 9:00 a.m. and Friday from 11:00 a.m. to 1:00 p.m. at 4151 NW 124 Ave., Coral Springs, FL 33065.