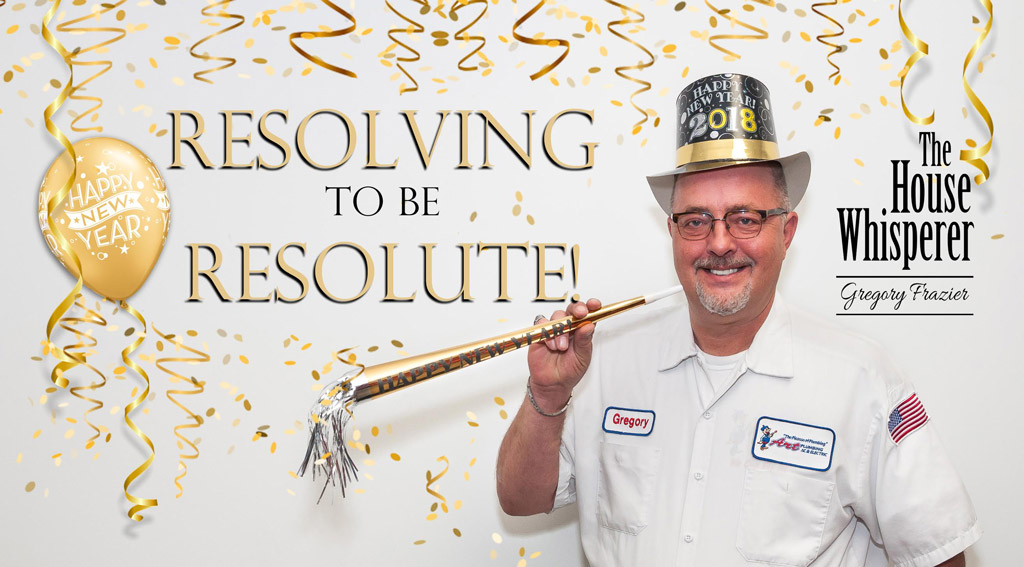 Reading Time:
2
minutes
Hi, it's me your house. This time of the year you're running around like crazy, recovering from the busy holiday season and of course making your New Year's Resolutions. The one thing that you never make a resolution about is to take better care of me, so I asked my friend The House Whisperer to give you some tips and hopefully you will make these resolutions. I and everything in me will thank you by giving you longer life and better performance!
Resolution #1:   I will have my air conditioner maintained and serviced.
Proper air conditioning maintenance includes getting the drain line cleaned, coils cleaned, electronics all checked, along with verification of the refrigerant pressures. A clean air conditioner will run better, keep the utility bills lower and last longer. We recommend annual maintenance for systems that are less than 5 years old, switch to twice a year when your air conditioner turns six. The most important thing that you, the home owner, can do is be religious about changing your systems air filter every thirty days.
Resolution #2:   I will have my water heater maintained and serviced.
Water heaters are the silent warriors in the corner of the garage or closet and often get forgotten about until that morning when you have no hot water. Properly flushing and draining your water heater annually will again prolong its life. Calcium and magnesium build up in the bottom of the water heater over time as well as building up on the heaters elements. A good cleaning always helps. While the plumber is there, ask him if the anode rod needs to be changed. Changing the anode rod every few years will also prolong the life of the tank. Anode rods are often a very soft metal such as zinc. Water becomes aggressive when heated and having a softer metal in the tank for the water to attack prolongs tank life.
Resolution #3:   I will have my water tested.
I have written many articles on the benefits of water treatment and a water test is the only way we can write the correct prescription to give you the safe, clean water you deserve.
Resolution #4:   I will have my attic inspected.
Leaky ductwork and lack of proper attic insulation levels can be costing you thousands of dollars in wasted energy costs. Just adding insulation to the proper levels will save you a minimum of twenty percent on your heating and cooling costs. I mean come on, who doesn't like to save money!
This concludes today's lesson on being resolute to resolve issues in your home. By keeping these resolutions you'll make your home a happy and healthy place that will give you years of joy. Until next time my friends, here's a sure-fire test to see if you're old. Fall down in front of a group of people, if they laugh you are still young, if they panic you're old!
House Whisperer out!!