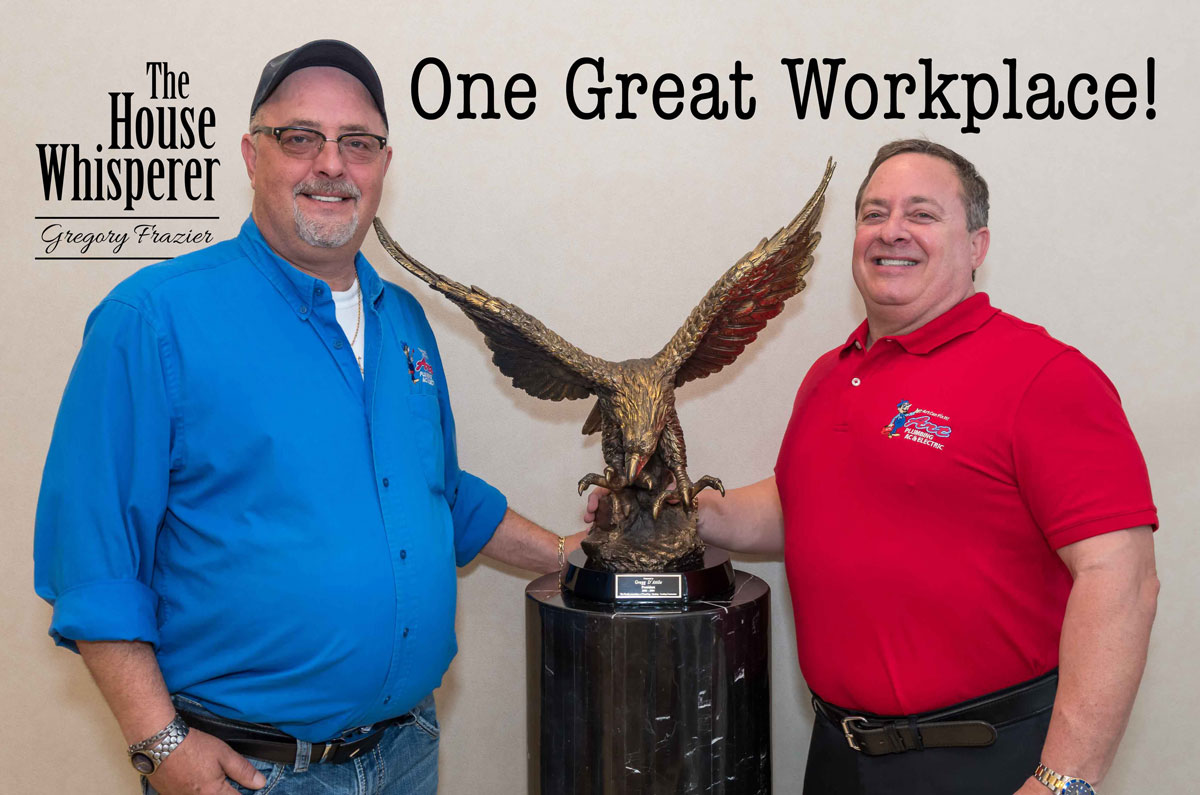 Dateline March, 15th 2010: I am staring at a computer screen in search of gainful employment with a heavy heart. The job postings I am reading are all what I consider… crap. I can't find any companies that seem legit enough that I want to work for them.
You see my friends I have only had four jobs in my life. I'm the kind of person that when I find something I like I get passionate about it and generally stay a long time. I went on four or five interviews at this point and while I received multiple job offers the companies that were offering the jobs they just did not align with who I am as a person.
Fast forward to Craig's List where I spot this small ad stating; Art Plumbing & Air Conditioning seeks motivated team player to follow up on unsold proposals, great atmosphere, awesome benefits, and so on. Yes, by the way, we were just Art Plumbing and Air Conditioning back then, no sprinkler division, no electrical division and no remodeling was being done.
The next day rolls around and I am nervously filling out what seems like endless paperwork. I'm taking tests, I'm filling out questions about my personality, never in my life have I dealt with so much paperwork before I even had an initial interview. At this point I have met only the receptionist who was super friendly, I'm sitting in the lobby and clearly the people on the other side of the wall were enjoying the day. I could hear laughter and light-hearted conversation between phone calls. I finish the paperwork and wait about fifteen minutes and the girl at the desk says Gregg will see you now. Gregg owns the company just so you know.
I am greeted with a huge smile and possibly the hardiest handshake of my life. I am taking in my surroundings, huge 3' tall bronze eagle in the corner, sports memorabilia everywhere, huge granite topped desk and a man, I suddenly for some unknown reason, have a great amount of respect for.  The first interview goes well, as does the second, then I go for a ride along with one of the service techs, then the third and final interview takes place and I am offered the job.
This is where the fun begins, it dawns on everyone that while I am pretty good at talking to people and sales in general, I know nothing about plumbing and air conditioning. I mean, I could change the setting on my thermostat or swap a flapper on a toilet but outside of that I was as under-educated as a 2-year old.
This is one of the first major points I want to make about working here, if you don't know something you will be taught. I can tell you that in my first six months here I drove everyone around me insane with questions, but I was learning. The company saw value in me as a coachable person so they invested in me. I took classes, spent many days in the field and fast forward almost ten years now, I have become one of the most trusted air conditioning advisors around.
So why did I spend all this time telling you my story you ask? And by the way, I once made a mistake that cost the company almost $7,000 and I didn't get fired and I didn't get yelled at. I was simply asked if I learned something.
I told you the Reader's Digest condensed version of my story today to make the point that Art Plumbing, AC & Electric is a great place to work. We are one big family, with extremely high standards. To this day Gregg makes it a point to greet everyone in the building with a smile and a handshake. We work hard, we laugh a lot and we help people every single day. We need good people to join our family and that good person could be you. If you are looking for a career and not a job, we want to talk to you. To begin your journey of joining the world's greatest company click here.
Alright boys and girls my time here is done for today until another seven sunsets have happened and we meet again did you even wonder if atheists are bad at complex math because they don't believe in higher powers?
House Whisperer out!!