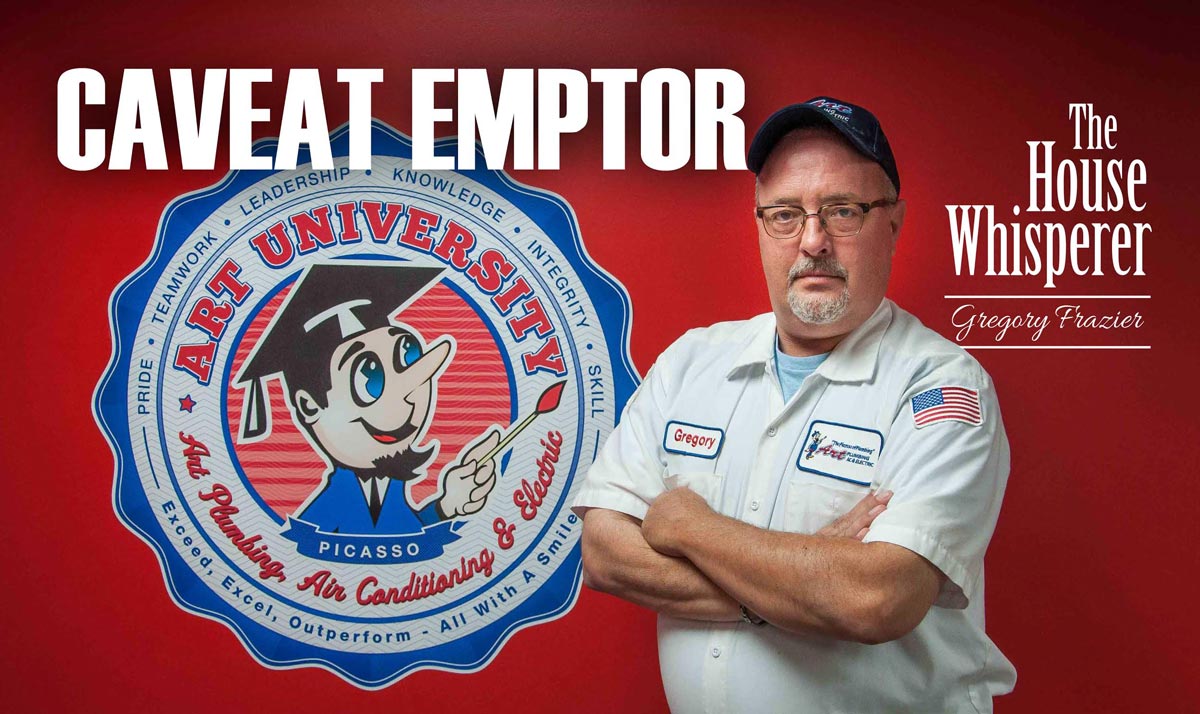 When it comes to purchases most of us will make in our lifetimes, your home is likely going to be the biggest one you make and getting a proper inspection done to it before you buy can save you thousands of dollars in hidden repairs.
ca·ve·at emp·tor
/ˌkavēˌät ˈem(p)ˌtôr/
noun
the principle that the buyer alone is responsible for checking the quality and suitability of goods before a purchase is made.
"caveat emptor still applies when you are buying your house"
As usual, my musings are based on reality. A few days ago, I did an inspection for a freshly discharged Master Sergeant from the United States Army and this was his first home. I couldn't believe my eyes when I got up into the attic. The duct system was made out of particle board, in other words fake wood. I stared at it for a couple minutes with my jaw on the floor. I even tapped on it a couple times to make sure I wasn't seeing things. Nope it was wood.
At this point a wooden duct system was just adding insult to injury. You see while the home had a one year old air conditioner it was improperly installed and had caused a flood in two of the bedrooms in the home. This poor guy had not been in the house three months and was already putting in an insurance claim, dealing with mold remediation and now I come along with more good news.
I compose myself, come down from the attic and ask the obvious question; did you have a home inspection before you purchased this house? With a forlorn expression he replied he had paid $500 to have an inspection completed on the home before buying and apparently the inspector (if you can call him that) had missed a lot of BIG things. This poor kid is looking at several thousand dollars worth of repairs that had he known they were needed might have changed his mind about buying the house or in the best case scenario he could have negotiated the purchase price to offset the expense of the repairs.
This got me thinking, what does it take to become a home inspector in the State of Florida? The answer is 120 hours of education and passing a very basic test to get your license. Seriously, you are going to make the biggest purchase of your life based on a report that someone with three weeks' worth of education is giving you? Don't get me wrong there are a lot of very legitimate home inspectors out there. I have seen inspection reports that can take you hours just to read and are so detailed that they will even note things like "Outlet cover in 2nd bedroom is missing a screw". So what is the person who is in the market to buy a home to do?
Research, research, and research some more. How long has the inspection service you are considering using been in business? How much continuing education has your inspector done above and beyond the basic 120 hours? Does this person have many five-star reviews?
The other thing to consider is bringing in the pro's from the individual trades. Get an AC guy out to look. Call a plumber, call an electrician. Again I'm not bashing home inspection services, what I am saying is they tend to know a little about everything and not a lot about one thing. Example, if you ask me an air conditioning question there is a 99.99% I either know the answer or know someone who does. Ask me a roofing question and I'll look at you like you just grew two heads. Okay rant over for today, I just felt terrible that a young man who had bravely served our country, bought his first home on his personal path to the American Dream got so royally screwed by the incompetence of others and needed to tell his story. As the Latin title of today's post says, Buyer Beware. House Whisperer out!!