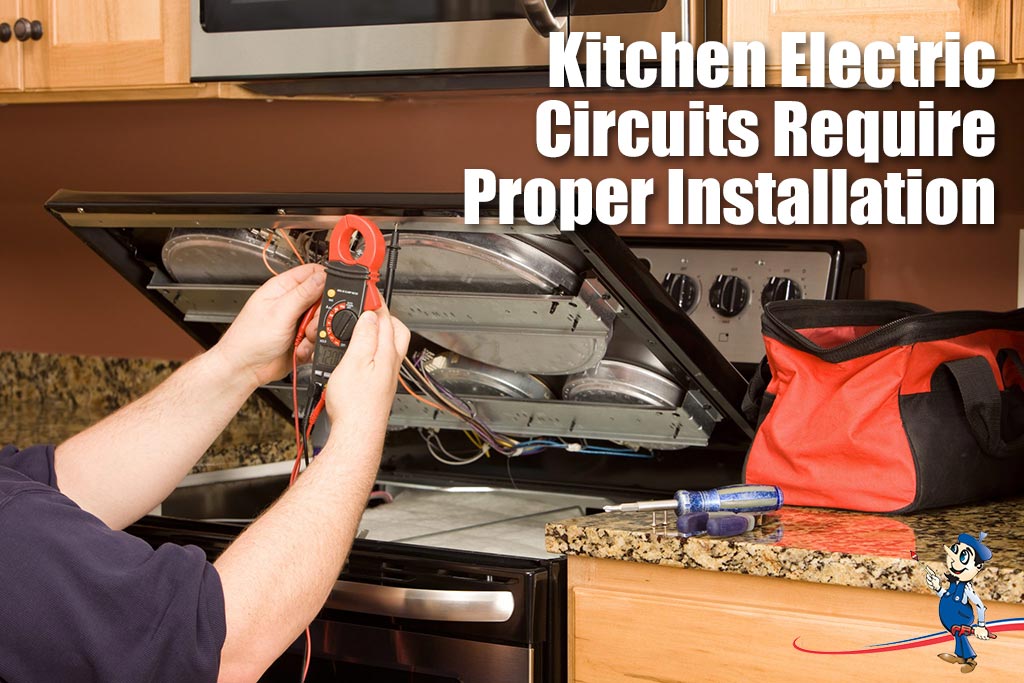 Kitchens became the hub of family life in the post-war era, and remain a key feature that can increase your home's value and sell-ability. But modern kitchen electric appliances are bigger and more power-hungry than the appliances of the 1950's and 60's.
While a sleek, new kitchen may encourage you to spend more time practicing your culinary skills or raise your property value, don't forget to put safety first when remodeling your kitchen or updating your appliances.
What Kind of Circuit Do I Need?
Your kitchen actually needs a few separate circuits – at least seven, to be precise. Each circuit can run a different appliance or kitchen electrical feature:
Your basic lighting circuit should be 15-amps and 120- to 125-volts. This should be sufficient to power a variety of different lights (ceiling fixture, recess lighting, cabinet, etc.), although you may need more for a high-powered ceiling fan. Consult your electrician to find out exactly what kind of lighting circuit you need.
A fully electric range requires a 50-amp, 240-volt circuit, whereas a gas range will do with only 120 to 125 volts.
Refrigerators are bigger than ever, and dispense ice and cold water for us too. Make sure your fridge has its own 20-amp, 120-volt circuit to keep things cool and fresh.
Most modern homes have an electric garbage disposal unit in the sink, requiring a dedicated 15-amp circuit.
Microwaves are also bigger and better, and have different circuit requirements depending on their size and wattage usage. They usually need a 20-amp, 120- to 125-volt circuit, although they can also safely share a circuit with a gas stove in most cases.
Your dishwasher also needs its own 15-amp, 120- to 125-volt circuit.
Other smaller appliances (like your coffee machine, blender, toaster, etc.) can be plugged in and share the counter-top outlets. The National Electrical Code (NEC) requires that kitchens have at least two separate 20-amp, 120-volt circuits for counter-top outlets, which must also be no more than 4 feet apart. If you're remodeling, consult your electrician and decide where your appliances will go during the planning phase.
Other Safety Features
While you're having your dedicated circuits rewired or installed, be sure to have your ground-fault circuit interrupter (GFCI) protection devices installed too. According to the NEC Section 210.8, GFCI devices must be installed in kitchens, as well as bathrooms, wet bar sinks, outdoor areas, crawl spaces, and garages.
The purpose of the GFCI device is to protect people from hazardous shocks from ground faults. Ground faults occur when an electrical path is unintentionally established between the source of the current and a "grounded" surface. This is usually a result of deteriorated insulation, although damp, wet, or dusty environments are more prone to ground faults.
The GFCI monitors the flow of current in the circuit, and quickly "interrupts" the power if there is a sudden change in current.  In this way, they prevent serious electrocution.
For your kitchen, you'll need GFCI devices installed for counter-top outlets that power smaller appliances, especially around the sink area.
To ensure that your newly remodeled kitchen and appliances meet local and federal safety requirements, consult your qualified electrician before making any changes. Call Art Plumbing, AC and Electric today to learn more about our electrical wiring services.