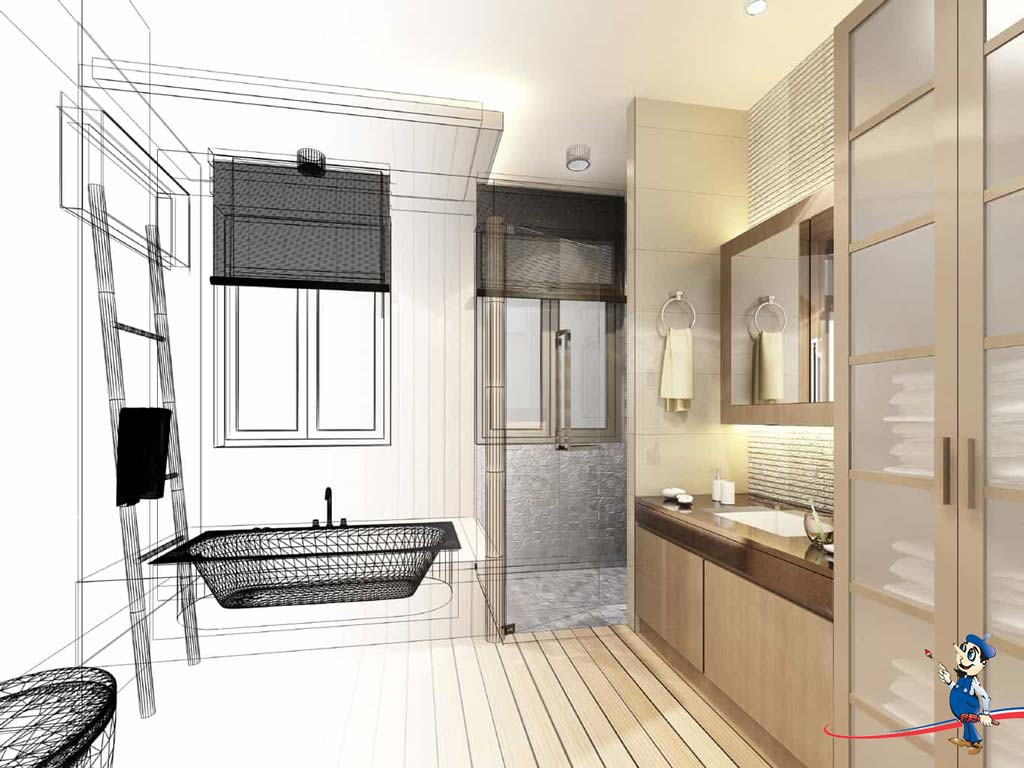 Remodeling your bathroom may seem like a momentous task, depending on the size of your bathroom, the quality of the materials you're after and the extent of the remodeling planned. DIY bathroom remodeling can be a very ambitious task and if you do an amateur job it may cause problems over time, especially when it comes to plumbing and wiring. If you are unsure about what to do, contacting a professional is highly recommended. By following the steps below, you can ensure that you are prepared, so that the process is as quick and organized as possible.
1). Have a clear plan of what you want
It's important to put your expectations of what you want into perspective. That means drawing up a budget of how much you're willing to invest in your new bathroom. Don't rush the process, but rather take the time coming up with a clear idea so that you are completely happy with the final result. If you decide to DIY, you need to budget for the unexpected. If you decide on using a professional, this is less necessary as they will do a full-scale survey of the bathroom, talking over all issues that may be encountered or need to be fixed. Research the typical size of showers, bathtubs and toilets to make sure that you are carefully utilizing the space you have at your disposable. Also make sure you measure the right height for your sink, vanity and counter tops to best suit your needs comfortably.  The vanity should give you enough space for storage, without making the bathroom feel small. A corner sink is a good idea if you don't have a lot of space on hand.
2). Consider all your options and have everything on hand
Home improvement store, local independent suppliers, online catalogs, there's no shortage of places to consult. With a wide range of prices, colors, shapes, designs and delivery times, your desired bathroom can be yours in no time. It is recommended that you view pieces that you've seen online, in person to ensure they are exactly what you want. Certain items might take longer to special order. Make sure you have everything you need before you start, as this will make the process go much quicker, rather then wasting time with an inaccessible bathroom while waiting for items to arrive. This includes the vanity, plumbing fixtures, any new lighting, the tub, shower and tiles.
3). Decide on a shower and/or bathtub
If you plan to have a shower in your new bathroom, consider in-the-wall shelving for your shower. A curved shower rod can also save you extra space in your shower. As it attaches to your wall with screws, so there's no threat of the rail falling down. Bathtubs come in a variety of shapes and sizes, and can work for even the smallest of spaces, if your plans include a bathtub.
4). Rip up the underlayment
Removing old flooring tile or vinyl can be an arduous, time-consuming task. An easier solution is to rip up the underlayment along with the floor covering. This will require new underlayment to be installed, such as plywood or cement board. This allows you to get rid of underlayment that may be water-damaged.
5). Have adequate ventilation and light
This can reduce mold and mildew whenever there's moisture in your bathroom. A combination of fans, vents and a window will do the trick.
6). Update your lighting
Plan to update any outdated light fixtures. Plan your lighting early as you will need to know if you need to run new wiring. Make sure the lights are suitable for bathrooms, to create a well-lit space of ambient lighting.
7). Hide the toilet
This is an important tip when it comes to remodeling your bathroom. For aesthetic purposes (and if your space allows it), you don't want your toilet to be the first thing you see when you walk into the bathroom or to always be in sight when the door is open. Keep it discreet behind a half wall or it's own room-within-a-room space.
8). Choose appropriate surfaces and tiles
Constant exposure to water and moisture can wreak havoc over time. Choosing appropriate surfaces goes further than just overall aesthetic, contributing also to the longevity of your bathroom. Porcelain tiles are a popular choice for floors and walls, especially larger sizes to minimize grout lines for easier upkeep. When it comes to your sink, porcelain might be more prone to chipping, therefore stainless steel, solid-surface or enamel sinks might be better options. For countertops, granite and quartz are durable and attractive. Solid surface is also a popular choice, but more prone to scratch marks.
If you are planning on a bathroom remodel this summer contact Art Plumbing, AC & Electric today – our professional remodeling specialists provide a variety of services throughout the Tri-County South Florida area.