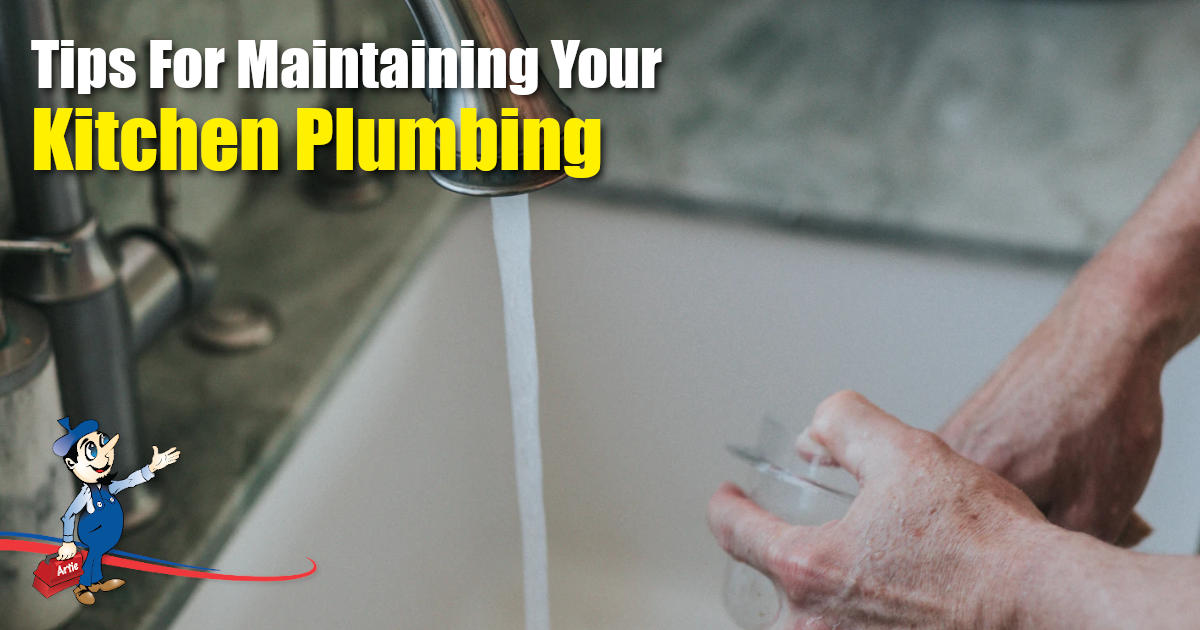 The kitchen is a popular gathering place for families, whether you're cooking, eating, or entertaining guests. From doing the dishes to discarding scraps from making a meal, having functional plumbing is crucial for keeping your kitchen in working order. In particular, your faucet, sink, and garbage disposal are the features that get the most use.
Do you have concerns about maintaining your kitchen plumbing system, or want to learn how to keep it in good shape? Read on for tips and suggestions for maximum efficiency.
Keep The Kitchen Faucet Clean
A big part of kitchen plumbing maintenance requires keeping your faucet clean. This prevents it from falling into disrepair or running slowly. One way to keep your sink running properly is to keep the faucet's aerator free from debris and buildup. Low water pressure is typically a sign that you have some lime or sediment buildup happening inside the faucet's aerator.
To clean it out yourself, here are a few tips:
Unscrew the aerator counterclockwise by hand. If you experience any difficulties, a pair of pliers and some masking tape can help you loosen it.


Take apart the aerator and/or spray head.


Remove sediment and buildup using a small brush or cloth dipped in white vinegar.


Once the buildup is removed, screw the aerator or spray head back on.
Prevent Sink Clogging
Clogged sinks not only look and smell unsightly, they also prevent you from being able to fully use your disposal. This can pose a challenge for both preparing food and cleaning after cooking.
To prevent clogs from happening, follow these suggestions:
Use a non-caustic pipe shield product and pour it down your sink drain a few times per month. This will help keep food remnants from clogging and buildup.


Use your sink grinder for food waste that is easy to grind. Avoid grinding meat skins, hard vegetables, or banana peels, as these products may cause damage.


Run your faucet on cold for a few seconds before and after using the garbage disposal.


Absorb grease from your pots and pans with paper towels. Never pour this substance down the drain. Some people save grease from bacon or sausage to cook with other foods.
Garbage Disposal Cleaning Is Key
Not sure when you need to clean your garbage disposal? The presence of foul odors coming from your sink is a major clue. This nasty side effect can happen whenever there's a buildup of debris that didn't quite make it into the disposal's blades. Fortunately, there are a few things you can do to fix this issue:
Grind lemon rinds or ice cubes in the disposal for a minimum of thirty seconds (make sure you're running water while this happens).


Pour some liquid dish soap down your drain and run the disposal while the water is running.


Don't allow any remaining food remnants to hang out in the sink – rinse them away with cold water for several seconds.
Repair The Garbage Disposal
Garbage disposals tend to have an "overload" feature that can sense when the motor is about to overheat. When this happens, the disposal will cut off. If this happens, your electric connection may need fixing. Here are a few things you can do:
Turn off the disposal switch immediately. Never put your hands or foreign objects down the drain – those blades are sharp!


Once the switch is turned off, press "reset." If you don't have a reset button, there may be a switch located at the bottom of the disposal.


Turn the power switch back on to restart it.


If following these steps doesn't work, you may need a garbage disposal repair. A call to a plumber from Art will be sure to get it fixed in no time!
Get Kitchen Plumbing Help You Can Depend On
Art Plumbing, AC & Electric has been serving the residents of South Florida since 1983. We're one of the most trusted names in plumbing due to our prompt, professional service, knowledgeable technicians, and fair pricing. Whether your kitchen appliances require a little bit of maintenance, a full repair, or a preventative inspection, we are here to help. Give our technicians a call today at 1-800-475-1504 for questions or a service quote.