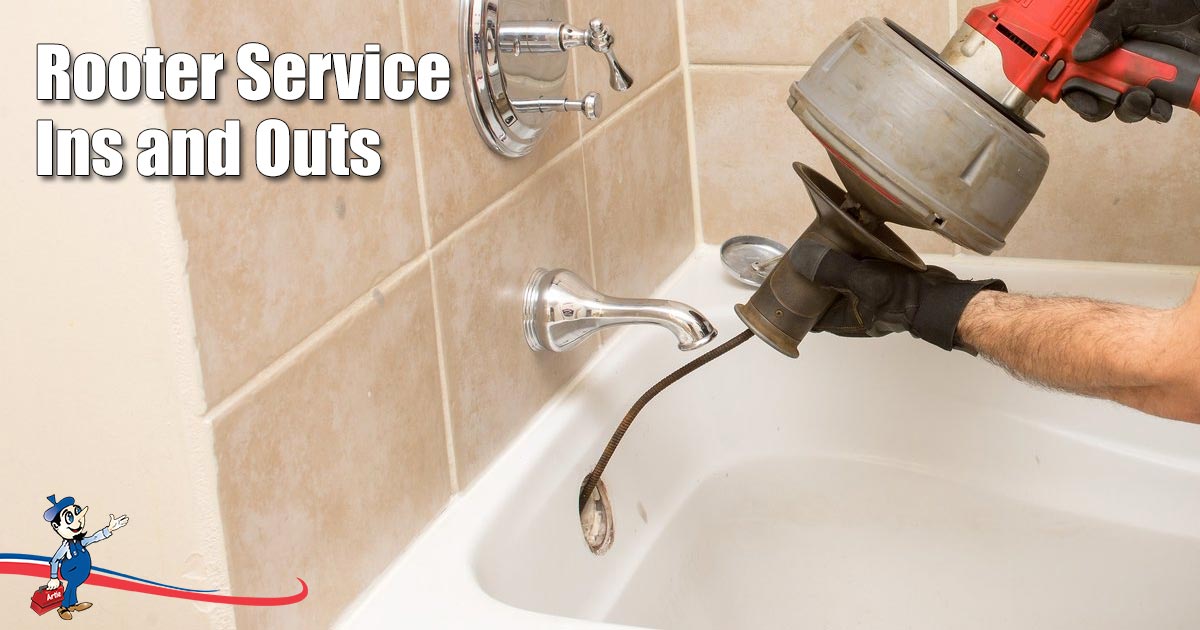 Reading Time:
3
minutes
There are many causes of a blocked drain. But one that is often overlooked is clogging caused by tree roots and other debris. Your solution to this problem is a rooter service, which uses a machine (called a rooter) to clean and unblock drains. Call one of our licensed plumbers at Art Plumbing, AC & Electric to clear the way for healthy, functioning drains.
For businesses and residential properties alike, our quality rooter services save the day. We'll walk you through everything you need to know about rooter machines and your drains. A clogged drain is nothing to sweat over, especially when you have our special licensed and insured plumbing service, on the job for your plumbing emergencies.
What Does a Quality Rooter Service Entail?
A damaged drain can be a nightmare to handle if you don't have the help of a professional company. A qualified plumbing service company will have a variety of specialized tools to ensure that your pipes are repaired and functioning optimally. Clogged pipes and sewer lines can bring serious and difficult to solve issues that can be impossible for the average homeowner to fix.
A rooter (also referred to as a 'snake') goes far into your plumbing system to target and drill into blockages. A fiber optic camera can also be used to inspect your drains – the cause of the blockage can be flushed out or brought up by the plumber's rooter.
When Do You Need a Rooter Service?
Sometimes when nature takes its course, you are left with blocked plumbing or sewer lines. This is when the help of a rooter machine is needed to clean and repair pipes and drains. A rooter is required in a variety of situations, not just those involving vegetation and roots.
Clogs in your home's drains commonly occur from hair in your shower drain or food scraps in your kitchen sink drain. Your sewer line can get clogged due to objects that shouldn't be flushed or debris. Small items such as leftover food and oil can gradually accumulate in your pipes to form bigger, hard-to-tackle blockages which require professional help. No matter the cause, a rooter machine and the help of a licensed plumber will be needed.
Flooding, clogging, bad odors and slow draining are all signs that you need the help of a plumber and a rooter service. These symptoms only get worse the longer you go without contacting a professional plumber. The situation can quickly become unbearable.
Often, a plunger or liquid drain cleaner just won't effectively and safely clear a drain stoppage. The chemicals in liquid drain cleaners can cause corrosion in your pipes and even contaminate groundwater, not to mention how damaging they can be for your lungs. The old-fashioned plunger might do the trick when it comes to small blockages. But this might just be a temporary solution to a problem that is only going to get bigger. It is essential to hire a licensed plumber to ensure that any and all blockages are properly cleared.
Business-owners and commercial properties are not immune to blocked drains. These commercial plumbing systems often take a great deal of strain, especially in the case of multi-family properties. Fortunately, we have professional plumbers who are skilled in handling commercial plumbing issues 24/7.
What Can You Do About the Clogged Drain?
Rooter machines must only be operated by a professional licensed plumber. It can cause serious damage to your pipes if left in the wrong hands. Blocked drains are a common and easily solvable problem when managed correctly and skillfully. If you ignore the issue or try to fix it yourself, you could be left with a severe and expensive problem.
A rooter, operated by a licensed plumber, is the best way to remove any blockages from your drains. Our qualified professionals at Art Rooter, Sewer and Drain Cleaning are skilled at all things plumbing related. You deserve the best service and the most effective, efficient residential or commercial plumbing system.