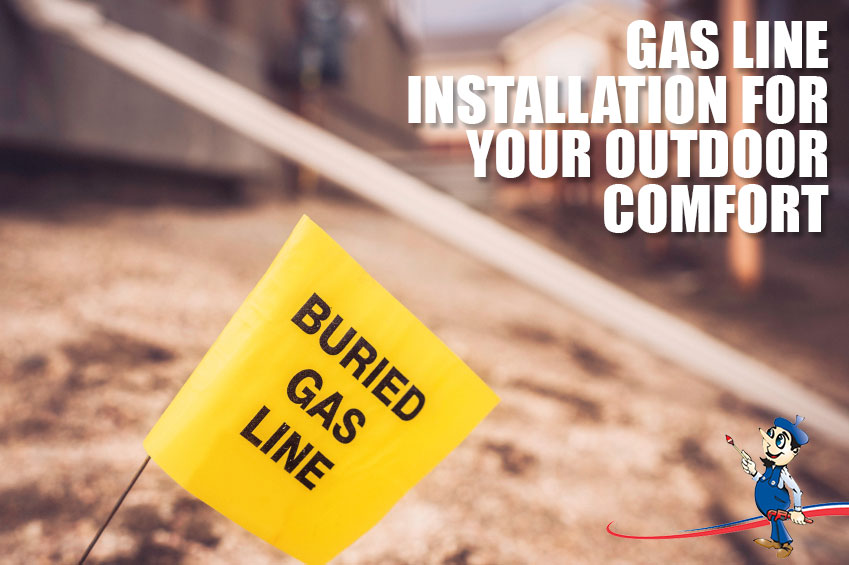 Reading Time:
2
minutes
Now that it is getting just a little cooler in South Florida, the weather is perfect for outdoor fire pits, grills and patio heaters. With a proper gas line installation, it'll be the perfect way to enjoy the outdoors with your family. At Art Plumbing, AC & Electric, our friendly and licensed professionals will be able to handle your gas line installations and repairs.
The Benefits Of Having A Gas Line
A gas line is more environmentally friendly than any other fossil fuel. There is no risk of underground contamination or oil spills. It is safer and easier to store when compared to other fossil fuels and it is a reliable source of energy, that won't be impacted by heavy storms. It is more cost effective than your monthly electricity bill; studies have shown that homeowners can save up to three times more using natural gas instead of electricity.
Uses Of A Gas Line
Cooking

It's the perfect time to spend time with your family outdoors, but someone has to do the cooking. With a proper gas line installed, you can take advantage of the cooler weather and have a BBQ outside with your family. The best part is that you won't need to fill your gas tank; you'll have a gas line running directly to your grill. Remember, if your grill is able to work with gas, you can't just connect it yourself and hope for the best. You need to call a licensed contractor to do the installation to avoid any hazardous accidents.

Patio Heaters

It doesn't get freezing in South Florida, but the evenings can become a bit cooler than what you may be used to. With a natural gas line, you could ensure that your patio heaters are working at optimum levels for your comfort. You'll be able to enjoy the splendor of the outdoors without the nighttime chill.

Pool Heater

Having a natural gas-powered pool heater is one way to ensure total comfort all year around. Many homeowners find that the normal temperature of a pool is too cold; this provides a shock to their system and sometimes puts them off from using their pool during the cooler months. With a natural gas heater, you can decide when you want your pool to be heated to a more comfortable temperature. This is a cost-effective way to keep your pool heated and save energy.
One of the main drawbacks of a gas line is how flammable it is, but with proper installation and regular maintenance you can avoid any unwanted gas leaks. This will keep your family safe and ensure that you're able to enjoy the numerous benefits of having a gas line.
At Art Plumbing, AC & Electric we're here to help you. We provide a regular maintenance service for your gas lines to ensure that there are no leaks and everything is in optimal working condition. If don't have a gas line and would like to install one, we're able to install the supply line and ensure that all your appliances are compatible. Trust Us – We Can Fix It!