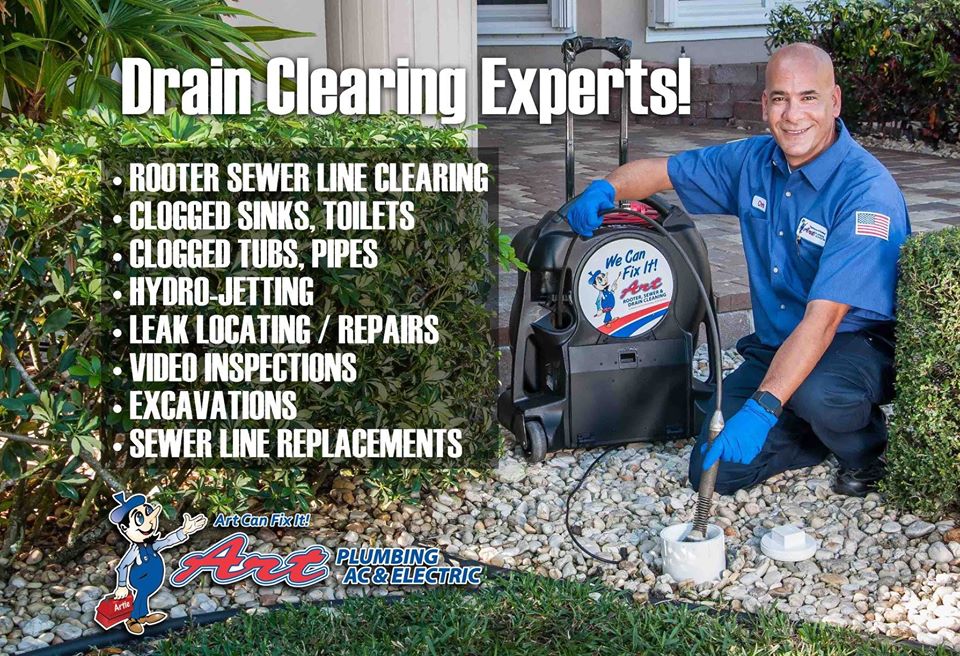 An unhealthy plumbing system will leave you with an unhappy family! A quality rooter service can save you the drama and the hassle by making sure your plumbing system is healthy, addressing issues before they become too serious. As always, we recommend calling Art Plumbing, AC & Electric in Coral Springs if you think your plumbing system needs a check-up.
Understanding A Rooter Service
Originally, a rooter service involved the removal of roots that had invaded and blocked your plumbing drains.
Previously used piping materials were susceptible to cracks and gaps, leaving openings for roots to grow. Nowadays, a plumber is called to perform a rooter service if there are sewer or drainpipe clogs affecting the functioning of your plumbing system. A rooter service is not a regular plumbing service but is just as vital for the smooth running of your home's plumbing system.
Why You Need It
We now know that a rooter service helps solve the problem of slow or clogged drains, but is it really that important? The short answer is YES! Blockages can affect your home's plumbing in a number of different ways with some of the most common causes of sewer problems being:
Tree roots
Broken, cracked or misaligned pipes
Blockage
Pipe corrosion
Bellied or sagging pipes
Leaking joints
The type of blockage and its location determines how your plumbing system will be affected. For example, a blockage inside your home drains may only affect an appliance closest to it. These are usually caused by a build-up of food scraps, hair, or soap scum.
A slightly larger blockage in your home's sewer line may show more widespread symptoms throughout your home. These may be caused by something as simple as having flushed non-flushable items, or it could be more complex like tree roots growing into the line, all of which require professional help!
Why You Should Ask Art
There are a number of benefits to hiring a professional when it comes to plumbing needs; some of which are:
Saving Time & Money
Doing it yourself may make you feel like you're saving money, but you know how the saying goes, time is money! Unless you have plumbing experience, chances are that this is your first time attempting to fix your plumbing problem. That means you're going to spend time watching instructional videos, on trips to the hardware store, and then on actually performing the repair. By the time you're ready to get started, our team at Art Plumbing, AC & Electric could have already fixed the problem!
Peace Of Mind
Without knowledge and experience in the field, you may find yourself constantly questioning if you did it correctly. Instructional videos tell you how to fix the average blockage but what they can't tell you is how to tailor it to your home's specific needs. Our team will not only be able to tailor the solution to the nature of the problem, but also give you peace of mind that the job was done correctly.
Proper Tools
A rooter service requires specialized tools, ones you probably don't just have lying around your home! Would your DIY project really be saving you that much money if you're spending it on trips to the hardware store and tools that you'll never use again? At Art Plumbing, AC & Electric, we're equipped with a range of appropriate tools needed for the job and sufficient knowledge on how to use them and get your plumbing system back up and running.
Quick, Stress-Free Repairs
We all have those projects at home that we'll get to when we have time, which we also all know is code for never.
Putting off fixing a serious plumbing problem could result in it worsening over time, but dropping everything to fix it takes precious time away from family and friends. We're sure you have enough home projects to keep you busy for a while, so let us take care of the plumbing aspects! We'll be able to fix your plumbing issues quickly, allowing you to check another project off your to-do list!
An unhealthy plumbing system has the potential to wreak havoc on your home, having a quality rooter service can save you! Call Art Plumbing, AC & Electric now and for more information or other questions, we are always here to help!