Reading Time:
2
minutes
Remodeling Services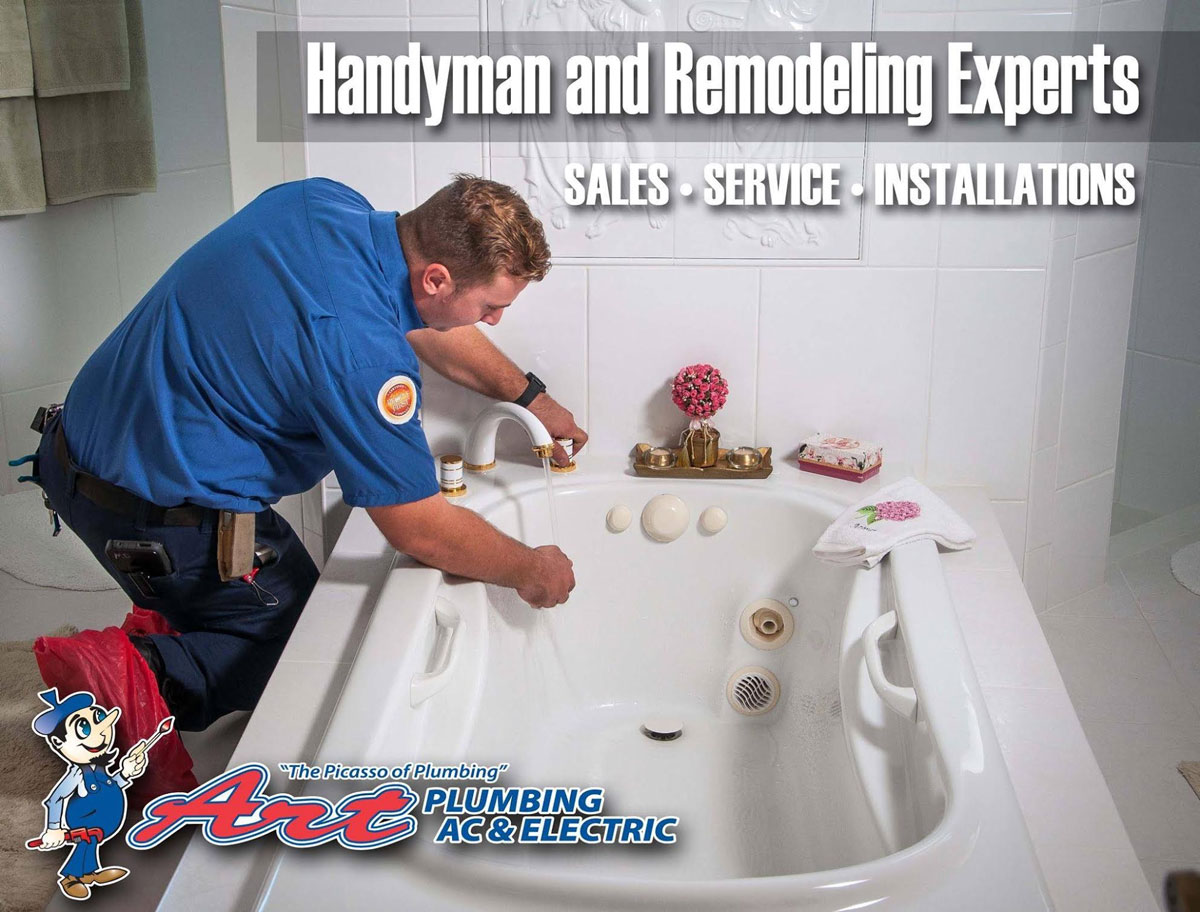 Home projects can be very exciting. You have a vision, you've saved up a budget, and you get ready to start remodeling. The last thing that you want is a costly mistake due to amateur remodeling services. Art Plumbing, AC & Electric offers professional, experienced, talented maintenance and remodeling specialists with a variety of services throughout the Tri-County South Florida area including:
Bathroom & Kitchen Remodeling
Custom Kitchen Cabinets
Drywall Installation & Repair
Baseboard & Crown Molding Installation
Tile & Grout
Painting
General & Finish Carpentry
Wood Rot, Fascia & Soffit Repair
Doors & Windows – Installation & Replacement
Floors: Tile, Marble, Wood & Laminate
What do the different remodeling services typically include?
Bathroom remodeling
When it comes to the bathroom, you want an environment that is clean and safe. Additional storage is also a bonus. Some suggestions on remodeling your bathroom include surface alterations, changing the layout, or even a complete tear-out. Often there are structural elements that may limit how these renovations can be done. Our professionals not only offer handy advice, but their level of expertise allows them to navigate around the structural elements of a bathroom.
Kitchen remodeling
Customizing kitchen cabinets is a popular step in remodeling the kitchen. The entire look-and-feel of a kitchen can be altered depending on the kitchen cabinets. From an aesthetic point of view, there are different finishes to choose from. Rearranging the layout is also a big job for the kitchen. It can be a messy job and quite annoying if the process is drawn out. Art Plumbing, AC & Electric offers top level efficiency, while maintaining the hygiene of your home.
Structural remodeling
If you are considering doing any extensions or renovations, the structural divides and finishes are quite important. We offer drywall installation and repairs, tiling and grouting, general and finish carpentry. In addition, our skilled handymen know all about installing (or repairing) doors and windows.
Don't risk it – call us
Don't get caught up in the dangers of not hiring professional remodeling services. Besides the fact that it can be costlier in the long run due to unprofessional execution, a lot of remodeling jobs need certain safety equipment that professionally-run services already own. It is not worth putting yourself at risk of injury and property damage.
Hiring a professional will ensure that proper installation is conducted. Tiling, plumbing pipes and other hidden structures in floors and walls need an experienced craftsman to navigate around and handle with care. This will prevent any leaks and dangerous situations. Most people can handle basic electrical replacement, but remodeling often involves more complex installations, which not only may require a permit, but can put you at the risk of shock.
Another reason to give us a call is for our professional finishing and quality materials. Most remodeling jobs are easy to mess up by lack of experience, incorrect materials, or not finishing the job properly.
With such a wide variety of services offered, Art Plumbing, AC & Electric are your go-to professionals. Don't delay in giving us a call – we can't wait to be part of your next exciting project!