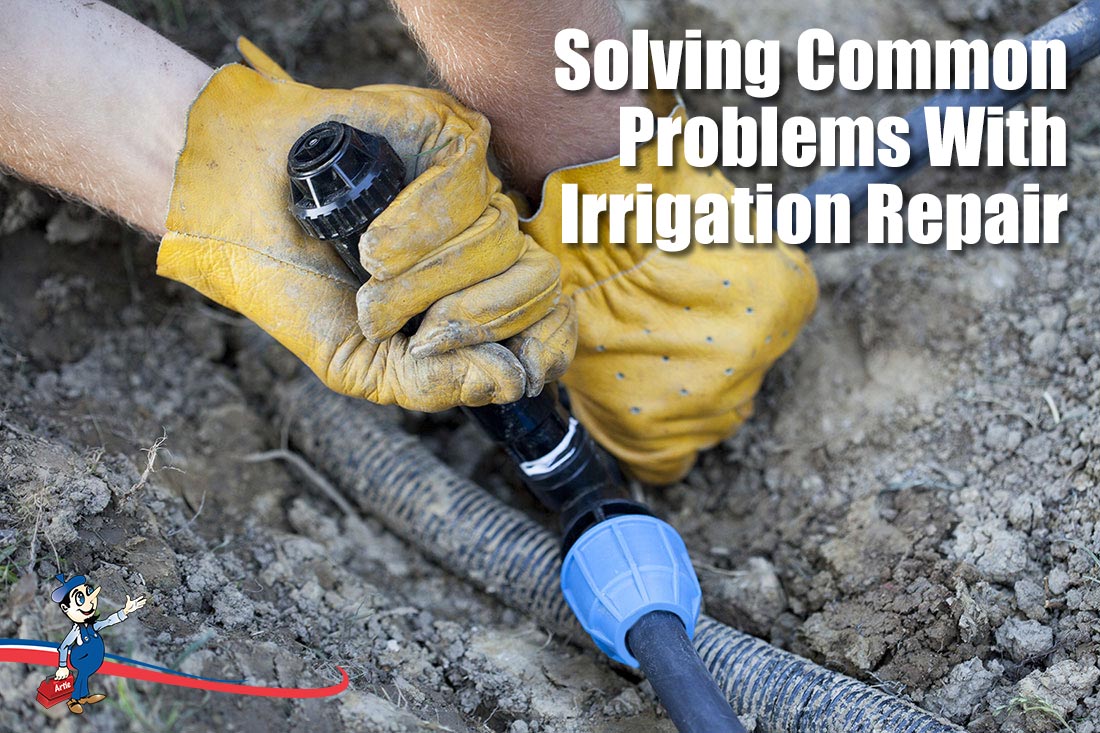 Reading Time:
3
minutes
Some people love lush looking lawns and gardens while others may see value in using their land for growing fruits and vegetables. Regardless of what you use plants for, irrigation is a vital part of that process – if irrigation is important to the well-being of your plants, then so is irrigation repair.
What Is An Irrigation System?
When discussing the repair of something, it's always important to take a step back and understand what the system is that you are repairing. Most people have some idea of what an irrigation system is. Simply put, it is the application of specific amounts of water at specific times according to the needs of your lawn. These systems can come in a variety of forms, the most common being the timed sprinkler system.
How To Identify Irrigation System Problems
Identifying problems with your irrigation system is not always easy – we often notice there is a problem because our lawn or plants are dying. The best way to identify if your system needs repair is to simply observe – keep an eye out for your system working at the right times, is it applying too much or too little water, and is the water dispensing technique the right one for the plants?
What Are Some Common Irrigation Problems And How Do You Fix Them?
Broken Equipment
Sometimes irrigation equipment is faulty. This problem should be easy to see as the equipment won't be working properly. This can include your sprinkler heads or your sprinkler timer. These pieces of equipment break for a variety of reasons such as physical trauma, improper maintenance or normal wear and tear. This problem can be fixed by simply replacing or repairing the faulty equipment.
Water Run-Off and Pooling
Ideally, all of the water administered to your lawn and plants is absorbed by them. Sometimes, for a variety of reasons such as the type of plant, or the type of soil it grows in, water is not absorbed and runs off and pools where it is not needed.

For example, some plants need more watering than others. Overwatering will result in plants not being able to absorb all the water which can lead to run off or pooling. This is a clear waste of water but can be solved relatively simply with the addition of a timer. A timer on your irrigation system can adjust the amount of time that the water is on for.

Another solution for water run-off and pooling is to adjust the heads/nozzles of your irrigation system – changing how the water is delivered and minimizing the problem. For example, a spray of water used for the same amount of time as a jet of water, will use less water and result in less overwatering and water run-off.

It's Raining
You've gone through all the trouble of installing an irrigation system but here comes the rainy season. Now what? Rain combined with timed irrigation systems can lead to many problems such as overwatering and pooling. This can be fixed with the installation of a sensor which detects when it is raining and then tells the system to hold off on watering your lawn and plants.

If irrigation problems are left unattended or there are poor attempts at resolving them the effects can be much worse. These little problems can combine to form bigger problems which can lead to the total destruction of plants, lawns and gardens.
Whenever you suspect an irrigation problem, it is best to call a licensed technician who will be able to assess your problem and perform high quality repairs. Call Art Plumbing, AC & Electric today to schedule an irrigation repair at 1-800-475-1504 – we pride ourselves in the high-quality professional service at a reasonable cost.