Plumbing, Air Conditioning and Electrical Services in Delray Beach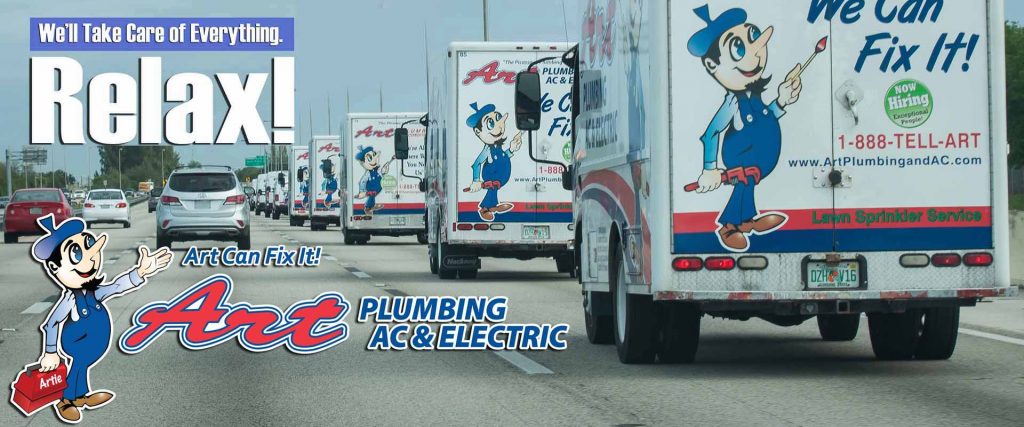 Art Plumbing, AC and Electric have been in the business since 1983 and has grown from a three-person family enterprise into a multi-branch business over the years. Even though we have expanded our operations, family is still at the core of our focus and company culture. Our mission is to take care of the plumbing, electrical and HVAC needs of Delray Beach residents. We offer a full range of these services including new installations, repairs, and upgrades.
Residential Plumbing In Delray Beach
Home is where you get to put your feet up and unwind, but you can't do that if your toilet is blocked, your pipes are leaking or your water heater bursts. Nearly 70,000 people have made their home in Delray Beach and it's our mission to maintain their plumbing. Our trucks are fully equipped and ready to roll to emergencies as quickly as possible. Our fully trained technicians have many years of experience and will tackle each challenge with the double aim of completing thorough repairs, and completing the work in the quickest possible time.
We understand that emergency plumbing repairs aren't something that you schedule and plan for. Our standard operating hours include weekends from 8 a.m. to 8 p.m. on Saturdays and 8 a.m. to 5 p.m. on Sundays at the weekday rate. Our emergency team is available on our Emergency Hotline: 1-800-475-1504.
Delray Beach Commercial And Industrial Services
Whether you work from an office or commercial facility, a plumbing, electrical, or air conditioning problem can disrupt your business's productivity and affect your ability to serve your customers and meet your deadlines. There are over 10,000 businesses in Delray Beach and our skilled technicians are on standby to get you back up and running again with as little downtime as possible. Keeping your business functioning is our business.
Full HVAC Service For Delray Beach Residents
Delray Beach experiences annual humidity levels of approximately 72%. High humidity in a building without moisture control can cause mold growth. If not treated and corrected, this leads to extensive property damage over time. Mold in buildings is also a leading cause of health issues ranging from irritating sniffles to chronic respiratory diseases such as asthma. Art Plumbing, AC & Electric is fully equipped to assess your indoor air quality needs, as well as check and seal your building to ensure that your HVAC system is functioning as it should. Whether you need a new AC system installed or want to upgrade what you have, we can provide you with an HVAC system that will keep your building comfortable, dry and mold-free.
Delray Beach Electrical
Whether you are expanding a current building, experiencing electrical faults or need to rewire an existing structure, our electrical tradesmen are fully trained and equipped to tackle all electrical services. There is no job too small or too big for our technicians. Delray Beach accommodates approximately 22,000 homes of various shapes and sizes. Not only is our team ready to service the electrical requirements of these homes, but they will also take on commercial and multi-family electrical jobs as well.
Delray Beach Is Our Turf
As a Delray Beach resident, you can rest assured that whatever your need or emergency, the Art Plumbing, AC & Electric team offers a full-service solution to handle all your plumbing, AC and electrical needs.