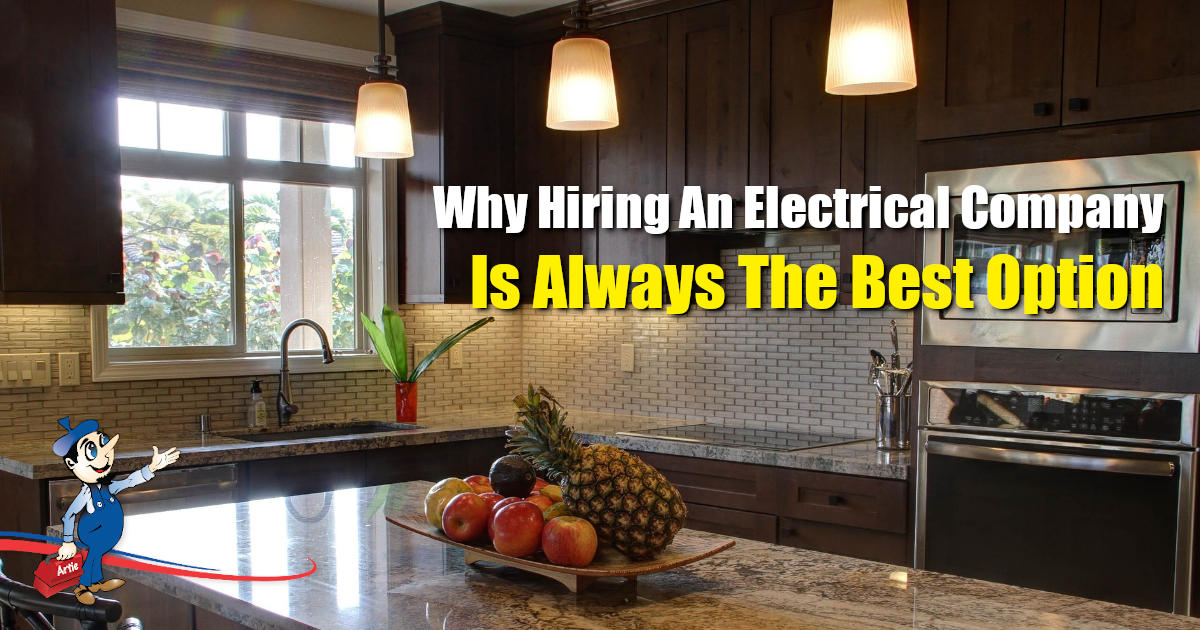 Home electrical problems are often complicated and dangerous. When you have an electrical problem, hiring a reliable, qualified electrical company to help you in your time of need is the best option. Electrical problems come in all shapes and forms, which is why electric companies specializing in installation and maintenance are vital in order to keep your home in tip top shape. They also help in preventing any dangerous situations or accidents from occurring.
The Benefits Of Hiring An Electrical Company
Any electrical problem has the potential to be dangerous if you don't know what you're doing. Companies with electrical experts employ qualified professionals that know all the ins and outs of electrical issues and they are passionate about their craft.
Less Stress On You & Your Family
Electrical repairs are some of the most dangerous, but because we use electricity every day, we can sometimes forget how dangerous it actually is. When you hire an electrical company, you don't have to worry about electrocuting yourself while trying to fix something. You can have peace of mind and rest easy knowing that you've invested in a qualified electrician to help you with your repairs.
They Will Be Properly Licensed & Insured
In the state of Florida, all electricians must be fully licensed before they can begin to work on their own. They often complete electrician courses out of high school. They then begin a four to five-year apprenticeship that allows them to gain work experience. Once the apprenticeship is complete, they must apply for their license with the licensing board, as well as pass an exam in order to be able to work.
If your electrician does happen to make a mistake, it is important that they have insurance to cover any additional costs.
Quality Service & Materials
Licensed electricians are well trained and strive to provide only the best service. Not only do they use high quality tools, the use the appropriate materials and service procedures as well. A job well done can help prevent future problems.
One of the most beneficial tools used at Art Plumbing, AC & Electric is thermal imaging, which allows your electrician to find problems that you can't see with only your eyes. Being able to identify heat build-up, electricians can help protect against incorrect wiring, broken cooling systems, and a plague of other issues.
They Offer Reasonable Prices & Warranties
It just takes one wrong move to damage your entire electrical system.
When you hire a specialized electrical company, you reduce the chance of additional costs such as: additional repairs, replacement costs, and even medical bills. Whereas if you try to fix a problem, you could end up paying for a lot more than you bargained for.
Another good idea is to call your electrical company and ask them if they offer any warranties on the parts they install and on their work.
They Can Find Large Problems That Are Hidden By Smaller Ones
Almost every electrical problem is difficult, and it doesn't make things easier when large problems masquerade as smaller ones.
You may know how to identify some problems, but not be able to fix them, as many appliances have multiple components that you would need to work through. Electricians are able to identify all types of issues and are qualified to fix them. They also can spot problems that the untrained eye may miss. Electricians can help to stop a problem in its tracks before it becomes more dangerous and difficult to remedy.
How To Find A Reliable Electrical Repair Company
Not just anybody can solve electrical problems. This is why having a reliable and specialized electrical repair company to call is always the best idea.
Here are a few points you should take into consideration when looking for the right company for you:
They have good recommendations and ratings.
Their license is correct and up to date.
The pricing is affordable and won't break the bank.
Their attitude is friendly and professional.
They have insurance.
Electrical Repair Companies In Broward, Miami-Dade, Palm Beach Counties
Hiring a professional electrical repair company is always the best solution when you're stuck with an electrical problem. When you're left in the dark don't hesitate to call our Home Comfort Specialists at Art Plumbing, AC & Electric – we have all your answers! Contact our licensed professionals today at 1-800-475-1504 to schedule a consultation.