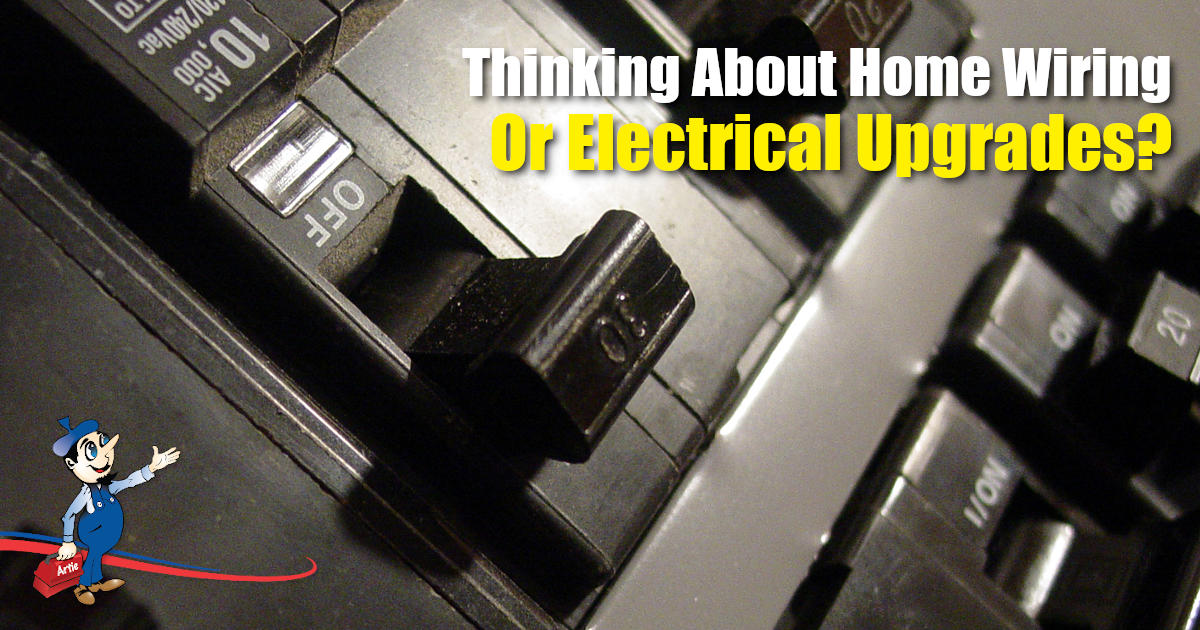 With all the time we've been spending at home lately, maybe you finally have the time to start those home renovation projects you've been thinking about. Want to mount your TV on the wall? Hang a fancy light fixture over your kitchen table or in the hallway? Maybe you want to change the lighting setup in a different room or update the wiringin yourhome. Maybe you have some prior electrical experience, or you're eager to learn. The home wiring electricians at Art, Plumbing, & Electric have several tips, tricks, ideas, and techniques to help you make the most of your quarantine down-time safely and effectively.
Note, all the below are simply suggestions. Realistically, any and all electrical upgrades should be done by an experienced electrician to avoid damage to you or your property.
New Fixtures Can Be Added To Closed Boxes
You may have more than one electric box that's painted over and hard to notice. This cover is meant to be accessible: you can remove it to test the voltage of the wiring with a special tool for voltage testing. This way you can regulate voltage without damaging the insulation, so you'll never have to touch exposed ends. You can find voltage testing tools at hardware stores.
Check the Whole Wall Cavity With A Stud Finder
No home wiring project is complete without a quality stud finder. This handy tool will help you find any obstacles hidden behind your wall that could impede any wiring updates, such as abandoned headers. This is not something you want to find out after a project is already underway. The stud finder is easy to use and can help you avoid messing with other electrical parts that can turn a simple project into a "big fix".
Find Your "Roughed In" Wires
Make sure to identify what the wires are before the installation process, as this will save you some major headaches down the road. It's more difficult to figure out what goes where when they're behind drywall. Home wiring electricians mark their wires, which is a process you can (and should!) also adopt. When in doubt, always call a professional electrician.
Test Before Touch
When you have prior experience with wiring, it's easy to get a little lax about certain things, like whether the power is actually turned off. Don't get complacent when it comes to basic, even common-sense steps like this. Always check the voltage for every wire box before you begin the work using a no-contact voltage detector. Use it on every cord or wire to ensure that it's alive and functional. You can find this non contact voltage tool at hardware stores.
Beware Of Mislabeled Circuit Breakers
Mislabeled circuit breaker boxes are more common than you think – especially if the electric service has changed, extended, or been adapted over several years. The circuit breaker labels don't always describe what is and is not controlled, so you'll want to make sure to test for power before working on any of your circuit wires (and take some time to correct the labels for when you'll need to open the circuit breaker in the future). To err on the side of caution, it is always best to get an electrician involved in this process.
Home Wiring Experts Are Here To Help
Some home wiring projects are pretty straightforward and uncomplicated. Others may seem simple at first, but end up being more complex than you thought. If you find yourself facing the latter scenario, Art Plumbing, AC & Electric is here to help. Our experienced home wiring technicians can repair, install, or inspect any type of wiring issues you're facing in the Broward, Palm Beach, and Miami-Dade counties. Contact us at 1-800-475-1504 to get a quote, and learn why Floridians consider us one of the best home services companies since 1983.