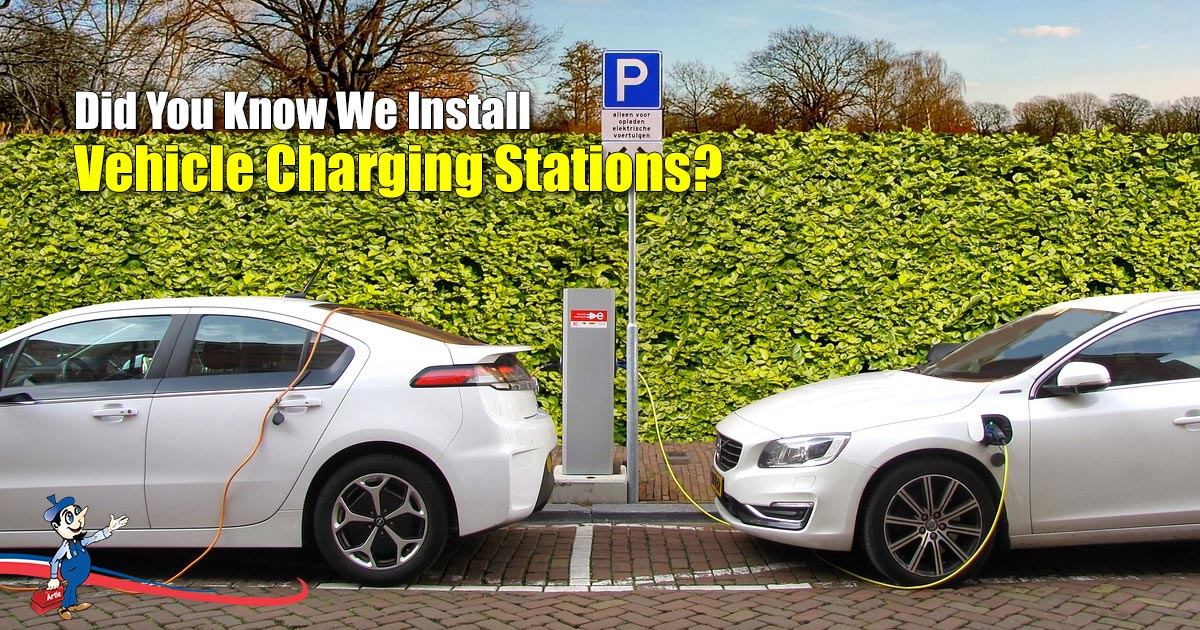 As the popularity of electric-powered vehicles continues to grow, charging stations have become a common find across the city, not to mention the state. Even better though, wouldn't it be convenient to have a vehicle charging station right outside your home? Art Plumbing, AC & Electric have been in the industry for over 30 years and we've since included the installation of vehicle charging stations to our list of expertise. In some cases, the installation of charging stations is relatively simple, while others require the work of an electrician. Let's have a look at a few options before you decide on your purchase.
What To Consider When Installing Vehicle Charging Station
Before you start to look into having a charging station installed at your home, keep this information at hand:
The make or model of the vehicle you're buying or want to charge. This is important because of the on-board charger as well as the battery pack size.
The location of the charging station in relation to your parking spot
The range of distance you generally drive or expect to drive. PHEVs refer to the electric range of the vehicle and therefore the distance you can drive between charges.
The charger you purchase must be able to charge the battery to full capacity in between trips. The parking space must also be able to service the battery to full charge.
How Fast Should It Be?
This depends on how often you will need to charge your car. Longer trips require quick charging so if your hybrid has a limited electric range or you don't drive far between charges then you don't need a quick charging station.
The charging current of charging stations at the below levels, charging at four hours will get you the below distances.
Level 1 (12A 120V) – 4 hours charge will provide around 18 miles of travel.
Level 2 (16A 240V) – 4 hours charge will provide around 40 miles of travel.
Level 2 (30A 240V) – 4 hours charge will provide around 80 miles of travel.
Level 2 (40A 240V) – 4 hours charge will provide around 120 miles of travel.
Which Charging Station Should I Choose?
The North American standard for electric vehicles is the SAE J1772 socket. You need to know what connector type your vehicle has and what connector type your charging station needs. Most charging stations have one socket, so double-check all features of your vehicle as you may need a few options for cables and sockets.
Florida homes are generally able to host Level 1 and Level 2 chargers without further electrical work. Level 1 chargers do not charge as quickly as they charge your vehicle at a lower amperage (amps), but are simpler to install.
Level 2 charging stations are more complicated to install because they require current to be directed through circuit breakers in your home's breaker box. However, level 2 stations will charge your car faster. Charging panels can be powered by solar panels or by your main electrical box. This is applicable to all models and you can discuss the best option for your household with your electrician.
Choosing the right charging station for your home and your vehicle does not need to be complex. Electrical experts at Art Plumbing, AC and Electric have extensive knowledge and experience to help you make the right decision. Ask as many questions as you need, to ensure you make a choice you can comfortably afford, and that which makes life more convenient for you. Call us today at 1-800-475-1504!