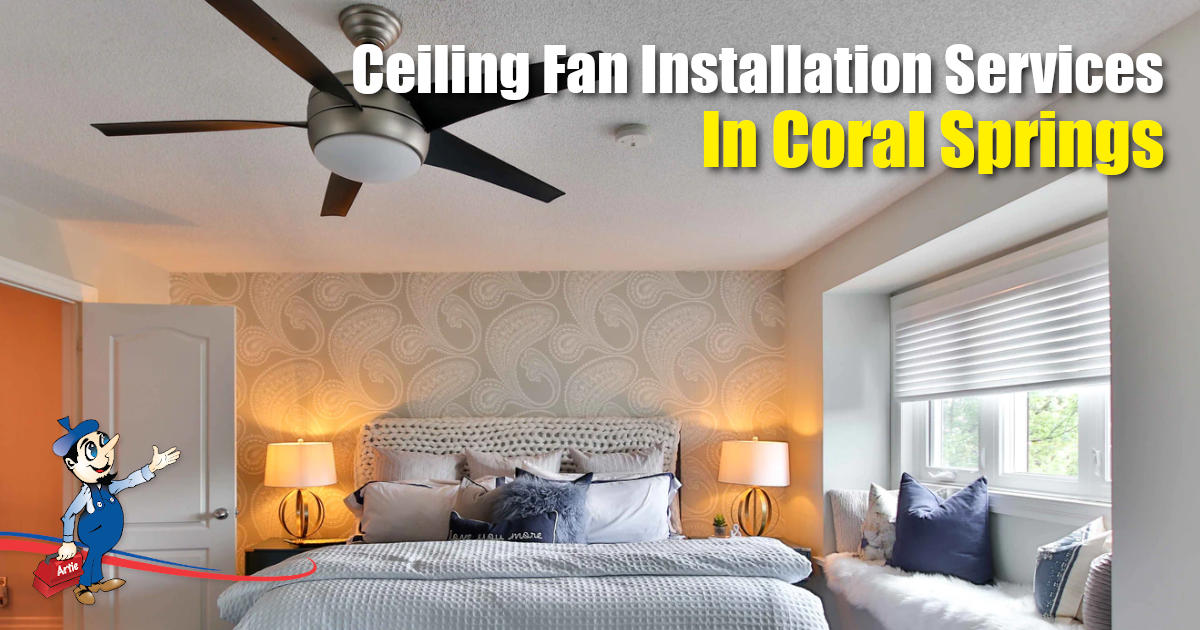 With an average high temperature of 87°F between August and November in Coral Springs, it is a good idea to have ceiling fans in your home to keep you and your family cool.
When you do decide to invest in a ceiling fan, do not attempt to install it on your own. Not only is it a dangerous task, but you also run the risk of putting on parts in the wrong order and hanging your fans too low.
So, it goes without saying that you should leave your ceiling fan installation to the licensed electricians at Art Plumbing, AC & Electric.
Benefits of Ceiling Fan Installation
In addition to providing your home with proper air circulation, ceiling fan installation can help you save on cooling costs. When you have a fan, you don't necessarily need an air conditioner to keep your home cool. Air conditioners use up more energy to bring down room temperatures, as compared to fans.
It is also convenient and easy to operate a fan. You can control the wind speed and lights using a remote control or an app on your phone from the comforts of your couch or bed.
Ceiling fans can also add value to your home. Because they come in an array of styles, you can find one that contributes to the style of your home. So, when you decide to list your home for sale, it can increase the value.
Types Of Ceiling Fans
There are a variety of ceiling fans available in the market. Some might be better than others depending on your personal needs. You should consider factors like location, humidity levels, and your area's weather conditions when choosing a fan.
Standard Ceiling Fans
You can find standard ceiling fans in most homes. They come in all shapes and sizes to match your home's aesthetic. They typically have four to five blades, a light fixture, and an assortment of operating mechanisms.
Standard ceiling fans have a metal pipe called a down rod that connects the fan's mounting brackets to its motor housing so it's compatible with both flat and sloped ceilings. However, if you do decide on standard ceiling fans, make sure the blades are at least seven feet above the floor and your ceilings need to be at least nine feet tall. They are more suitable for indoor installations.
Low Profile Ceiling Fans
Low profile ceiling fans are also known as hugger fans and flush mount ceiling fans. These fans are suitable for homes with ceilings that are less than eight feet tall. They are installed directly onto the mounting bracket instead of a rod.
Energy Star Ceiling Fans
Energy Star Ceiling Fans have aerodynamic blades and are available in stand and low-profile options. One of the main advantages of this type of fan is that it uses 20% to 30% less energy than standard fans, thus, reducing your energy bills and making it eco-friendly.
Damp & Wet Ceiling Fans
If you're looking for an outdoor fan, then damp and wet ceiling fans are your best bet. They are made with motors that can resist moisture and humidity damages. This type of fan is usually installed on covered porches, patios, and sunrooms.
The Risks Of Bad Ceiling Fan Installation
When you purchase a ceiling fan, it oftentimes comes with an installation manual. However, it is more complex than it looks because you will be dealing with electrical wiring and blades spinning at high velocity. If your fan has light fixtures, the wiring will be more complicated for the average person.
According to the United States Consumer Product Safety Commission, fan-related accidents resulted in 15,720 emergency room injuries in 2003.
Additionally, ceiling fan installation requires you to climb a high ladder while holding your heavy fan. You run the risk of falling or dropping your fan, thus, damaging it. When this happens, it can cause you and your family some serious harm.
If you don't have experience with electrical wiring, you can be electrocuted while attempting to install the fan on your own. Bad wiring can also lead to fires that usually start above the fan. When this happens, the fire will not be obvious until it is too late.
Reaching Out To A Professional
The cons outweigh the pros when you choose to install your ceiling fan on your own. The licensed electricians at Art Plumbing, AC & Electric have years of experience to make sure your appliance won't cause any harm to you, your family, or your home. Want to know more? Call 1-800-475-1504 for more information.