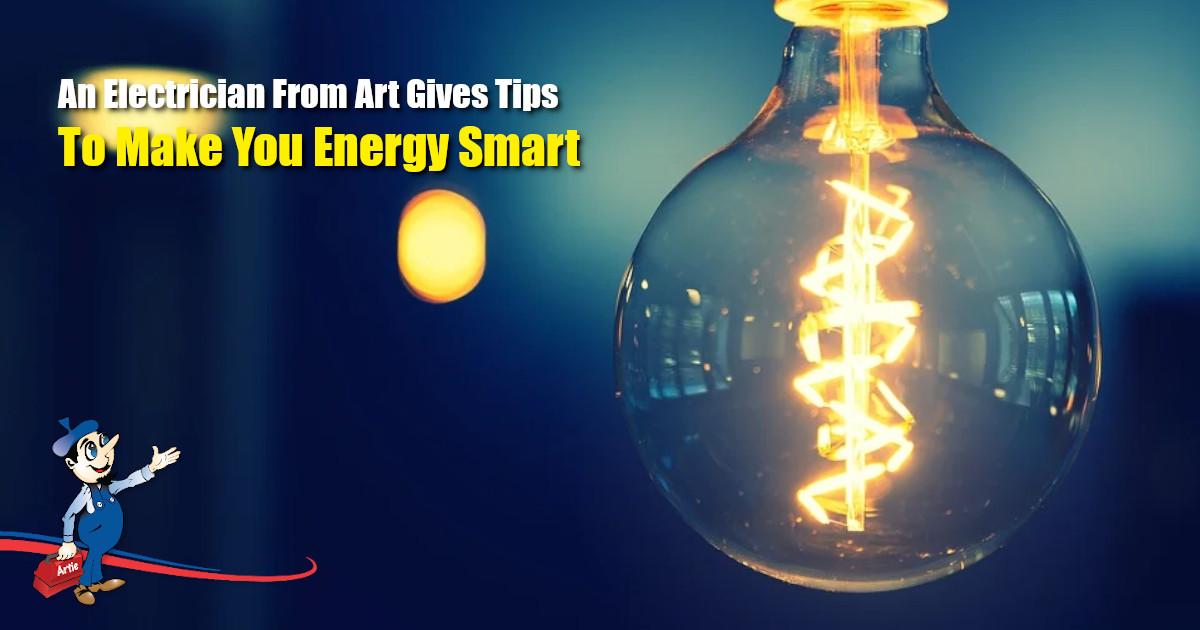 Life is busy and living is expensive but luckily there are a few things that we can do about that! Besides the obvious behavioral changes like switching lights off when not needed and hang-drying clothes instead of using the dryer, here, our electricians provide a few options to consider when trying to lower your utility bill.
Running Hot & Cold
Close to half of the average family's utility bill is attributed to heating and cooling costs. From this, it's obvious that monitoring the temperature inside your space is a great place to start.
Programmable Thermostat
Installing a programmable thermostat is an easy way to eliminate wasteful energy, without having to upgrade your HVAC system. Also commonly known as a smart thermostat, it can automatically reduce or turn off any heating or cooling systems while you are out of the house or asleep. Saving you money and time, the thermostat can be programmed to fit your weekly schedule.
Water Heater
A large contributor to your total energy consumption is heating water. Buying an energy-efficient water heater can help to reduce its overall impact, but that's not your only option. In an effort to reduce water heating costs, you could use less hot water, turn down the water heater's thermostat, or insulate your heater and water pipes.
Energy Efficient Windows
10% to 15% of your utility bill is energy lost through your windows, which means that you're paying for energy that you're not using!
While heat is lost and gained through the windows of our homes, low e-coatings may be the perfect solution to this problem! These coatings reduce heat gain by reflecting more light than normal. There are a few options to choose from, but all coatings aim to diffuse the amount of thermal energy in your home or space.
HVAC System
It is no secret that your HVAC system uses a fair amount of energy to keep us warm and cool. This is why it is important to organize regular inspections for your HVAC's ventilation system. Distributing cool air throughout your home, ventilation ducts that have not properly been sealed or insulated results in substantial amounts of energy, wasted.
An alternative and more expensive option would be to upgrade your entire HVAC system with one designed for energy efficiency.
Insulate Your Home
Contrary to popular belief, insulation doesn't only apply to heat. Yes, it keeps the warm arm in during the cooler months, but it also keeps it out during the summer. The recommended level of heat resistance (R-value) is dependent on your climate, with warmer climates having a much lower R-value. If you're thinking of insulating your home, the main areas you should consider are the attic; the walls; floors; and crawl space (if you have one.)
Lighting
Day or night, lighting is an essential part of our lives. Let your lights shine brighter for less by following these simple tricks.
Shed Some Light
While quite a bit cheaper, our traditional incandescent light bulbs use a lot of electricity and do not last very long. Alternatively, compact fluorescent lights (CFL) and light-emitting diode bulbs (LED) use between 25% and 80% less electricity and last up to 25 times longer. They're more expensive but you quickly make back the money through your utility bills.
Lamp Timers
Perfect for busy families, light timers can be set to switch your homes lights off at night or when you're not at home. Their 24-hour clock lets you set the timer to switch your lights off anytime throughout the day.
Appliances
If you're looking to equip your home with new appliances, energy-efficiency is the way to go. There are a few things you need to take note of before making a purchase.
Energy-Efficient Appliances
Before making a purchase, you need to look at the purchase price and the annual operating cost. With energy-efficient appliances, the purchase price will be higher, but the operating costs will be much lower.
Electricians In The Greater Fort Lauderdale Area
These are a few but most certainly not all of the ways to save energy. For more energy-saving tips or help with installation, check out our blog or call Art Plumbing, AC & Electric at 1-800-475-1504. Big or small, Art can fix it!