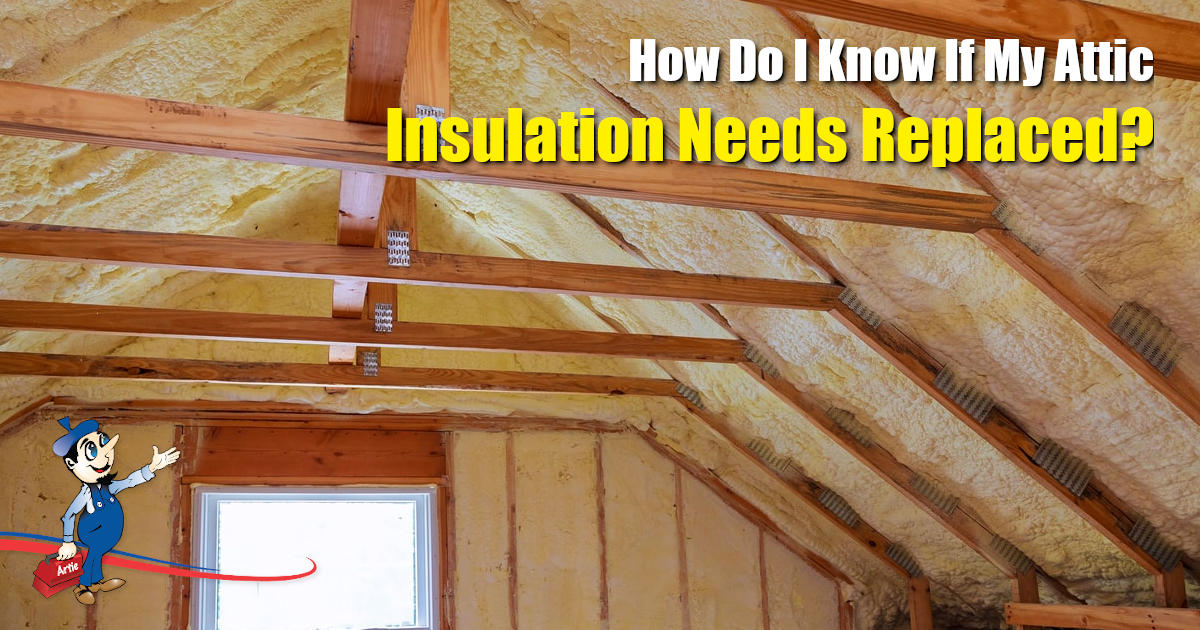 Are you experiencing problems with your indoor air quality or temperature regulation? You may want to get your attic insulation checked out.
It's easy to forget about this important barrier in your attic. Old or worn insulation can quickly affect air quality throughout your home. How often should I replace my insulation and how do I know the warning signs that it's time to get it replaced?
How Often Should Attic Insulation Be Replaced?
Insulation begins to degrade in quality and effectiveness at around the 15-year mark.
In older homes, there's a chance your attic insulation has never been replaced and could be badly degraded. If you've never had your insulation checked out before, it's time to get it done. The biggest giveaway are the symptoms that are experienced when attic insulation isn't working effectively. Below, we'll have a look at what these are.
But what about adding new insulation on top of existing insulation? Well, in certain cases this can be done. If your existing insulation is damp or wet, this will spread onto your new insulation over time and ruin its effectiveness. Keep in mind that just because you can, doesn't mean you should. Old and damaged insulation should be completely removed and destroyed. Also, make sure that your old insulation doesn't contain any hazardous asbestos. If it does, work must stop immediately, and a professional asbestos removal crew will have to come in and remove all traces before the space can be occupied safely again.
Warning Signs That Your Attic Insulation Needs Replaced
There are five main tell-tale signs that it's time to replace your attic insulation.
Fluctuating Indoor Temperatures
Are you finding that different rooms have fluctuating temperatures at home? Maybe your bedroom is comfortable, but your living room feels stuffy and warm? If you have two floors, can you notice a substantial change in temperature when you walk up the stairs? Temperature fluctuations are a tell-tale sign that your insulation may need replaced.
Rising Energy Bills
A slight increase in energy bills can be subtle at first, but if this has been the case for a while, then it could be a warning sign.
When attic insulation deteriorates, increased strain is placed on your HVAC system which will use additional energy. Don't just assume that an increase in your energy bill is normal. You may want to get your attic checked out.
Drafts
Fluctuating temperatures in your home can cause indoor drafts. The heat from one room may move into a cooler room creating a draft. Keep in mind that drafts can also be caused by other factors such as air leaks caused by construction faults.
Animal Infestation
It's not unusual for attics to attract various pests. Many warm attics are a comfortable place for pests to make their home in. Creatures may include mice, rats, birds, and cockroaches.
Wet Insulation
If insulation becomes moist or damp, its rendered useless. It will need to be replaced immediately as it will lose its effectiveness to keep your home comfortable. Issues such as blocked vents, a leaking roof, or even basement flooding, can cause attic insulation to get wet. Be sure to take the necessary steps to prevent water damage to your home.
Which is the Right Type Of Insulation For My Attic?
There are several different types of insulation available for attics and your Art Home Comfort Consultant will be sure to go over all your options upon consultation.
Blanket Batts & Rolls
Generally constructed out of fiberglass, batts, or rolls, are the easiest option to install.
The installation process is inexpensive however, be aware that it may not be the neatest type of insulation. Blanket batts tend to look very messy where fiberglass rolls can look neater as they are rolled out.
Spray Foam & Blown-Insulation
Spray foam is good at sealing any leaks or holes inside wall cavities. Spray foam is essentially liquid polyurethane which expands and hardens into foam. Blown-in insulation follows a similar process of spraying, but the material is made out of paper instead. Spray foam and blown-in insulation are more specialized and tend to give better results.
Leave Your Attic To The Professionals
It's best to leave your attic insulation repair and replacement to the professionals. At Art Plumbing, AC & Electric, we provide a wide range of attic insulation solutions. Contact us today and let one of our specialists advise you on your attic's insulation.