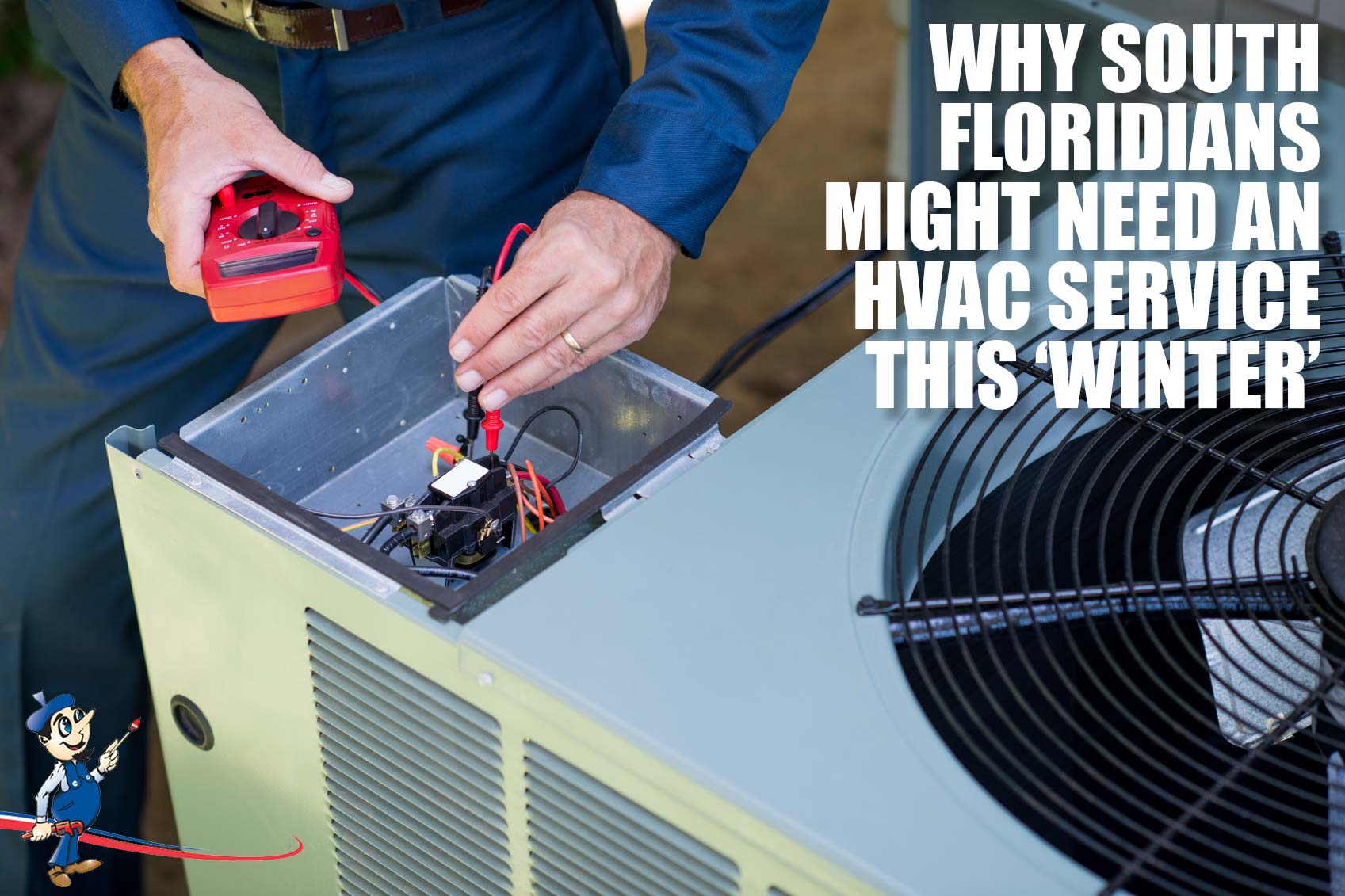 Reading Time:
2
minutes
As South Floridians, we all know that the air-conditioning part of our HVAC system gets used far more than the heating part of it, but that doesn't mean your unit shouldn't have an HVAC service. South Florida's 'winter' season is the ideal time to have your HVAC serviced.
The weather has cooled and the humid hot days that we are so used to have become fewer and farther between. Because of cooling temperatures, our HVAC systems are likely being used less as we enjoy the cooler temperatures that we are feeling just now. Here we have listed a number of reasons why the cooler months in South Florida are an ideal time to get your HVAC unit serviced:
Heating Coils Covered In Dust

What is that smell? Does it almost seem like something's burning? If you felt the need to make use of your heating system at some point this winter (remember the Polar Vortex of 2015?) and there was a faint smell of something burning, odds are the heating coils of your HVAC system need to be cleaned. Because they're so rarely used in South Florida, the heating coils actually gather dust over time, which, in turn, burns whenever the coils are turned on.

Your Heating System Doesn't Work

Just because we don't use the heating part of our HVAC system very often doesn't mean we won't ever need to use it. Imagine a cold front sets in and you've decided to put the heat on, only to find (much to your dismay) that the heating system isn't working at all! By having your HVAC unit regularly services, you're minimizing the risk of having nasty surprises later that may leave you cold.

Replacing Air Filters Leads to Better Heat Exchange

Ensuring that your air filters are regularly replaced and functioning properly is not only good for your health because it leads to cleaner air being spread throughout your home. If an air filter is clogged because of dust build-up, your HVAC unit has to work harder to create heat exchange, which means it could take longer to heat up or be totally ineffective overall.

Regular HVAC Services Can Lead to Lower Energy Bills

Failure to replace air filters makes it more difficult for your HVAC system to exchange heat energy as we explored in the point above. This actually has a two-fold effect. It doesn't only make your system slow. It also leads to costlier energy bills as your HVAC system works overtime.

Regular Servicing Can Lead to Longer HVAC Life

HVAC systems don't come cheap, and while it's important to maintain filters as we've seen above, regular servicing also limits the odds of problems in the short-run. By catching problems early and sending your unit for an HVAC service, you are effectively prolonging its life.
Regular HVAC services should be no-brainers for all HVAC owners. Services prolong your HVAC unit's life, save you money by resulting in lower energy bills, and can help reduce the need for repairs. The cooler months is the best time for South Floridians to have their HVAC units serviced with the cooler weather offering Floridians and their HVAC units some much needed relief and days where their unit won't need to be used at all.
Art Plumbing, AC & Electric offers a range of services to customers in the South Florida area and are able to conduct an HVAC Service on your unit. Contact Art Plumbing, AC & Electric today for all your AC servicing and repairs!