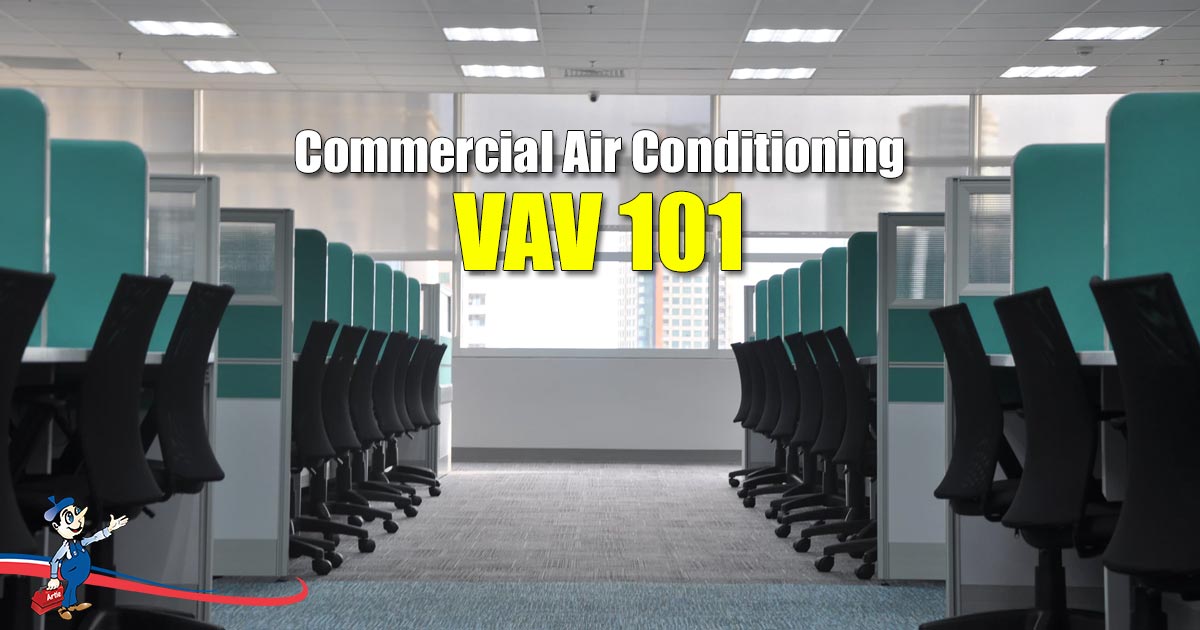 Creating a comfortable living and working environment starts with good air quality. For some people, a ventilation system is last on a list of building requirements. But, working in a humid, poorly ventilated space is known to reduce productivity and create an environment that most people do not want to be in for too long. Choosing the right commercial air conditioning and ventilation system is an important part of any business' success.
Here we take a look at what VAV systems are, their advantages, and where to get them installed.
What Are VAV Systems?
There are different types of heating, ventilating, and air conditioning (HVAC) systems. A variable air volume (VAV) system is a type of HVAC system that regulates airflow to create comfortable temperatures inside buildings. VAV systems create constant temperatures but vary airflow to achieve it. Unlike constant air volume (CAV) systems that variate temperatures with constant airflow.
Distinguishing between these systems is important as they each have unique installation and HVAC maintenance requirements.
Why Are VAV Systems Such A Big Deal?
VAV systems control humidity, conserve energy and have become an essential part of any commercial building. But it has not always been that way.
Air conditioning units were first introduced in the 1930s to extract moisture from spaces and to keep humidity low. For the units to work effectively, they needed large installation spaces and a lot of energy. When the energy crisis struck in the 1970s, VAV systems were introduced and revolutionized the HVAC scene because they were smaller and needed a lot less energy to operate optimally.
Today, VAV systems are among the most common ventilation systems installed in commercial buildings.
What Are The Advantages Of VAV Systems?
Energy Efficiency

A VAV system is more efficient than other systems because it uses less air to keep a space at a specific temperature. It does this by allowing all the parts, the air handling unit boilers and chillers, to run at a lower load. The VAV box contains a damper, that when closed, allows the air handling unit's fan to run at a slower speed. The slower speed, together with the reduced heating and cooling mediums making their way through the coil, reduces the amount of energy needed to control the temperature.

Individual Temperature Control

A VAV system allows for different spaces in a single building to have individual temperatures, without the installation of a different system to manage airflow in each space. This is possible because the VAV box is connected directly to a thermostat. Spaces with similar loading patterns are generally linked to the same VAV box and can be controlled separately. Linking them in this way allows for independence within a single air handling unit.

Flexibility

No HVAC system is perfect, but because of their flexibility, VAV systems come relatively close. Most VAV systems can be refurbished to meet your needs. This means that as long as the basic system is in reasonable condition, improvements can be made to it to perform at the level of efficiency your space requires. Upgrades can be made to:

Boiler controls, chillers, and pumps, resulting in overall efficiency.
Pressure-dependent VAV systems, that can be converted into independent VAV systems for improved feedback control.
Where To Get A VAV System Installed
Over the years, VAV systems have become an installation favorite, but installing the units require an experienced AC technician. Do not risk a DIY installation as it will cost you more in the long run. Art Plumbing, AC & Electric has been servicing the South Florida's residential and commercial spaces since 1983. Contact us today to find out which HVAC system best suits your space's needs.