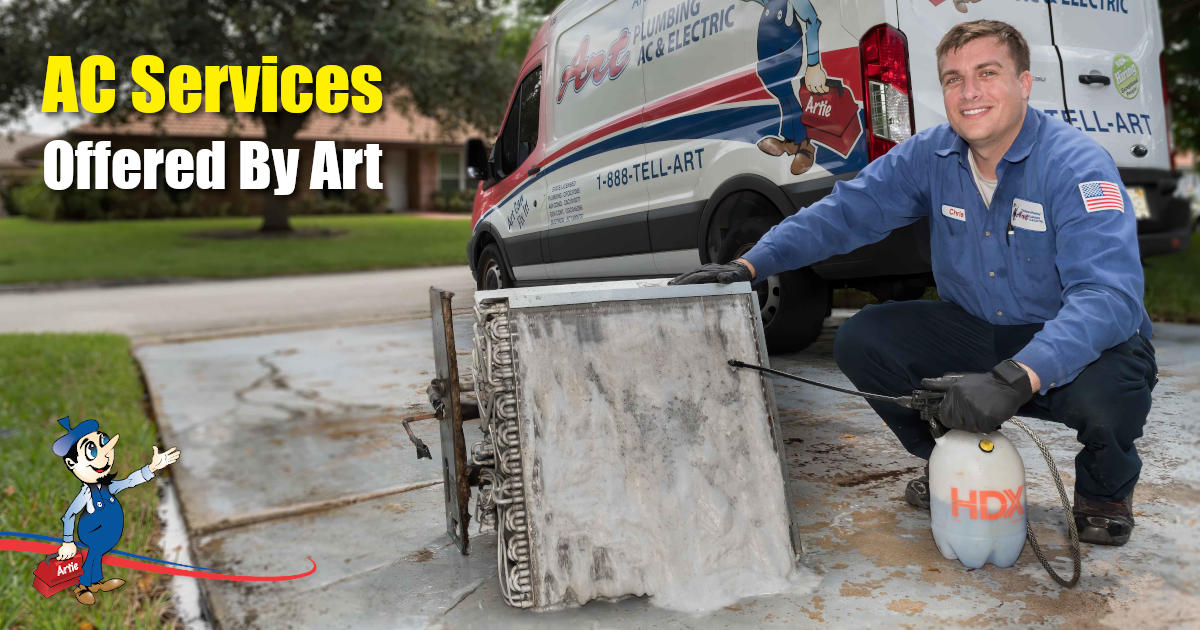 The hot, humid, and oppressive summer heat can be too much to handle at times, so having a reliable air conditioning system to cool you down and keep you feeling comfortable is important. When your air conditioning system malfunctions, Art Plumbing, AC & Electric has you covered with reliable and professional AC services.
Emergency AC Repairs
Art Plumbing, AC & Electric provides you with ease and comfort when experiencing an AC unit breakdown. Not only do they offer a quick response time, but they also have skilled HVAC technicians on their team. Art technicians can identify the source of a problem and provide the best solution for that problem.
New AC Systems – Installation and Replacement
When choosing the best air conditioning unit for your home, get in contact with Art Plumbing, AC & Electric's Home Comfort Specialists. They are knowledgeable in the most current HVAC technology and products. These specialists can readily direct you with their recommendations when you're deciding on the right AC system to match your needs. Art Plumbing, AC & Electric provides tailored AC solutions to match your budget and home specifications. Their AC services also deliver energy-efficient and dependable solutions.
AC Tune-Ups and Maintenance
Maintaining your AC unit increases the appliance longevity as well as its overall performance. Art Plumbing, AC & Electric offers all-inclusive tune-up and upkeep services to ensure that your AC unit is operating the way it should be. Their HVAC technicians perform a 20-Point Precision AC Tune-Up.
Art Plumbing, AC & Electric includes a few different varieties with their 20-Point Precision AC Tune-up including the 20-Point Precision AC Tune-up plus the exclusive "Pull & Clean" coil cleaning service and more.
Heat Pump Services
Art Plumbing, AC & Electric thinks about all of their clients and recognizes that no one customer is the same. For environmentally conscious customers, they offer heat pump installation and repairs. Heat pumps are a sustainable option to already-established air conditioning units. Art technicians can also save you money by installing these environmentally friendly heat pumps.
Programmable and Smart Thermostats
Today's society is technologically innovated and Art Plumbing, AC & Electric's AC services match that. They offer programmable and smart thermostat products, which allow you to maintain temperature control in different rooms within your household.
Most rooms have varying temperatures that tend to fluctuate throughout the day, but AC services by Art can help you better control those temperatures, no matter where the sun is shining, or the clouds are floating. They offer programmable and smart thermostats so that you can set a schedule on your thermostat based on which rooms stay warmer or cooler.
Energy Saving Window Films
Art Plumbing, AC & Electric are suppliers and installers of SolarZone™ window films. These window films provide energy-efficient solutions for your household by allowing in natural light, while reducing solar heat build-up. This results in your air conditioning system working more efficiently to cool down rooms, saving you more money on utility bills.
Indoor Air Quality
Art Plumbing, AC & Electric AC services provide outstanding indoor air quality services to ensure a clean and healthy air quality within your home. Now that more people are having to work from home due to the coronavirus pandemic, they spend more time indoors. This means that good air quality is even more important for your overall health.
Art Plumbing, AC & Electric is proud to provide a range of air quality services, such as whole home air infiltration testing and mold remediation, just to name a couple. To learn more, contact a Home Comfort Specialists to schedule a consultation.
AC Services Offered By Art Plumbing, AC & Electric
Art Plumbing, AC & Electric has you covered with their outstanding AC services, keeping you cool during the hot and humid summers. They offer a variety of programs and services to match your needs, while still being affordable and thorough.
Do you want to know more about our air conditioning services? Check out our AC service tips, follow us on Facebook, or call Art Plumbing, AC & Electric at 1-800-475-1504.